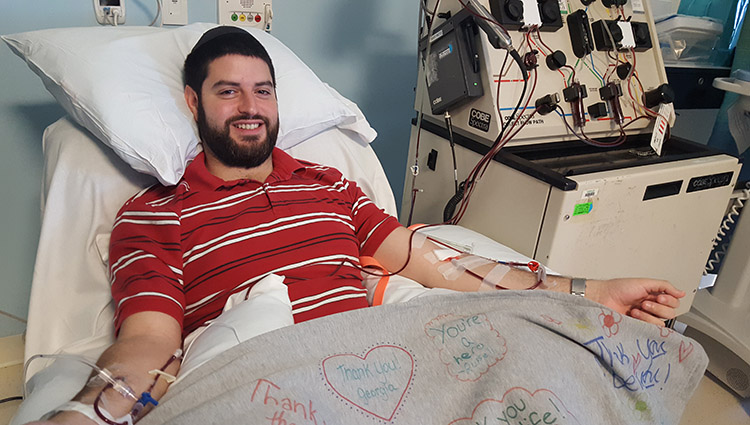 Boca Raton Synagogue's executive director donates marrow to save a life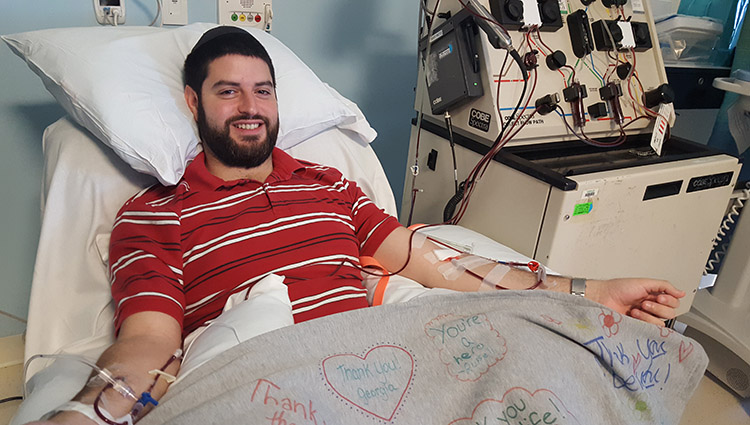 August 2016 was an amazing month at Gift of Life. Sixteen donors provided bone marrow and peripheral blood stem cell transplants for patients with leukemia, lymphoma and other diseases. The most distant donor came from London, and the closest was from Gift of Life's hometown, Boca Raton, Florida.
Matthew Hocherman, Executive Director of the Boca Raton Synagogue, joined the Gift of Life registry at the Katz Hillel Day School (also of Boca Raton) during its Chanukah party in December 2012.
While he enjoyed getting the annual check-in calls that Gift of Life makes to keep the registry's contact information current, Matthew hoped that one day the call would be to tell him that he was needed to donate. That call came on May 20, 2016 when he was told he was a possible match for a man suffering from a type of leukemia.
After the excitement of the initial phone call, Matthew was restless with anticipation as he waited six weeks for the confirmatory blood test result – an in-depth analysis that evaluates exactly how closely the donor and patient match each other. On July 11 he received the great news that he was the perfect match and would be donating peripheral blood stem cells.
To increase the amount of stem cells circulating in his system, Matthew received Neupogen®. "Gift of Life is highly professional in the level of service to donors," he said. "They made me feel unbelievable. For example, when the Neupogen® was delivered I got a call from the donor team within five minutes of it arriving, to make sure everything was in the package and to answer any questions I might have."
Matthew donated at Hackensack University Medical Center in New Jersey, a short drive from his home town, Elizabeth. Another Gift of Life donor, Jonathan Struhl, went to the donation center and spent the day keeping him company along with Matthew's wife Tova. Matthew received the trademark Gift of Life blanket, signed by all the staff members. "That was my first question when I was told I would be donating – Do I get a blanket?" Matthew joked, as he had seen photos of other donors with their blankets on Gift of Life's social media channels.
The synagogue's community had a big reaction to Matthew's donation, sharing his story widely on Facebook and offering plenty of support and well wishes. "I'm happy to be able to shine a light on the need for more donors to join the registry," said Matthew. "I was able to explain that for about 80 percent of donors there is no surgery—the process is very similar to donating blood platelets."
Matthew looks forward to getting the first update on his recipient. "You see a lot of photos of people who donated to children, but here's a person who could be someone's father or grandfather, a husband and brother, someone who is a member of a community. It's important to donate to everyone."
Matthew is an avid fan of the New York Mets and the Florida Panthers hockey team. He has already run a donor recruitment drive at Boca Raton Synagogue and swabbed 45 people. His family hopes their South Florida community will join them this year walking together in support of Gift of Life at the Annual Steps for Life 5K Run & Walk on January 15, 2017.