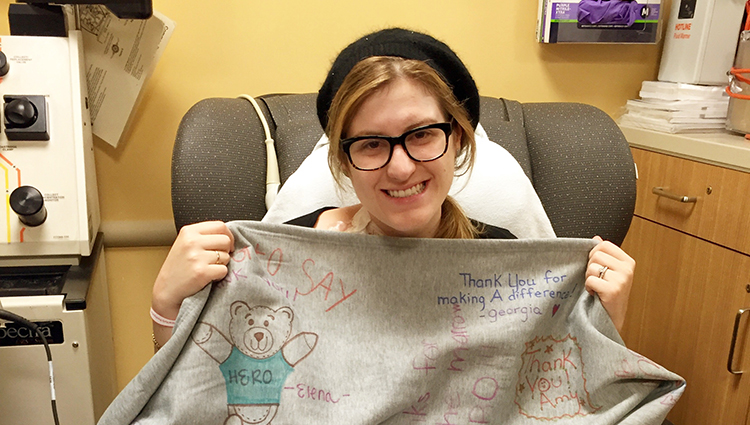 Teacher donates marrow to save the life of lymphoma patient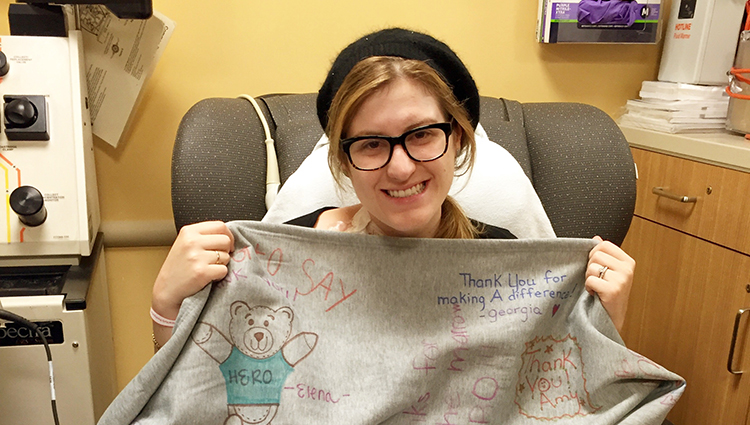 Rachel shows off her Gift of Life blanket, with personal messages from the staff at the headquarters in Boca Raton, Fla. Every donor receives a blanket on their day of donation.
When her students went to recess, teacher Rachel checked her voice mail: she had an urgent message from Gift of Life Marrow Registry. She had joined the registry as a volunteer donor in 2009 while an undergraduate at Stern College for Women, Yeshiva University. This didn't sound like the annual routine call to update her contact information.
"They said I was a potential match and I started crying – in a good way," said Rachel. "It was a special moment. I couldn't believe I had the chance to do such a big thing." Another big thing happened that same day; she went on a date with the man who became her husband. "I shared the experience with him, and it felt like it was the start of a new life, not only for the patient, but for me as well."
While some transplants happen quickly, that isn't always the situation as some patients are not immediately ready to receive donor cells. In Rachel's case, it took time to get to donation day. "The whole process for me was a year and a half from start to finish," she said. "Every time I got the green light to go to the next step I couldn't believe that I was making progress – which meant the recipient was making progress. It was great!"
On her day of donation, Rachel's new husband went with her to the collection center at Weill Cornell Medical Center in New York; they had married in the 18 months between Rachel's first call and her donation. Her mother flew in from Los Angeles to join them, and Rachel's sister and cousin visited the center as she donated peripheral blood stem cells (PBSC).
Also there to support Rachel was her Gift of Life coordinator, bringing a gift from the staff at Gift of Life headquarters. "When I received the signed blanket [pictured above] I was so touched," she said. "Everyone is rooting for you, it's so nice. It was crazy how organized and helpful Gift of Life was, even though we weren't in the same state."
Rachel's experience also gave her an opportunity to teach her thirty 10- and 11-year-old students about blood cancer and the possibility of a cure through transplantation. "I engaged them and told them what I was doing," said Rachel. "They are my biggest fans and want me to tell them any information and updates I have about my recipient." It turns out that the academy where she teaches has another connection with Gift of Life: Becky Faibisoff, who donated stem cells to save Gift of Life's founder Jay Feinberg in 1995, once taught at the school.
To those who are considering joining the registry, Rachel offers encouraging words, "I know that Gift of Life has our back as donors. They even put me in touch with a previous donor, and she was so helpful, we're now friends on Facebook." Rachel is looking forward to communicating with her recipient (only anonymous letters may be exchanged for the first year), and wishes her the best during her recovery.
When she's not teaching, Rachel enjoys cooking, spinning classes and spending time with her friends.