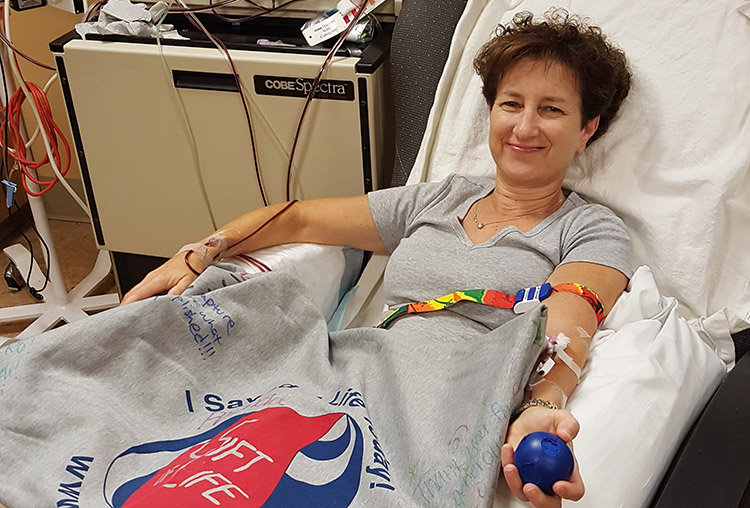 Rhonda's PBSC donation reverses the trend!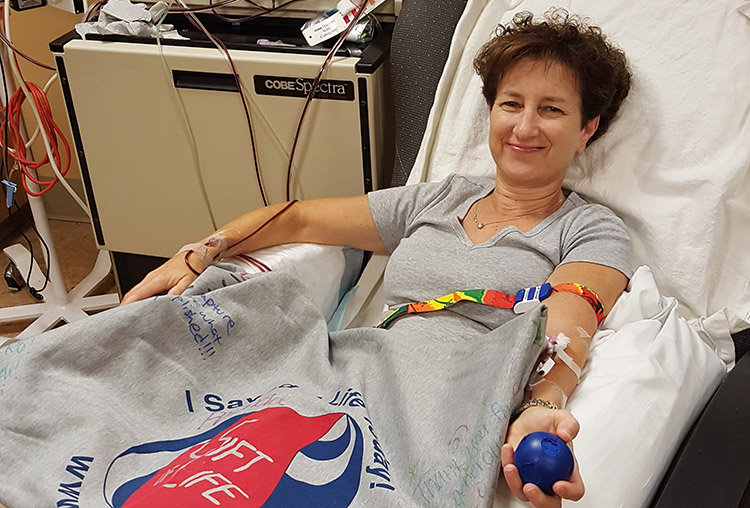 An age gap between donor and recipient is not unusual. However, because 90% of donors requested by physicians are aged 18–45, we rarely find a 55-year-old donating to a 35-year-old. But such was the case this time! Donor Rhonda, a physiotherapist, has spent a great deal of her life maintaining good health, and she was glad for the opportunity to share her good fortune.
Rhonda swabbed back in 2009 through her temple, Adath Israel Congregation. They were holding a patient-specific drive, but unfortunately, a match was not found in time. Rhonda knew she was entered into the Gift of Life registry, but she didn't really think about the possibility that a different patient might need her.
"When I received the call in September that I was a potential match, I felt a little nervous but definitely wanted to proceed," she said. "The process leaves no lasting [physical] effect on you but changes the world for the recipient and their family."
Because she works part-time and has a penchant for traveling, Rhonda was more than happy to make the journey from Toronto to New York City. Her husband tagged along as companion, and together, they went to Weill Cornell Medicine for the procedure. There, she donated peripheral blood stem cells to a 35-year-old man battling myelodysplastic syndrome.
Although Rhonda wasn't a match for the man she had initially swabbed for, she feels like she was able to honor him through her recent donation.
Rhonda lives in Thornhill, a suburb of Toronto, Ontario, Canada. She is married and has four adult children. A physiotherapist at a large teaching hospital, Rhonda's hobbies include running, spinning, hot yoga, cooking, and photography.