Gift of Life's highly successful Dr. Michael E. Osband Senior Swab donor circle has reached an incredible milestone: 100 completed transplants for patients in need of lifesaving blood stem cell or marrow donations. To date, the program has added more than 17,500 new donors to the registry. Many more transplants are expected in the future.
The program, now called the Student Ambassador Program to help engage more students, offers high school seniors the opportunity to run donor recruitment drives and, if they are 18 years old, join the registry. Founded in 2005, the program is named in honor of Dr. Michael E. Osband, a beloved pediatric oncologist who passed away in 2001.
In recognition of reaching 100 transplants, the Osband family is organizing a "100 for 100" fundraiser campaign, inviting people to donate $100 in recognition of the 100 transplants, with the goal of raising $10,000. All donations to Gift of Life are used for the lab processing costs for new donor kits, to add them to the registry.
---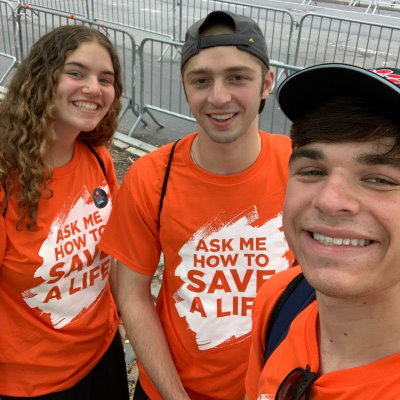 Dr. Osband's grandchildren now run drives for Gift of Life Marrow Registry. Growing the registry has become a multi-generational family effort.
---
Dr. Osband dedicated his life to helping children, going beyond simply treating cancer and other diseases: he felt a personal mission "to care for children," not necessarily to cure them, but to ensure they and their families were well cared for during a difficult time in their lives.
As the Chief of Pediatric Hematology/Oncology at the Boston Medical Center, he was in charge of The Sickle Cell Disease (SCD) Center, the largest SCD center in New England. Sickle cell is extremely painful for those who are born with it, and Dr. Osband placed emphasis on his view that pediatric medicine should be pain-free.
"My father was not only a medical leader, he also served as a community leader in Boston's Jewish community," said his daughter, Dr. Yardaena Osband. "Wherever he was, people loved his sense of humor, his warmth, and he was genuinely beloved by colleagues, children, community members, and medical students. He had the knack of communicating well with children, and after his passing, our family received many letters from kids in their community – especially teens and young adults – who wanted to share with us their connection to him and what he meant to their lives."
In 2005, four years after he passed away, Dr. Osband's wife, Barbara, the chairwoman and CEO of Cambridge Biomedical Inc., received a phone call from Gift of Life's donor services department. Dr. Osband was still listed in the registry and had come up as a potential matching donor for a patient. That phone call gave Barbara an idea.
---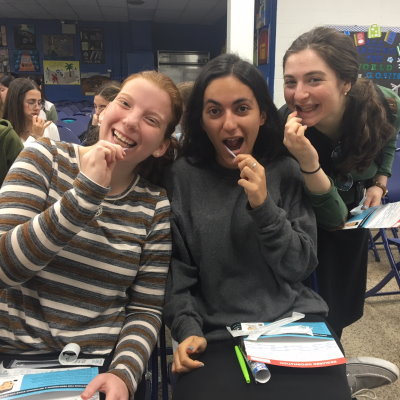 Seniors in high school can run drives through the Student Ambassador Program and invite their peers who have turned 18 to swab their cheeks and join the registry.
---
"We had been searching for several years for some program we could start in Michael's name," said Barbara. "Since we live in Boston, we thought it would be a good idea to arrange a donor recruitment drive at our local high school, the Maimonides School. We had run recruitment drives there for a few years already, but when I got the call about Michael being a match, the pieces fell into place. I contacted Gift of Life and asked, 'Can we expand this high school program somehow?' We are thrilled with the number of transplants that have resulted and look forward to many more in the future."
The Student Ambassador Program was created with the support of the Osband family and has grown over the years. Today, educational programs and donor recruitment drives are held in many high schools across the United States, usually in the spring semester so that the largest number of students have turned 18 and can join the registry. For those 13 to 17 years old, Gift of Life has a Pre-Registration option. Students who pre-register will receive a donor swab kit shortly after they turn 18.
---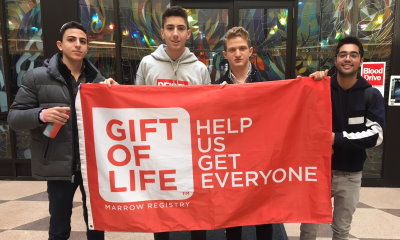 The program has been a huge success as students help spread the word about the urgent need for new donors to join the registry.
---
"When I talk with students I always speak about joining the registry in terms of becoming a responsible adult," said Yardaena. "You get your driver's license, you register to vote, and you join the stem cell/marrow registry."
"This program has grown beyond our wildest dreams," she added. "My brothers and I speak at high schools when asked to, and my children run drives to spread the word and recruit new donors, so this has really been a family effort."
---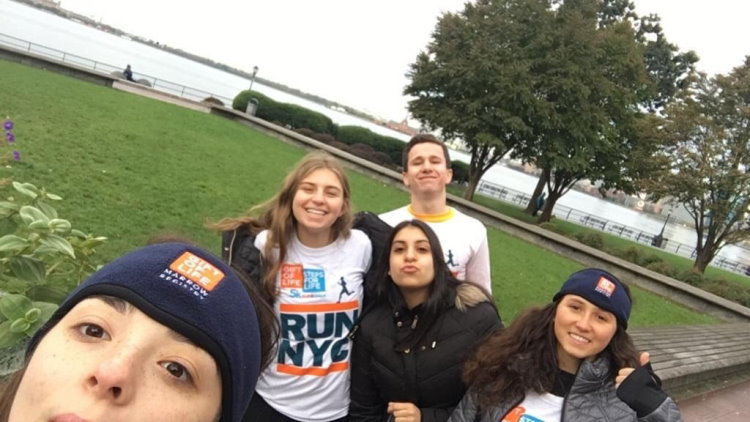 The Osband family at a Gift of Life Steps for Life 5k.
---
If you'd like to make a gift to the Osband's "100 for 100" fundraiser, click here to visit the Dr. Michael E. Osband Senor Swab Donor Circle and click on the orange, "Give to Circle" button.
If you are a high school student and would like to run drives at your school through the Student Ambassador Program, please email recruitment@giftoflife.org.