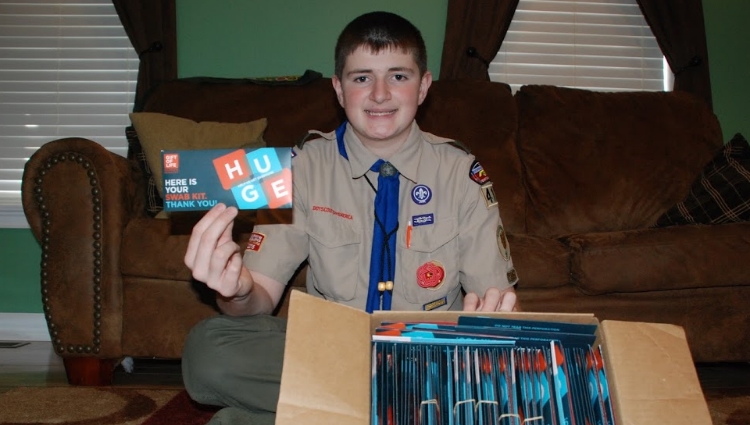 Eagle Scout candidate holds donor drives to save blood cancer patients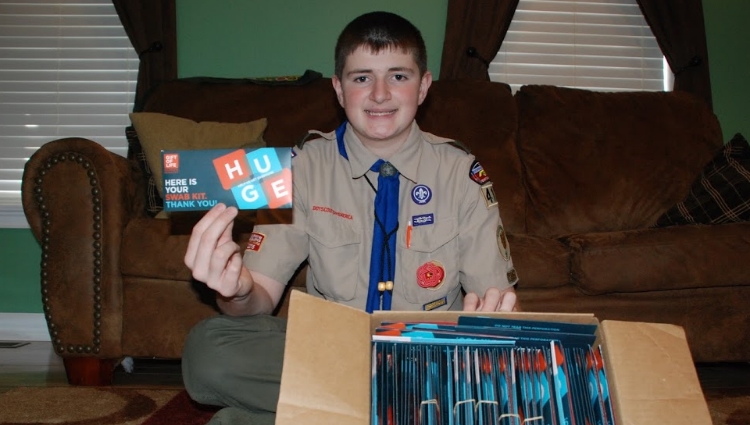 Dylan Mistretta, a 14-year-old student who attends Burns Middle School in Lawndale, N.C., is currently working hard to accomplish one of his life goals: becoming an Eagle Scout with Belwood Troop 413. Dylan has chosen to commit his Eagle Scout Service Project to help save as many lives as possible. He has teamed up with Gift of Life Marrow Registry to hold marrow donor drives, called "Give a Swab, Save a Life," in the hope of saving the lives of people suffering from blood cancers and inherited immune disorders.
Dylan's decision about which project to focus on was an easy one. After being on the bone marrow registry for nearly 20 years, his stepfather, Eric Newton, was confirmed as a bone marrow match for a cancer patient. Eric is also the Scoutmaster of the troop.
Once he learned more about Gift of Life and read the statistics about cancer patients in need of bone marrow donors, Dylan knew immediately that he had no choice but to do exactly what the Boys Scouts of America had taught him: take action. Dylan said, "I found these statistics very alarming and decided to get involved, to do my part, and to help those in need."
Gift of Life's Community Engagement Coordinator Russell Lowe, an Eagle Scout with Troop 240 in Bronx, N.Y., worked with Dylan to give him the training and supplies he needed to run donor recruitment drives. "Dylan has exemplified what it means to be an Eagle Scout and it has been a privilege to help this young man on his mission to help save lives," Russell said. "I look forward to seeing all of the great things he will accomplish. His parents, troop, and peers should all be proud. Great work Dylan!"
Dylan has been conducting the drives at locations around his community to educate citizens on the importance of joining the registry. As of June 20, 2018, he has added 103 potential donors to the Gift of Life bone marrow registry and has raised $1,500 to help pay for the processing of the swab kits.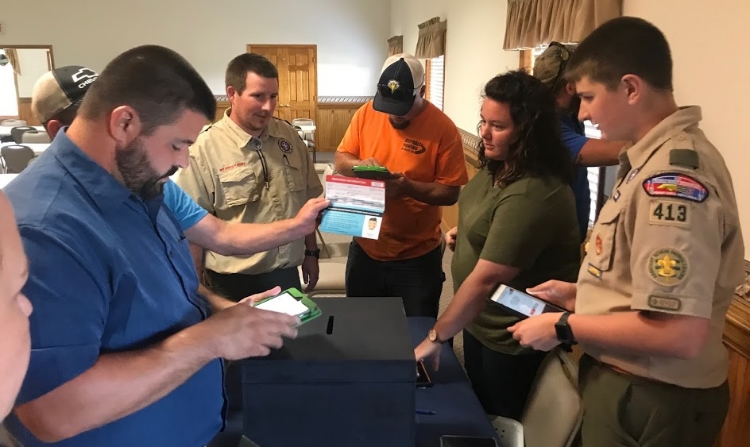 Dylan swabbed the firefighters in his community and held hot dog cookouts to raise funds.
After appearing in the Shelby Star, his town's local newspaper, Dylan received a surprise, a letter of recognition and thanks from Tim Moore, the Speaker of the House of the North Carolina House of Representatives. "I wanted to reach out and personally thank you," wrote Speaker Moore. "Becoming a potential bone marrow donor has the potential to save a life…I hope you continue to carry this spirit of compassion throughout your life."
Thank you, Dylan. Your leadership, determination and focus set a great example. We are proud of you and hope you'll continue to be involved with us in the future. Best wishes from everyone at Gift of Life!