When Zac got the first call from Gift of Life Marrow Registry saying he was a match for a patient, he thought it might be spam. Then he got a text message saying, "You swabbed and joined the registry in Atlanta in 2015" and he thought, "I actually was in Atlanta in 2015, maybe this is genuine!"
It was indeed the real thing, and after thinking about it, Zac remembered swabbing.
"I was a sophomore at Emory University in 2015, and a member of AEPi Fraternity," he said. "A Gift of Life Campus Ambassador came around to all the fraternity and sorority houses explaining what the registry is and offering the chance to swab. The fact that there is the potential for a stranger to give life to another and cure blood cancer is so incredible. We all joined the registry."
The chance of matching someone else is low because the antigen profile used to match donors with recipients is inherited, but it even varies inside families, with only a 25% chance of matching each sibling. About 70% of patients do not find a match in their family, and must rely on registries like Gift of Life to help find a donor. Their most likely chance of a match is with someone who shares similar ancestry or is from the same ethnic group.
"I truly didn't think there was any chance I would match with someone, but it really resonated when I learned my recipient is a man battling leukemia who is the same age as my parents," said Zac. "Saying yes to donating is a no-brainer, if my parents were ever in a similar situation I would pray that someone in my shoes would provide them with the opportunity to save their life."
After a blood test to confirm that he was the best match for the patient, Zac was on his way to donating.
---
If I hadn't swabbed, there would have been zero potential donors for him [the recipient]. There's no reason why everyone shouldn't at least swab and get on the registry. Think of the positive implications of saving the life of a stranger!
---
"The first person I called was my girlfriend Hallie, and I could tell her jaw dropped, this is such a curve ball to hear about in the middle of your normal work day," said Zac. "My parents were astonished at the news, and then my mother said, 'You're going to save someone's life!' and that's when it really clicked for me. When I told them my recipient was their same age, they said how proud they are of me – then started telling their friends. People were popping out of the woodwork and texting me about donating, and I kept thinking, 'Who is this and how did you get my number?'"
Stem cell donors from Gift of Life's registry are given the option to come to the headquarters in Boca Raton, Fla. for their collection at the Dr. Miriam and Sheldon G. Adelson Gift of Life-Be The Match Collection Center. Alternately, donors may choose a collection center near them as well.
"When Hallie heard the two options – fly to Florida and be put up in a hotel at the beach, or donate locally—she said, 'Lock it down, we're going to Florida,'" said Zac. "The whole experience was seamless, we didn't have to think about a thing. A driver picked us up, a nurse came to the hotel to give me the Neupogen shots, we went to the beach, ate at some of the local restaurants, and hung out by the pool."
Donors do not incur any expenses, so travel, accommodations and any needed medical exams are arranged by Gift of Life, and a meal stipend is provided.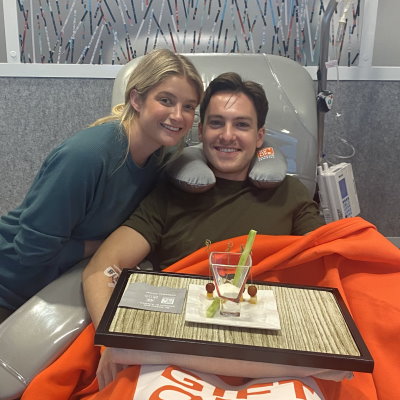 "The collection center is a brand-new facility and I was pleasantly surprised to see seven or eight donors listed on the welcome board for that week," said Zac. "I was happy that so many people were donating. We got into our donor suite and I was set up with the apheresis machine, and Hallie and I binge-watched a show that made the time go quickly." Once Hallie saw how easy the donation process was, she decided to join the registry as well.
"Donating to my recipient is something I never imagined I could do in my life," said Zac. "I'm just so happy I swabbed seven years ago and that there's an organization that does this amazing work. I think about my recipient frequently and am looking forward to hearing an update about how his recovery is going."
Zac also wants to meet his recipient someday, if possible.
"If I hadn't swabbed, there would have been zero potential donors for him," said Zac. "There's no reason why everyone shouldn't at least swab and get on the registry. Think of the positive implications of saving the life of a stranger – I hope I can convince people to take the opportunity seriously."
Zac, 26, is an asset manager for a real estate firm, where he works on affordable housing. He lives in New York City and is a graduate of Emory University, where he majored in finance and real estate, and was a brother in the AEPi Fraternity. He loves exploring New York with his girlfriend Hallie and their friends, and spending time with his family. "Uncle life is really fun", he says of his time with his two nieces and brand new nephew.

---
Zac's swab kit was sponsored by the Emory University Campus Ambassador Program and the Evie Goldfine's Fundraising Campaign Donor Circles.