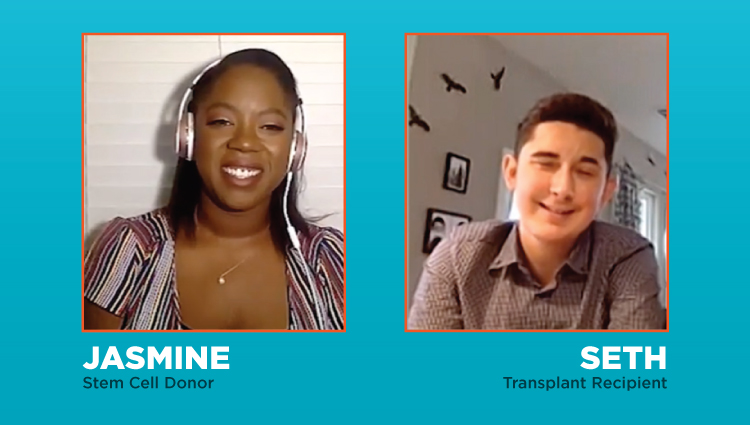 Emotional meeting of Texas marrow donor and 16-year-old recipient highlights Virtual Gala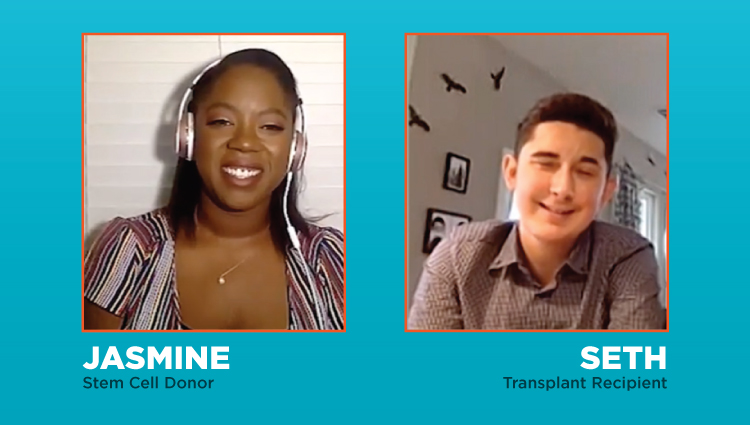 Gift of Life hosted its Annual One Huge Night Gala, virtually, on Tuesday, September 15, 2020, with NBC New York News Anchor Adam Kuperstein serving as the master of ceremonies. In spite of the geographic space between the hundreds of supporters who participated, the evening was highly emotional as we celebrated Jay Feinberg's 25th Transplant Anniversary, introduced a grateful high school student and his mother to the heroic woman who saved his life, and gave everyone a first look at Gift of Life's Center for Cell and Gene Therapy.
High school junior and transplant recipient meets his bone marrow donor
Seth Roush and his mother Beverly were both excited and tearful when they met Jasmine Inge, whose bone marrow donation in July 2019 saved Seth's life. Gift of Life supporter Aryeh B. Bourkoff, Founder and CEO of Lion Tree LLC, introduced the pair. His previous donation sponsored Jasmine's cheek swab, leading to her being identified as a perfect match for Seth. Seth and his family were shocked when they learned Acute Lymphocytic Leukemia was the cause of his sudden weight loss and nosebleeds. Four rounds of chemotherapy did not work for him, leaving a marrow transplant as his best chance for survival. A search of the worldwide registry found Jasmine, and when contacted by Gift of Life, she jumped at the opportunity to donate.
Jasmine had joined the registry in 2017 after seeing actress Kristen Bell appear on the Chelsea Handler show demonstrating how easy it is to swab and talking about Gift of Life's mission. As someone who is always seeking ways to be of service to others, Jasmine immediately went to Gift of Life's website and ordered a swab kit.
"I was excited to get the call. If there was anything I could do, I would do it," Jasmine told Seth.
"A year ago, when I got the transplant I had gone through so much already and I didn't know if I was going to live," said Seth. "You saved me. I don't even know how to thank you."
Beverly told Jasmine, "You've completely changed out lives and saved Seth. You have another mom out here – I would do anything for you."
Celebrating Jay Feinberg's 25th Transplant Anniversary
Twenty-five years ago, after a four-year search for a match, Jay Feinberg received a stem cell transplant to cure leukemia and dedicated his life to helping others find their donors. Gift of Life has now saved more than 3,600 lives, and positively impacted thousands of their family members. To celebrate this anniversary, supporters and friends submitted dozens of videos to offer greetings and well wishes, and many recipients sent their heartfelt thanks. The warm personal messages touched Jay and everyone watching them, especially when his donor, Becky Faibisoff Kaplan offered her congratulations and spoke of her affection for Jay and Gift of Life's mission.
Introducing the Gift of Life Center for Cell and Gene Therapy
One Huge Night would not be complete without a look at Gift of Life's progress and innovations – and this year Jay announced the completion of another personal goal: The Center for Cell and Gene Therapy. Construction on the facility, housed in the first floor of Gift of Life's headquarters in Boca Raton, Fla., is now completed and staff are preparing for the official opening day on November 17, 2020.
"I am beyond excited to introduce to you Gift of Life's newest and most ambitious endeavor yet," Jay told viewers. "We already have a registry of hundreds of thousands of healthy volunteer donors. Now, off-the-shelf cell therapy products will be available on demand for transplantation, engineering for immunotherapy treatments and innovative research."
The cells collected and stored in the BioBank will be donated by a special subset of volunteer "super-donors" whose common genetic characteristics can help large numbers of patients in need. The center will also collaborate with world-renowned research institutions to develop new methods of cell therapy.
"Since a patient's biggest enemy is time, we are excited that we will be able to provide the lifesaving cells they need exactly when they need them," said Jay. "Exciting times are on the horizon."
Musical Homage to Gift of Life
Wrapping up the evening were incredible performances by Emily Rubinstein, Gift of Life's Got Talent winner and Carol Hatch, Gift of Life's Got Talent Finalist.
Emily skated and danced to her own original music, while Carol, an accomplished flautist, composed a spontaneous musical piece on a Native American wooden flute, dedicated to her transplant recipient, Andy Michaels.
Thank you to everyone who joined us for the live event on September 15. Together, $1 million was raised. We look forward to greeting you all in person in 2021 and sharing the incredibly special 30th Anniversary of Gift of Life's mission.
---
To watch the full one-hour One Huge Night Gala video, click here.