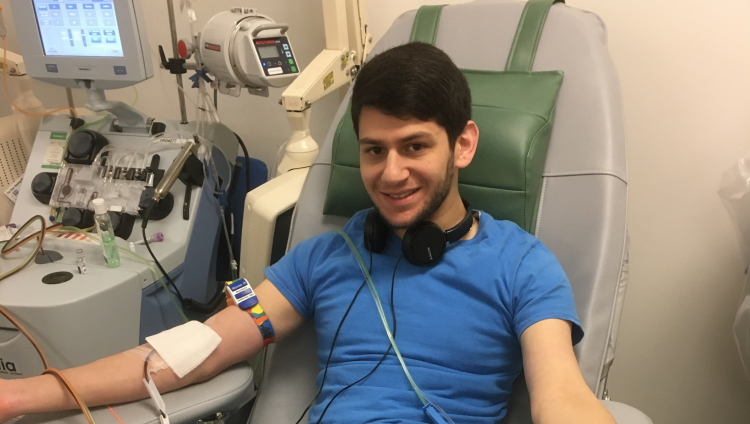 Engineering student travels to Manhattan during pandemic lockdown to donate stem cells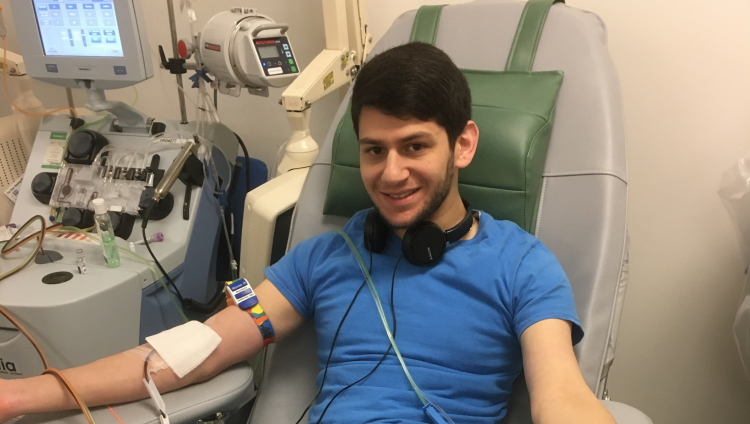 Gift of Life's donors are heroes by any standard, but some of them go above and beyond to help save their recipient's life. Just two weeks after stay-at-home orders went into effect in New York City, while hospitals were struggling to handle thousands of virus patients, Joshua traveled into the red zone in the hope of saving a man's life.
Donating stem cells, however, wasn't Joshua's first encounter with blood cancer. His grandfather, Isaac, was a huge role model for him and his family as well as an ophthalmologist, leader in medical ethics, and a pillar of his community and congregation. In 2013, when he was only 74, he lost his battle with acute myeloid leukemia.
Three years later, Joshua was serving as a counselor teaching woodworking at Camp Moshava when a representative from Gift of Life came to make a presentation. After hearing Gift of Life founder and CEO Jay Feinberg's story and realizing that he could possibly help someone survive leukemia, Joshua swabbed his cheek and joined the registry.
"In January, I was called as a match for a man in his mid-60s who is fighting to survive leukemia," said Joshua. "I attend Drexel University in Philadelphia and since we are on the quarter system, a break was coming in late March, right at the time they needed me to donate in New York City. So, it worked out great for traveling during my time off."
But, between January and late March, the COVID-19 pandemic swept around the world, hitting New York City particularly hard. By the time Joshua was getting ready to travel, Manhattan, where he would donate stem cells, was shut down.
"My mom was planning to be my companion for the donation, but for safety reasons that changed and she wasn't able to go," said Joshua, who's majoring in electrical engineering. "But, I give blood regularly and felt it would be safe."
During the donation process blood is taken from one arm, the stem cells are centrifuged out by the apheresis machine, and the remaining blood is returned to the donor through the other arm. This usually takes four to six hours, and the donor is able to read, watch movies and check emails during the procedure. Joshua listened to some music, then watched the movie, A Beautiful Mind.
"The blood center staff were professional and ensured I was comfortable at every step," said Joshua. "Staff members all wore masks and gloves, and I was only exposed to people who had been cleared to donate blood, and then only from an appropriate distance."
Joshua hopes to hear that his recipient is doing well, and says that, "every person involved with Gift of Life has touched and warmed my heart. It reinforces my compassion for and faith in humanity when I consider the important work you do on a daily basis. Knowing how helpful these stem cells are for someone in need makes donating well worth it!"
After donating, Joshua resumed classes online for the final quarter of this year and is staying at home with his parents. He enjoys woodworking and tinkering with electrical devices to learn how they operate.