January 18th, 2015 was a warm, beautiful day in Boca Raton, Florida, and as Gift of Life's Chairman of the Board of Directors, William Begal, took to the stage to welcome nearly 500 attendees to the Fifth Annual Walk for Life, he joked that it only took five years to get the weather right. In past years, attendees braved everything from rain, wind and frigid temperatures, but this year's Walk, a certified 5K race with AccuChip timing, which took place on the campus of Florida Atlantic University, broke records by raising nearly $85,000 to fund new donor testing and attracting the largest crowd of runners, walkers, volunteers and supporters yet.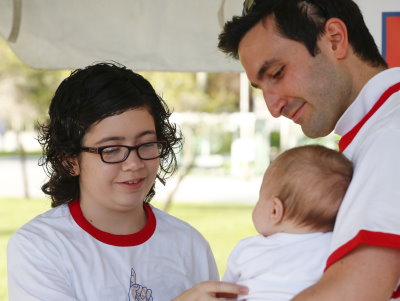 As always, the highlight of the event was the introduction of a transplant survivor to her heroic donor for the very first time. Twelve year old Andrea was diagnosed with Severe Aplastic Anemia and needed a transplant to survive. When it became clear that she would have to rely on a stranger for the donation, she was scared and nervous. Luckily, her donor, Matthew was quickly found in Gift of Life's registry, and he agreed to proceed "instantly, willingly and wholeheartedly." One year after the transplant, the pair embraced for the very first time onstage at the Walk for Life, demonstrating first-hand the lifesaving impact of Gift of Life's work, the importance of becoming a donor, and the need to continue funding new donor testing.
---
Photo: Heroic blood cancer survivor Andrea meets her lifesaving donor Matthew and his baby for the first time.
---
Matthew explained, "My niece was suffering from anemia and she had to go for platelet transplants often. I saw impact it had on her life and when I got called to donate to someone who was close to the same age as her, it was kind of an instant reaction to say yes." Together, Andrea and Matthew led the crowd of runners and walkers on the 5K route through the Boca Raton campus, and spent the rest of the day getting to know one another.
Gift of Life's Public Affairs Manager, Marti Freund said, "This is one of the most powerfully emotional experiences some people may experience in their lifetime. The annual Walk is a critical fundraising initiative for Gift of Life, but the best part is getting to witness such a beautifully emotional scene when the donor and the recipient meet face-to-face for the first time."
The Boca Raton Walk for Life is one of several 5Ks hosted by Gift of Life throughout the country. Last year, events were also held in New York, New Jersey and Washington, DC. The next Walk for Life will take place on April 26, 2015 in Boston, MA.
Funds raised through the Walks go directly towards underwriting the costs associated with adding new donors to the worldwide registry. The more donors there are on the registry, the better the chances are that patients who need transplants to survive life-threatening illnesses will find their miracle matches. Jay Feinberg, Gift of Life's Founder and Executive Director explained, "I know what it's like to be confronted with a disease and told that there's a cure, but you can't benefit from that cure because you can't find a match." Since its inception, the Walk for Life has funded testing for 4,000 new donors, resulting in 64 matches to date.
Becoming a donor is easy, requiring just a swab of cells from inside the cheek. The cost to process each donor registration, including lab fees, is $60.
You can join the fun and help raise funds for donor testing in a city near you! For more information, visit
www.walkforlife.org
or call Gift of Life at 800-9MARROW.