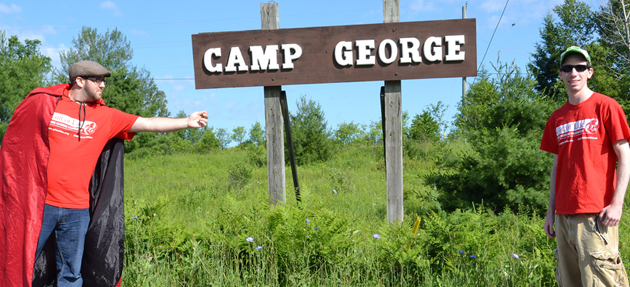 Finding the HERO in You at Camp Travels to Canada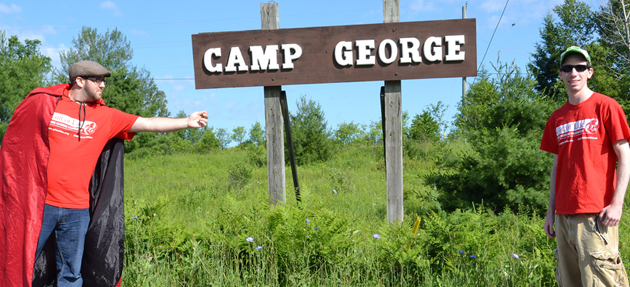 What happens when two friends with different strengths collaborate together in order to achieve a shared goal? Brandon Lablong and Ryan Levey are no strangers to the Gift of Life Bone Marrow Foundation. While a student at York University, Ryan invested numerous hours, helping organize Gift of Life donor drives, co-sponsored by the Alpha Epsilon Pi international fraternity. Ryan's drives have resulted in hundreds of new donors joining the registry and matches being found for patients in need. Then take Brandon, another York graduate, who has been deeply involved in Jewish summer camps throughout Canada. The two combined their passions and set out on a five-day road trip to educate Camp Staff throughout Ontario about becoming volunteer bone marrow donors and giving them the opportunity to swab their cheeks and join the worldwide registry.
From June 25-29, Brandon and Ryan traveled across the province of Ontario, visiting camp after camp, to teach others the importance of saving lives and repairing the world, and offering participants a tangible way to practice these values, through just a simple swab on the cheek.
Over the course of five days, Brandon and Ryan traveled hundreds of miles and visited five different camps. Although each camp was different culturally, all of them expressed great curiosity towards Gift of Life's life-saving work. "Every camp was unique in its own way, but there was a shared interest of knowledge evident at each camp," said Brandon. Inspiration surfaced throughout the camp grounds and camp staff were motivated to take the first step into saving someone else's life. Even those who were unable to join the registry still expressed deep interest in organizing their own initiatives. "People from other countries want to get involved, even though they couldn't get swabbed," said Brandon.
Many reasons drove camp staff to swab their cheeks, such as learning about the need for bone marrow donors and personal connections with cancer. One of the staff members swabbed in honor of her sister who passed away from leukemia. "No matter the reason, it was all inspiring to watch these different sects, who were united by a single cause," said Ryan.
Brandon and Ryan's mission will not stop here. Next year they hope to grow their initiative even more. Additionally, Brandon and Ryan have been promoting awareness on social media sites such as Facebook and Twitter, allowing the world to see the impact that is being made through their participation in Gift of Life's summer camp program.
If you are interested in getting involved and organizing your own donor drives, please contact us at info@giftoflife.org.
TOGETHER we can give the gift of life!