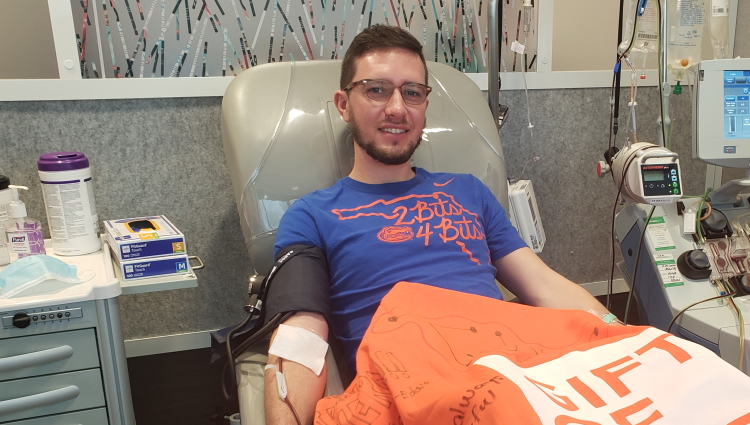 Florida doctor donates blood stem cells to save man's life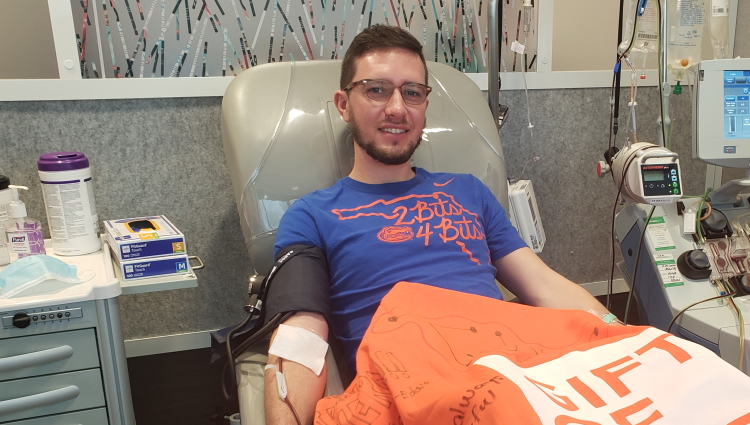 St. Petersburg, Fla. resident Tyler had a gut feeling he was meant to be a donor and help save a life. As a doctor of physical therapy, he works every day to improve the lives of others, and the day he joined the registry gave him an exceptional opportunity to do just that.
"I swabbed my cheek in 2014 at the Dance Marathon at the University of Florida," said Tyler. "At the time I was a student in the Doctor of Physical Therapy program." His friend's mother-in-law survived cancer thanks to a donor, so he knew the importance of joining the registry.
"I was at work when the call came in," he said. "When I was between patients I called Gift of Life back and learned I was a match for a man in his early 60s battling myelodysplastic syndrome (MDS)." MDS is a bone marrow disease that can progress to become leukemia.
---
We need to spread kindness in the world right now, and donating is a big step to making the world a better place.
---
"I called my parents that night, and they both supported my decision to donate," said Tyler. "They were very proud to hear their son was giving back in such a way." His workplace was also supportive, with his manager helping to arrange the time off for donation.
Tyler decided to make the easy four-hour drive from St. Petersburg to Boca Raton to donate at Gift of Life's collection center, and felt very welcome when he arrived.
"While I was donating, I watched the new movie, Soul on Disney+, it's now one of my favorite movies," he said. "It reminded me of how life is filled with so many small miracles, and reminds me to be thankful every day I wake up." He also complimented the nurses on being so kind and making him comfortable for the day, saying the professionalism shown by them and Gift of Life's staff members made the experience unforgettable.
"I really felt like a VIP," said Tyler. "We need to spread kindness in the world right now, and donating is a big step to making the world a better place." All his family and friends are proud of him. "I felt it was my calling to donate, and I was just doing what I was meant to do," he added.
Tyler has taken the saying, "Be the change you want to see in the world" as his personal mantra, and feels that donating was his way of fulfilling this personal mission statement.
"My hope is that my stem cell donation will impact my recipient's life in a positive way," he said. "He will get my blood type from my cells – we will be blood brothers."
Tyler, 29, graduated from the University of Florida and in his free time enjoys running, swimming at the beach, and comparing the microbrews from local breweries in the St. Petersburg area.