The annual One Huge Night Gala in Miami was held on December 13, 2022, on the Pool Deck of the beautiful Sagamore Hotel in South Beach.
The evening event featured Miami-themed entertainment including an incredible team of synchronized swimmers, and the highlight was when Miami Beach Mayor Dan Gelber introduced a young woman to the heroic donor who saved her life.
More than a year after transplant, woman thrilled to meet her lifesaving hero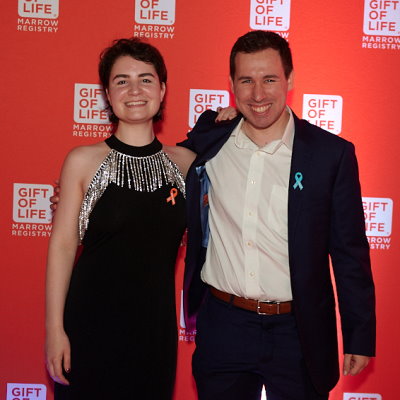 Although donors and recipients must remain anonymous for the first year after transplant, their first meeting, when it finally arrives, is always a joyful moment for them and everyone attending the Gala.
Miami Beach Mayor Dan Gelber, who is a strong advocate for Gift of Life, introduced the two who had waited so long to learn each other's identities.

"I've been asked to introduce donors and recipients several times," said Mayor Gelber. "Each time, I marvel at the selflessness and courage of people who decide they are going to take a step – not knowing what's going to happen – to save someone they may never even meet."

He then welcomed to the stage Erica Meyer, a 24-year-old chemotherapy scheduler from Orlando. After months of feeling increasingly ill and tired in 2017, she was diagnosed with Chronic Myelogenous Leukemia. Although chronic leukemia can sometimes be effectively controlled through medication, Erica needed a blood stem cell transplant to save her life.

"I looked at it as an opportunity to put cancer behind me once and for all," she said.

After showing Erica a video about her donor, Raphael "Rafi" Feigenbaum, a financial advisor from Old Lyme, Conn., Gelber welcomed him to the stage, where he and Erica shared a huge hug.

Raphael, 25, joined Gift of Life in January 2021 after learning at a family dinner one night that his parents and siblings had all swabbed and were in the registry. He immediately ordered a swab kit, completed it at the same dining table, and sent it in. He was quickly identified as Erica's match and asked if he would donate stem cells. To complete his pre-donation medical exam, he had to get through a once-in-a-century flood in New York City, but he was committed.

"I was ready to do whatever was needed," said Raphael. "I felt a sense of urgency and wanted to help as soon as I could." He did not have long to wait! He donated peripheral blood stem cells in October, and then in January 2022, also donated white blood cells to aid in Erica's recovery.

"It's like magic, I truly feel that, and I am so glad you are doing well!" said Rafi. "Everyone at Gift of Life is a miracle worker."
"I feel great, better than I felt for the entire four years before I had the transplant," said Erica, to cheers from the gala attendees. "Thank you, and thanks to everyone involved, it means so much to me and my family."
Five Gift of Life supporters recognized for their contributions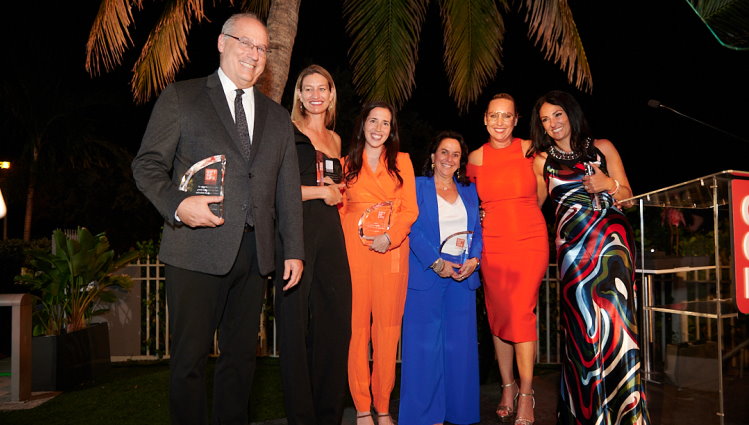 (L-R) Miami Beach Mayor Dan Gelber, Dr. Brooke Owens, Marisa Galbut, Michele Burger, Gift of Life Director of Development Robyn Malek, Liza Samuel.
Gift of Life's Director of Development Robyn Malek recognized five notable Gift of Life supporters from Miami Beach, each of whom has had an incredible, positive impact on the organization: Michele Burger, Marisa Galbut, Miami Beach Mayor Dan Gelber, Dr. Brooke Owens, and Liza Samuel.
Each of them has made a significant contribution to Gift of Life, either through raising public awareness of the organization's lifesaving work, holding fundraising events, or helping to bring new donors into the registry.
Thank you all for making Gift of Life's mission your own.

Arlene Feinberg z"l Community Impact Award presented to 30-year volunteer Gail Oliver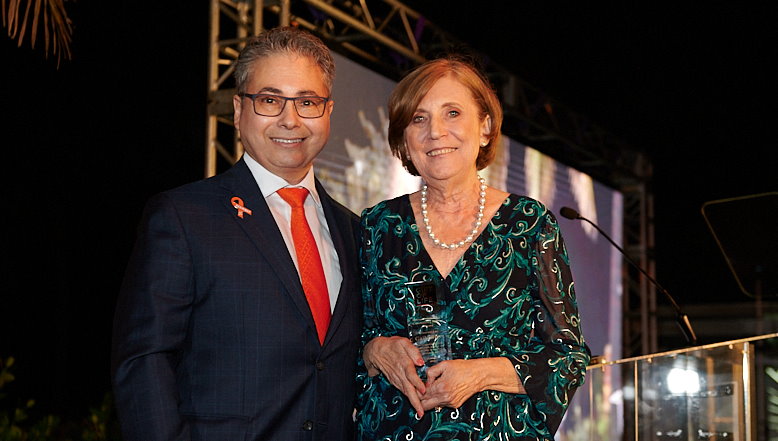 Gift of Life Founder and CEO Jay Feinberg with dedicated 30-year volunteer, Gail Oliver.
Gift of Life was proud to present Gail Oliver with the Arlene Feinberg z"l Community Impact Award, established in memory of Jay Feinberg's mother, the woman who would not take "no" for an answer. The award is given in recognition of Gail's dedication, passion, and leadership in support of our mission to save lives.
For more than 30 years Gail has been an active and ardent volunteer with Gift of Life, leading dedicated teams of supporters in New York and Florida, who have added thousands to the registry, resulting in dozens of matches for patients and numerous completed transplants.
Thank you, Gail, for your energy, enthusiasm, and dedication to saving lives.
WPLG anchor Louis Aguirre served as event emcee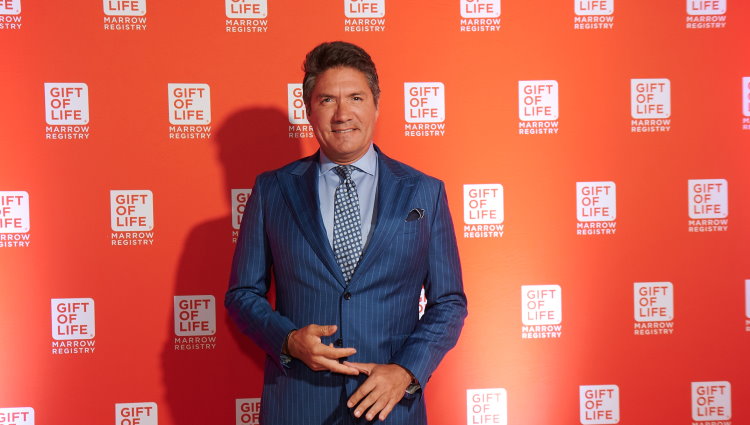 Louis Aguirre is a multiple Emmy Award-winning journalist for WPLG Channel 10 in South Florida. He is co-anchor of the afternoon and early evening newscasts, and anchors the 10:00 p.m. news.
He is known nationwide for leading the "Don't Trash Our Treasure" campaign to raise awareness of – and help solve – South Florida's environmental challenges.
---
Photo Gallery
Click here to view and download photos in the gallery.


---
Thank you to everyone who attended One Huge Night Miami. We deeply appreciate your support for our mission: to ensure that every person in need of a blood stem cell or marrow donor can find one at the time they are needed.