Former Gift of Life Campus Ambassador and Alpha Phi sorority sister Emily Maizlish recently graduated from college, but she is one of the unique few whose college experience included saving someone's life. Emily recently met her recipient, Kim Keaten, face-to-face for the first time at a joyful family event. Thanks to Emily, Kim has been given a second chance at life and is now free of non-Hodgkin's lymphoma.
When Emily was a freshman at the University of Maryland, she ran across several Gift of Life Campus Ambassadors at a recruitment table. They were inviting fellow students to join the registry for the chance to help someone battling blood cancer via a stem cell or marrow donation.
"I decided to do it because it sounded like a good thing," said Emily. "Two years later they called me while I was doing homework to tell me I matched with a patient. I instantly remembered where I was when I swabbed, and after hearing more about the process, I said yes."
Emily was not only a full-time student majoring in education, but she was also an intern at the cosmetics company Clinique, a partner with Gift of Life. They gladly gave her time off work to go to a local collection center located in Virginia.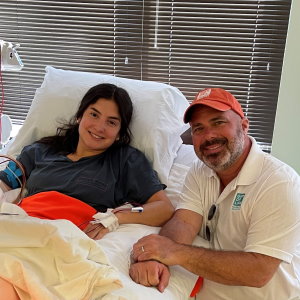 Gift of Life's Chairman Emeritus William Begal, who lives in the D.C. area, went out to the collection center, as he does for many donors, to visit her and ensure her day was going well.
"I asked Bill what else I could do, how could I be more involved," said Emily. "He told me about Gift of Life's Campus Ambassador Program (CAP), and when I got home from donating, I went online and applied, and became a CAP at the University of Maryland."
As a CAP, Emily ran 26 recruitment drives for Gift of Life and added 528 new volunteer donors to the registry. One of those drives was held at Howard University on behalf of Clinique, and the company also found ways to support her recruiting efforts.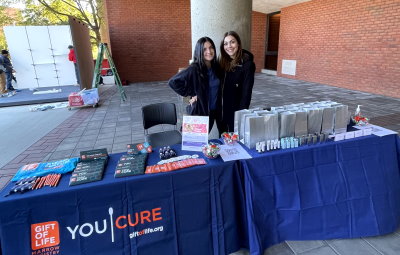 "They sent me hundreds of bottles and tubes of full-sized products to give away at the recruitment table – they were great!" said Emily. "So far 14 people I swabbed have been found as matches, and I'm waiting for the first transplant to happen."
About 18 months after donating her stem cells, Emily received a letter from a woman in Florida – it was her recipient Kim thanking her for donating, and after a few virtual conversations through Facetime, they arranged to meet each other in person.
Emily and her boyfriend Ben drove from Maryland to Florida for this emotional and happy occasion.
"It was incredible to meet her online, but it was even more special to see her in person – we gave each other a big hug," said Emily.
Emily and Ben spent three days in Florida getting to know Kim and her family and friends, including a huge taco party at the family home and a trip to a friend's farm, where they petted a llama and other farm animals.
"Meeting Emily was one of the best days of my life," said Kim. "To be able to meet the person who gave you life is such a blessing. I know many don't get that privilege. I loved her before I even knew who she was for giving me this gift, but spending the weekend with her and seeing firsthand her passion to help and how big her heart is made me so proud! She will forever be a part of my family now."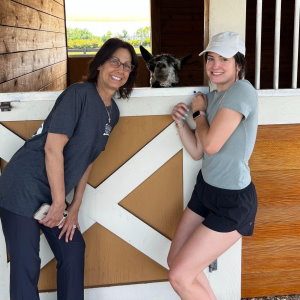 "Kim and her family gave me a beautiful bracelet with the date of her transplant engraved on it," said Emily. "I was just so happy to see the effect that my donating stem cells has made on Kim's life. I want everyone to grasp how important it is to be part of the registry, and how easy it is to be a donor."
Emily lives in Bethesda, Md., where she works teaching middle school science and started graduate school this fall at Johns Hopkins University. In her free time, she crochets and listens to audiobooks.
Kim is a resident of Kissimmee, Fla. where she works as a Chief Financial Offider at a medical practice.