Elias was in his first year at Union College when he joined Gift of Life's marrow registry in 2018. Annually, the school's football team holds a recruitment drive, and Elias signed up along with about 30 other teammates, not to mention other passersby who stopped by to swab.
"It's a passion project for some of the coaches and players," said Elias. "Just from hearing how they talk about it and the opportunity to help someone and be an impactful force beyond myself, I thought how could I not join."
Four years later, while writing his undergraduate thesis, Elias received a phone call from Gift of Life informing him that he had matched with a 66-year-old man battling Myelodysplastic Disorder.
"When they told me I was a match I remember being a little in shock," said Elias. "My donor services coordinator did a great job answering all my questions and quelling any nervousness I had. I felt a responsibility to go through with it. I remember walking out of the physics lab at school and thinking that this would be an awesome opportunity to help someone else."
Elias called his mom to share the news that he had matched. He then told his friend Andrew, the teammate who had organized the drive for the football team.
Many blood stem cell donors from Gift of Life's registry come to the headquarters in Boca Raton, Fla. for their collection at the Adelson Collection Center. However, because of his school schedule, Elias opted to donate locally at an outside collection center in New Jersey.
"My collection was a nice, easy experience," said Elias. "It lasted about 3 ½ hours, and I brought my laptop and headphones and caught up on some Netflix. I also chatted with the technicians, and my girlfriend, who is a med student, came with me. The collection center staff took great care of me. Gift of Life set it up really nicely and seamlessly."
Donating blood stem cells has prompted Elias to reflect inwardly.
"I don't walk around thinking I'm Superman or some kind of hero," said Elias. "But I've definitely thought about how such a small thing like swabbing can have such a profound effect on someone's life, at no health risk for me. Small actions can have profound impacts for others."
Donors and recipients must remain anonymous for at least one year after donation. However, after that year, if both donor and recipient consent, they are allowed to exchange contact information. Elias is interested in meeting his recipient after the period of anonymity expires.
"If you sign up and, hopefully, match, no matter the questions you have or health nervousness, Gift of Life is upfront, honest, resourceful, and very helpful with every step of the process. They really do amazing work. I applaud everyone. It takes a team, it takes a village."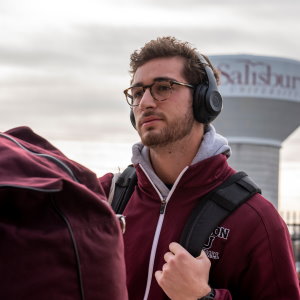 Elias, 23, is a graduate of Union College where he received his Bachelor's in Physics. He now lives in New Jersey where he works as a sustainability consultant. In his free time, Elias enjoys outdoor activities like golfing, mountain climbing, and biking. He also enjoys reading nonfiction books.