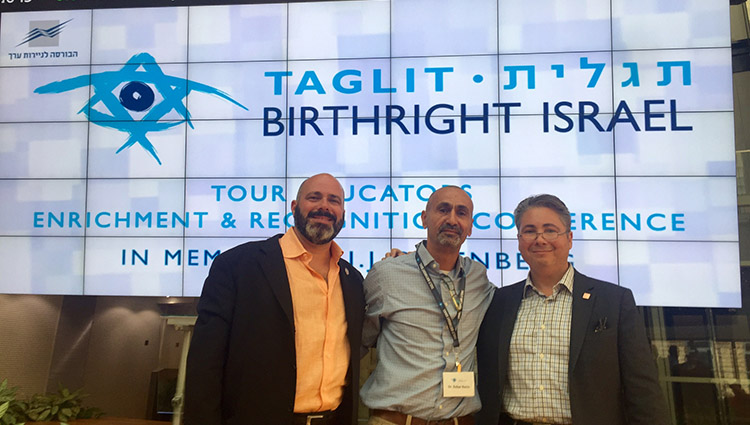 Gift of Life and Taglit Birthright celebrate 12-year partnership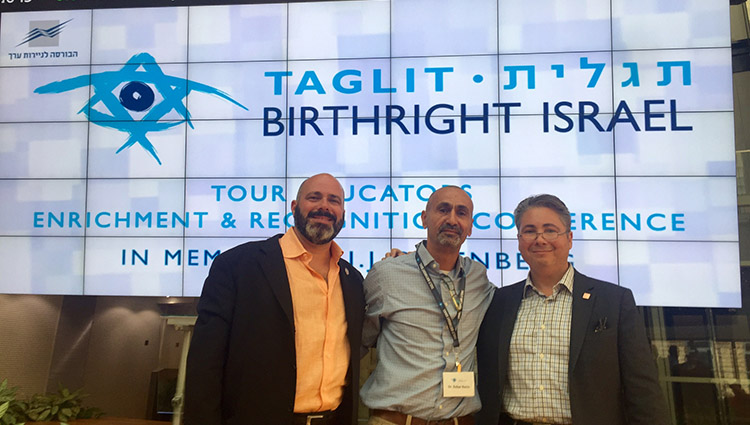 Gift of Life Chairman of the Board Bill Begal (L), Taglit Director of Education Dr. Zohar Raviv (C) and Gift of Life Founder and CEO Jay Feinberg (R) at the Taglit Birthright Israel Tour Educators Conference in Tel Aviv, Israel.
Taglit Birthright Israel was founded in 1999 by philanthropists Charles Bronfman and Michael Steinhardt to offer young Jewish adults between 18 and 26 years old the opportunity for a free, ten-day educational trip to Israel.
Since 2004, Gift of Life Marrow Registry has partnered with Birthright to offer participants a way to pay it forward by volunteering as bone marrow and peripheral blood stem cell donors. Tour groups are visited by a Gift of Life representative who explains the mission to cure blood cancer and offers the opportunity to join the registry with a simple cheek swab.
Both organizations celebrated this partnership on October 27 at the annual convention for Birthright tour educators in Tel Aviv, Israel. The occasion was made special by the presentation of a new video that captures the essence of the partnership.
Over 36,000 young people on their Birthright trip have now joined the marrow registry, and the results are spectacular. More than 1,300 matches have been found, resulting in 188 lifesaving transplants to treat leukemia, lymphoma and inherited immune disorders.
"Many of our participants say that their visit to Israel changed their lives," said Birthright's International CEO, Gidi Mark. "Through our partnership with Gift of Life, we are not only changing lives, but also saving lives. It's really something that cannot be compared to any other mitzvah."
During the event, the transplant recipient featured in the video, Etty Barzelai, was introduced to her donor Peter Shottenfels for the first time. Peter joined Gift of Life's donor registry in 2007 while on his Birthright trip. He donated peripheral blood stem cells to save Etty's life after she was diagnosed with acute lymphoblastic leukemia in March 2013. Their meeting was extremely joyful, and you may read their entire story by clicking here or watch the video of their meeting.
Gift of Life Founder and CEO Jay Feinberg, Board Chairman Bill Begal and Project Manager Alec Burkin all spoke at the convention.
"Gift of Life's partnership with Birthright was initiated during a conversation between me and Birthright's co-founder Charles Bronfman," said Feinberg. "We felt strongly that the program's participants should have an opportunity to give back in some way for their free trip to Israel. They are generous beyond all expectations. We are always awestruck by the eagerness of these remarkable young people to help save the lives of total strangers."
To learn more about Taglit Birthright Israel, visit their website by clicking here.