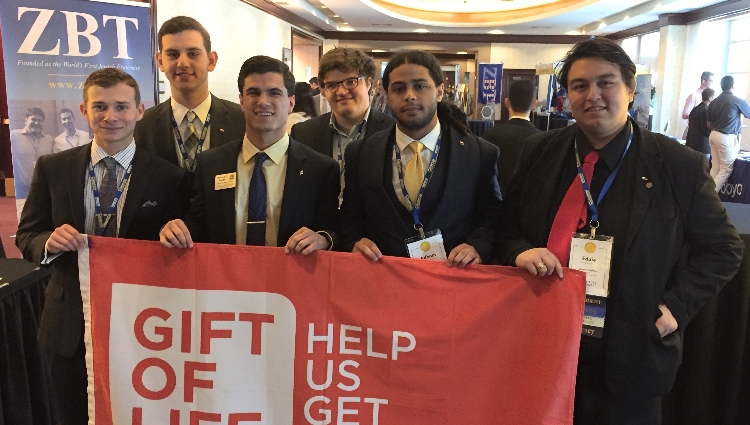 Zeta Beta Tau Fraternity forms partnership with Gift of Life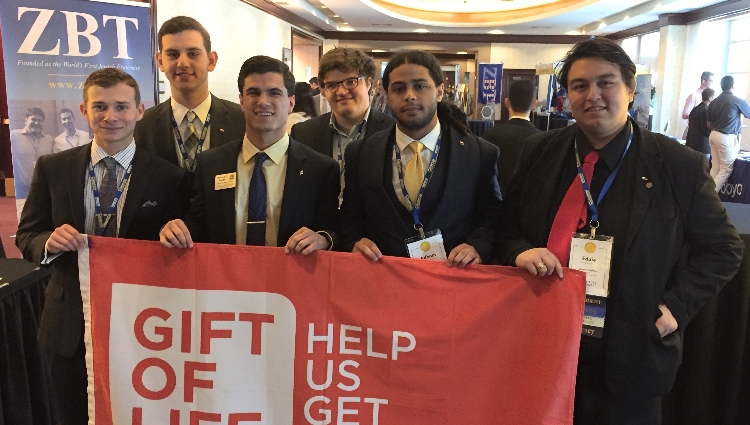 Four ZBT brothers have already donated marrow to cancer patients
On July 21, 2017 at its International Convention in Indianapolis, Ind., Zeta Beta Tau Fraternity formally recognized Gift of Life Marrow Registry as a Community Service Partner. For several years ZBT has hosted donor registry drives at national events like Dover Days and the International Convention, has had chapters all over the country run drives on their campuses, and has encouraged its brothers to serve as campus ambassadors for Gift of Life. Through its efforts so far, four transplant donors for blood cancer patients have been completed from ZBT brothers.
"This new partnership will encourage ZBT brothers to do something truly meaningful — save lives," said Executive Director Laurence A. Bolotin, M.Ed, CAE, Alpha Zeta (University of Florida) 2001. "Our Fraternity's credo promotes a life of social responsibility, the commitment of each individual to be a conscientious member of his community. Supporting Gift of Life — through organizing a campus drive, raising awareness of blood cancers or even simply by getting swabbed and joining the registry — is something that every individual brother has the power to do."
Chapters will be encouraged to hold marrow donor recruitment drives on their college campuses and in surrounding communities with a particular focus on events such as Movember (national men's health month in November) and Match Madness (to coincide with March Madness basketball tournaments).
Gift of Life will provide chapters with:
Education and training in how to organize and run donor drives
Printed drive handbook customized for ZBT
Supply box containing buccal swab kits, educational materials and handouts
Promotional and marketing items to help advertise drives
Young donors are preferred by transplant centers for their patients because they are healthier and naturally produce greater numbers of the needed stem cells. The potential for ZBT to recruit in this donor demographic is huge, and donors do not have to be ZBT brothers to join the registry at a fraternity-sponsored event.
To date, thirty chapters have been actively involved, recruiting over 2,300 donors to join the registry and leading to three completed transplants.
"Zeta Beta Tau has taught me what is truly important in life, and that is helping others and being a responsible citizen," said Gift of Life Community Engagement Coordinator and Zeta Beta Tau Epsilon Nu (SUNY Oneonta) alum Russell Lowe. "With Gift of Life and ZBT joining forces, brothers all over the country will have the incredible opportunity to help patients around the world in their fight against blood cancer. It is up to them to live by the fraternity credo, and there is no greater way to do this than to help save lives."
ZBT's Heroic Donors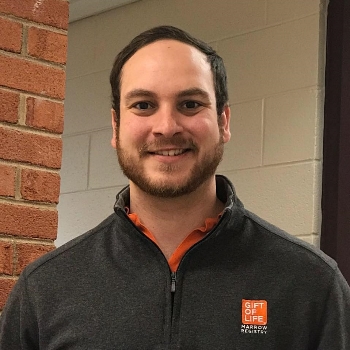 Ryan: In June 2017, ZBT brother Ryan donated Peripheral Blood Stem Cells to a man suffering from a bone marrow disorder. Ryan joined the registry about four years ago while at college, where he majored in American Government and Environmental Studies in college. From the day he swabbed his cheek and became a volunteer donor, he hoped to get that life-changing call giving him the chance to help save someone's life. His mother, who is a family physician, accompanied him to his day of collection. Both she and Ryan were very impressed with the entire process.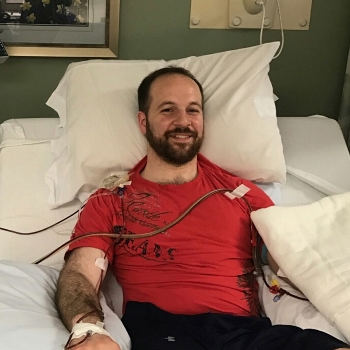 Jacob: ZBT brother Jacob donated peripheral blood stem cells in April 2017 to a woman suffering from leukemia. He joined the registry nearly 12 years ago while a freshman at Emory University, when his ZBT brother ran a drive and encouraged him to swab. Since graduating he has worked in West Africa and attended graduate school. When Jacob received the call that he was a match for someone in need, he did not hesitate. Even though he was busy preparing for his wedding this fall and working at a D.C. area think tank, he immediately agreed to donate. Only a few hours after arriving at the donation center, his stem cells were on their way to the recipient for transplant.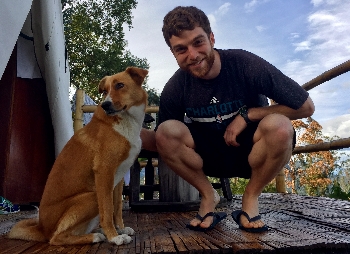 Jared: Jared von Halle, a ZBT brother from Chicago, Ill., donated bone marrow in January 2016 for a woman battling leukemia. Jared registered as a volunteer donor with Gift of Life in 2010 while a freshman at Northwestern University. He knew the chance of being called as a match was low, but when he learned he was a perfect match, he was absolutely committed to saving a life. He arrived at the donation center focused and calm, with his parents along for support. To those who are considering joining the registry he says, "I recommend it! It's exciting to get to help someone and there's no harm to you. A small moment in your life can mean a new chance at life for a cancer patient."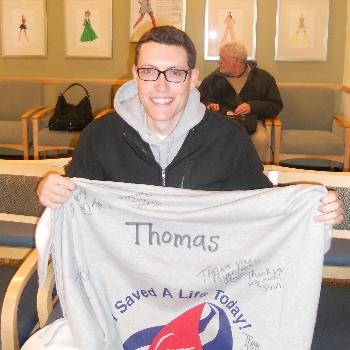 Thomas: Thomas Koerner, a ZBT brother and native of Austin, Texas, donated bone marrow in February 2013 to a 47-year-old woman suffering from acute lymphoblastic leukemia. His father accompanied him to the donation center in Boston, Mass. for the day of donation. A Gift of Life coordinator was there the entire time to ensure Thomas had everything he needed.
Are you a ZBT fraternity brother? To coordinate a donor drive with Gift of Life for your chapter, please contact Gift of Life Community Engagement Coordinator Russell Lowe, ZBT Epsilon Nu, SUNY Oneonta 2016, rlowe@giftoflife.org.
About ZBT
Zeta Beta Tau Fraternity was founded in 1898 in New York City as the world's first Jewish Fraternity. ZBT is a Brotherhood of Kappa Nu, Phi Alpha, Phi Epsilon Pi, Phi Sigma Delta and Zeta Beta Tau. ZBT is represented on 90 campuses in the United States and Canada and has more than 140,000 undergraduate and alumni brothers throughout the world.