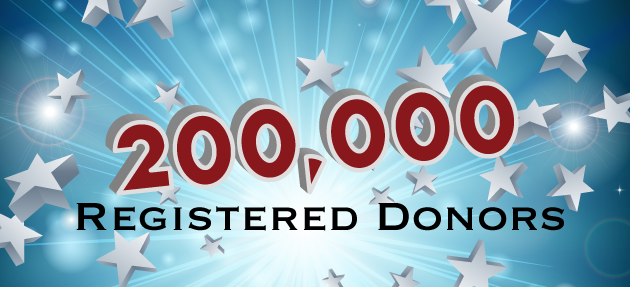 Gift of Life has Reached 200,000 Donors!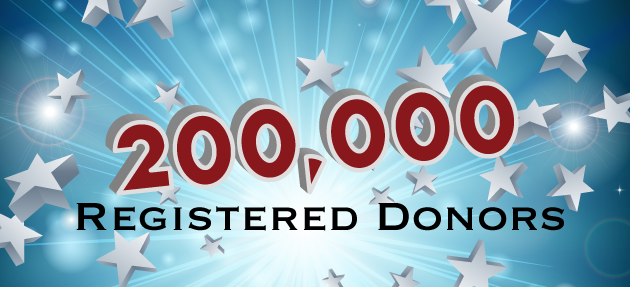 Gift of Life is proud to announce that we've reached an exhilarating new goal: 200,000 donors! Just this week, we added our 200,000th registered donor to our registry, which means that patients all over the world suffering from leukemia, lymphoma, and other blood diseases have an even greater chance of finding their perfect, life-saving match! For over 20 years, Gift of Life has been dedicated to saving the lives of these patients, and we have facilitated over 2,400 transplants. We also have the distinguished honor of being the only bone marrow registry founded by a transplant recipient.
In the 8 months since we kicked off our 200,000th donor celebration, the registry has grown over 11,000, and it continues to grow. Because of the generosity of the people who have joined the bone marrow registry and have gone on to donate bone marrow and peripheral blood stem cells to complete strangers, we have saved countless lives. Lives of people like Scott, who was diagnosed with Myeleofibrosis in 2007. His journey was tough, but he received his life-changing transplant in May 2010, and he met his donor, Jill (who joined the registry in 2009), at Gift of Life's 2nd annual Walk for Life.
Jay Feinberg, Gift of Life's Founder and Executive Director, says, ""I am thrilled that we have reached this milestone and grateful that our donors have saved the lives of thousands of patients. Still, only half who can benefit from a transplant actually receive one because they can't find a match. That's why we are committed to redouble our efforts to reach 300,000 as fast as possible!"
Our journey and job is not done. While we are excited and proud to have reached this milestone, there are still people to be recruited and lives to be saved. We have patients, like Dina, who are still searching for their donor. Dina was diagnosed with Acute Myeloid Leukemia in 2009, and her search for the perfect match continues. Two different donors were found, but neither worked out because of medical issues. Dina and patients like her are living with the hope that, one day, their match will be found and they will get a second chance at life.
It is through the support of the general public that new donors are tested and added to the registry. You can make a contribution to Gift of Life online, and when you support Gift of Life and its mission, you give hope to countless children and adults in desperate need of life-saving transplants by helping to grow our donor registry. Want to do more? Organize a fundraiser. Team up with your synagogue, child's school, or community and host a bake sale, car wash, or festival. It's easy to get involved and to personalize your giving and receive direct, measurable results. If you are interested, email our recruitment team at recruitment@giftoflife.org. We will work with you to plan the perfect event and help save lives.