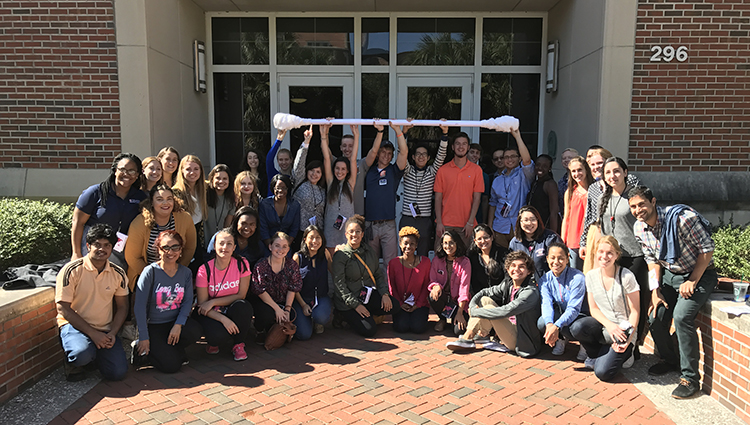 Gift of Life hosts 10,000th donor recruitment drive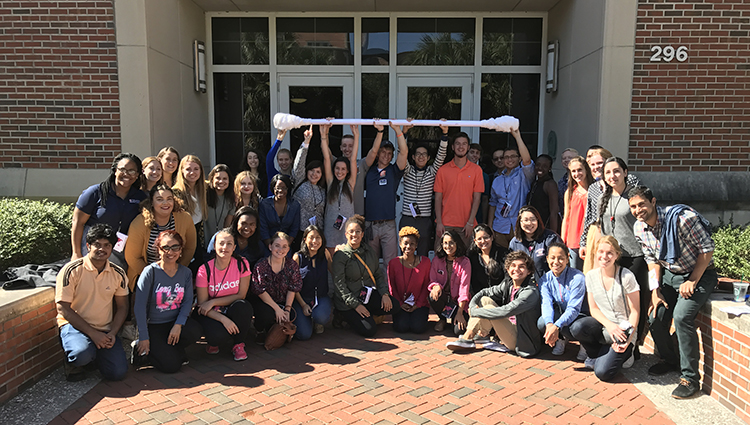 Gift of Life Marrow Registry recently achieved a milestone when one of its Campus Ambassadors held the ten thousandth donor recruitment drive in the organization's history. The drive was held at the University of Florida's Reitz Student Union in the center of UF's campus.
"The drive on November 5 was a collaborative effort between me and Travis Guy, the Florida State College at Jacksonville Campus Ambassador," said University of Florida Campus Ambassador Peter Kovach. "We had a great drive and added about 30 well-informed potential marrow donors to the registry. Since I've been a Campus Ambassador, I've been told 'no' more times than I have in my entire life. But, if there's one thing I've learned through this experience, one 'yes' can make the difference between life and death for someone in need."
Gift of Life began 25 years ago with a drive
The organization grew out of a grassroots effort to save the life of Jay Feinberg, Gift of Life's founder and CEO. When he was diagnosed with leukemia in 1991, no matching donor could be found for him in the registry. Doctors told him to do what he could with the time he had left, but his family would not accept this bleak advice. They started running donor recruitment drives to find Jay's match, ultimately testing over 60,000 volunteers and finding donors for dozens of patients awaiting transplant – but not Jay.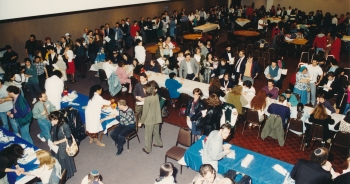 ---
During the four-year search for Jay's donor, over 60,000 people were tested, including 2,500 in one day at this drive in New York.
---
As his health declined, a volunteer decided to hold one last drive, and that was the day Jay's miracle match was found. The last person who tested that day, as the drive was being packed up, was Becky, Jay's donor. After his successful transplant, Jay decided to pay it forward by helping others, and Gift of Life Marrow Registry was founded. Today the registry has facilitated over 3,000 lifesaving transplants, has over 260,000 active volunteer donors registered, and has changed how bone marrow donors are recruited.
Younger donors are most requested for transplant
The science of bone marrow and peripheral blood stem cell (PBSC) transplantation has advanced significantly, and it is now understood that donors between 18 and 25 years of age bring about better outcomes for patients. As young adults are healthier and produce more of the cell types needed for transplant, they are now the most often requested by transplant centers and physicians.
To act on this information, Gift of Life founded the Campus Ambassador Program, an on-campus internship program. Participation offers college students the opportunity to learn valuable management and marketing skills while recruiting their peers – who fall in the ideal donor demographic – into the registry.
Gift of Life will help you run a drive
Anyone can run a donor recruitment drive, and Gift of Life offers help to make organizing, promoting and running a drive easy. Once the date and location are set, Gift of Life will send a package with everything needed: cheek swab kits, barcodes, and a return packing form and a prepaid Federal Express packing slip for submitting the completed kits.
Drives may also be held on behalf of patients in need of a donor. If no match is found in the worldwide registry, that does not mean that no marrow donor exists, but that no one with the needed tissue type has registered yet. The family and friends of a patient can start a donor recruitment drive to try and find a match, and Gift of Life can help target these drives to maximize the chances of recruiting a compatible donor with similar genetic and ethnic background.
To organize a drive in your community, place of worship, school, or at a special event, please contact recruitment@giftoflife.org. You can help us get everyone swabbed, involved, and cured!