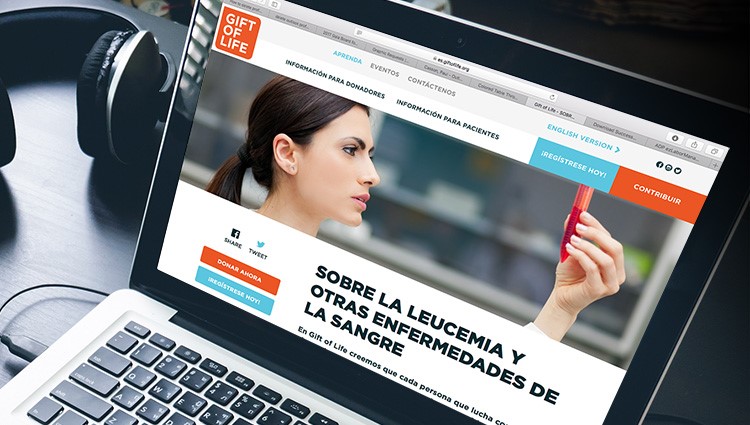 Gift of Life launches Regalo de Vida Marrow Registry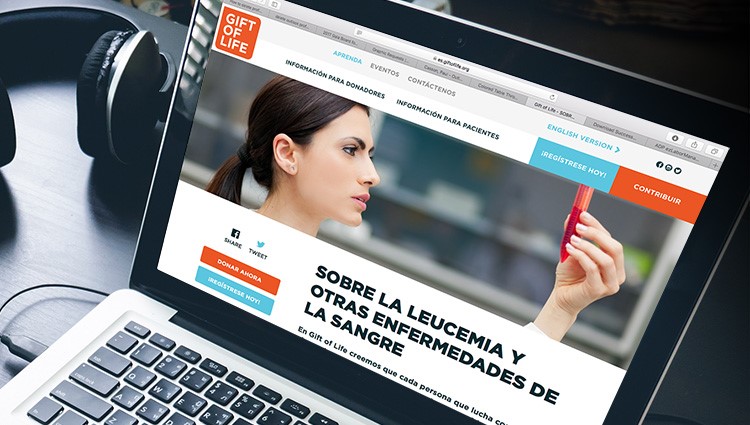 Gift of Life = Regalo de Vida
The face of a beautiful child appeared on doorsteps across South Florida on April 16: Gift of Life marrow transplant recipient and blood cancer survivor Daisy was featured on the cover of our Spanish language insert in El Nuevo Herald and in English in The Miami Herald to announce the launch of Regalo de Vida Marrow Registry.
The registry's new Spanish-language website, regalodevida.org, offers information about bone marrow donation and blood cancers, and enables those between 18 and 45 who want the chance to save a life the opportunity to order a swab kit and join the registry.
Regalo de Vida offers a Spanish-language telephone hotline and email:
---
To download a PDF of our informative newspaper insert, select either Spanish or English:
---
The challenge of curing cancer in the Hispanic community
The Hispanic and Latino population of the United States faces a tremendous challenge: leukemia and lymphoma rates for both men and women are higher than for other groups, and cancer is now the leading cause of death among Hispanics, even above heart disease. Many types of lymphoma, leukemia and other blood disorders can be treated or cured through bone marrow and peripheral blood stem cell transplants. However, approximately 55 percent of Hispanic/Latino patients are unable to find a matching bone marrow or stem cell donor – there simply are not enough people of Hispanic/Latino ancestry to provide matches for all patents.
Regalo de Vida Marrow Registry helps address the shortage of donors
Gift of Life Marrow Registry is partnering with The Saul and Theresa Esman Foundation to improve the chance that Hispanic/Latino patients will find matching donors, helping to save the lives of both children and adults. The best way to ensure that more matches are found is by adding volunteer donors of Hispanic and Latino ancestry to Gift of Life's registry.
"The genetic factors used to match donors and recipients are inherited, like hair and eye color, so matches are usually found with someone of the same ethnicity. We invite those between 18 and 45 years old to volunteer and help us find more lifesaving donors," said Gift of Life Founder and CEO Jay Feinberg. "Over 2.2 million Hispanic/Latino residents live in South Florida today. With higher than average rates of leukemia and lymphoma, it is important that people of Hispanic and Latino ancestry join the registry to change the odds of finding a match."
To order a registration kit, click here for Spanish or click here for English.
www.regalodevida.org offers important information about marrow donation
Information about bone marrow donation is now available in Spanish at regalodelavida.org. This site explains which conditions are treatable through bone marrow transplantation, how to join the registry, all the steps involved in transplant for either a donor or a cancer patient, and many heartwarming stories of donors and the people whose lives they saved.
"We want you to know that if you are in need of a marrow transplant, you are not alone, and there is hope of a cure – No estás solo, hay esperanza para una cura!" said Esman Foundation Executive Director Murray Levin.
Donor recruitment drives are being held across South Florida. To find a donor drive or other event, visit our online calendar – haga clic aquí para el calendario en Español or click here for English calendar.
Facts About Blood Cancer
Leukemia is the most common cancer in children, accounting for one third of childhood cancers.1
Hispanic children and adolescents have higher rates of leukemia than all other racial and ethnic groups in the US.1
Hispanic children and adolescents have lower leukemia survival rates than non-Hispanic white children.1
Childhood cancer is the second leading cause of death among Hispanic children ages 1 to 14 years.2
Cancer is the leading overall cause of death among the Hispanic population.3
Hispanic men and women have the highest rates of developing acute lymphocytic leukemia3
Hispanic men and women have the second highest rates of lymphoma, after non-Hispanic whites3
Cancer survival remains lower among Hispanics than for non-Hispanic whites.1
Regular screening can detect cancer at an early stage and improve treatment success for some types of cancer.1
Sources: 1) American Cancer Society, Cancer Facts & Figures for Hispanics/Latinos 2015-2017, 2) North American Association of Central Cancer Registries, 3) Centers for Disease Control and Prevention