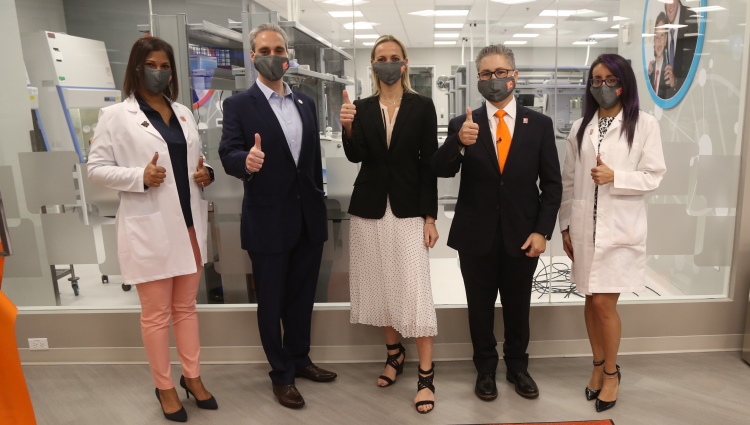 Gift of Life opens Center for Cell and Gene Therapy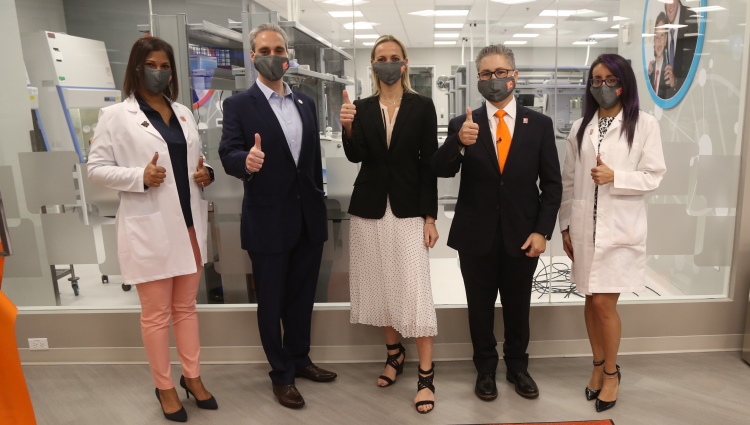 (L-R) Medical Technical Supervisor Farida Khan, Mayor of Boca Raton Scott Singer, Scientific Director Dr. Francesca Gullo, CEO and Founder Jay Feinberg, Senior BioBank Cell Processing Specialist Andrea Pena.
When you are fighting to survive blood cancer, four simple words can fill you with hope: We found your match. Yet for nearly 50 percent of people whose matching donor is found, the transplant does not arrive quickly enough to save their lives.
To deliver cutting-edge, lifesaving therapy services for stem cell transplantations and improve patient outcomes, Gift of Life has opened the Gift of Life Center for Cell and Gene Therapy, in the same location as the headquarters and stem cell collection facility.
The Center will provide transplant physicians, researchers, and cell and gene therapy developers with the donor cell products they need to help more patients than ever before. A biobank of off-the-shelf, on-demand cell therapy products will be available for next-day transplantation, or engineering and ethical research. Cells will be collected from volunteer "super donors" with high frequency genetic characteristics sourced from within the registry. These cells will be tested, processed and cryopreserved by the Center's cellular therapy laboratory. The Center will collaborate with world-renowned South Florida research institutions to improve transplant outcomes, develop processes for cell expansion, and much more.
Currently, one donor is matched with one transplant recipient, but with these new processes, a single donor has the potential to save multiple people's lives.
"While many advancements have been made in stem cell treatments for those with blood diseases, there are still critical barriers that can impede success," said Gift of Life CEO and Founder Jay Feinberg. "With the opening of the Cell and Gene Therapy Center, Gift of Life will take a crucial next step in helping to remove those barriers."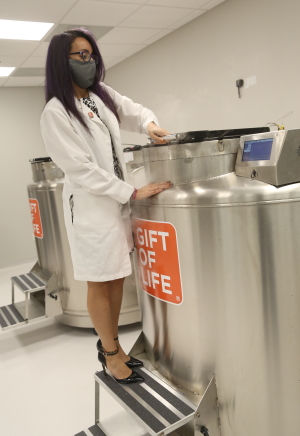 The only registry in the world started and run by a transplant survivor, Gift of Life has pioneered key innovations in the stem cell transplantation and donation process. In April 2019, the organization become the first registry to operate an in-house stem cell collection center, bringing stem cell donors to collection faster and greatly improving their donation experience.
"Gift of Life's overarching mission is to democratize cell therapy and ensure that every patient has an equal opportunity to receive the treatment that can save their lives," said Feinberg. "Doing so requires innovation, passion and an entrepreneurial approach to the challenges at hand. We are excited to draw on our 30 years of expertise as we embark on this next phase of our work."
Francesca Gullo, Ph.D., serves as the facility's Scientific Director.
"We are definitely entering a new era in the medical field. More and more we will see regenerative medicine use cellular and molecular tools to treat devastating diseases with no current treatments," said Dr. Gullo. "Our program at Gift of Life Center for Cell and Gene Therapy has the expertise, resources and facilities to make significant discoveries and then translate them into the clinic. We are in the process to develop methods to cryopreserve PBSC (Peripheral Blood Stem Cells) and MNC (Mononuclear Cells) products that are, at the very minimum, comparable to the fresh products. Moreover, we intend to focus on the development of methods to expand stem cells from PBSC products while ensuring purity, potency and safety of same, so that they can be divided into multiple doses available off-the-shelf for distribution."
Equipment in the facility includes:
Sepax2 (Cytiva)
SmartMax (Cytiva)
VIA Freeze(Cytiva)
StemVision (StemCellTechnologies)
Cytoflex and Navios (BeckamCoulter)
Sysmex XN 1000 (Sysmex)