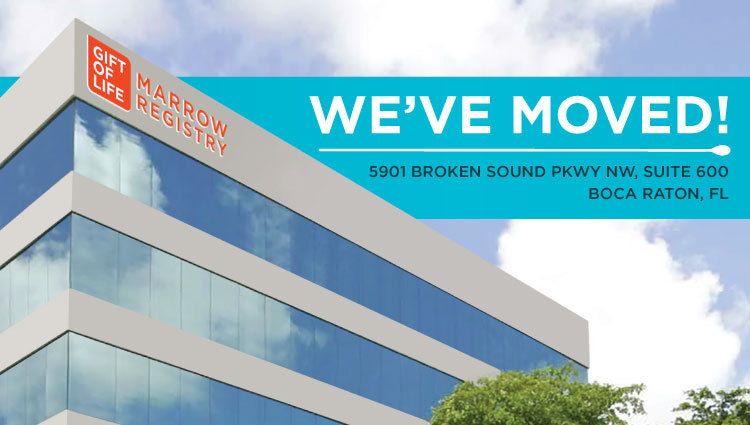 Gift of Life opens new Boca Raton headquarters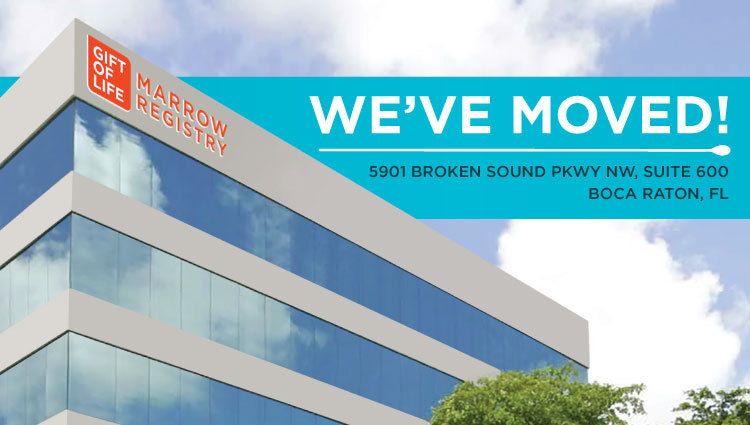 On April 1, 2019, Gift of Life Marrow Registry opened its new headquarters facility in Boca Raton, Fla. The new location is at:
5901 Broken Sound Parkway NW, Suite 600

Boca Raton, FL 33487
Phone numbers remain the same:
Phone: 561-982-2900
800 Number: 800-962-7769
Operations Fax: 561-982-2901
Donor Services Fax: 561-982-2902
First registry-integrated stem cell collection center
The Gift of Life Marrow Registry is the nation's first marrow registry to operate its own stem cell collection center, making it easier and faster than ever before for volunteer donors to save the lives of patients battling blood cancer around the world. Located within its new 22,000 square foot headquarters, the center will feature a warm, inviting, spa-like atmosphere focused entirely on the donor's experience.
While typical donor amenities at similar facilities include movie libraries, Gift of Life will also give donors the option to customize their experience and communicate their needs to a dedicated donor concierge. "The new apheresis center will shatter the typical image of a collection facility," said Jay Feinberg, Gift of Life's CEO and founder, himself a 24 year transplant survivor. "The goal is to celebrate the donors and make the process more comfortable."
"Timing is one of the most important factors in the success of peripheral blood stem cell transplants," said Jay. "The sooner the patient can receive a transplant, the better the outcome is for them. Today, 50% of patients who have a matching donor in the registry never make it to transplant. The system needs to move faster; these are lives that could possibly be saved."
The collection center is also prominent in Gift of Life's future plans. A revolution is going on in the treatment of blood cancers, inherited immune disorders, and other diseases like sickle cell anemia and multiple sclerosis. New therapies rely on hematopoietic stem cells, the cells found in both bone marrow and circulating blood that give rise to the body's bone marrow, blood and immune system.
The new headquarters houses the organization's primary staff, including donor services, development, community engagement and the executive offices. Field staff also work at offices in New York, Los Angeles and Jerusalem, Israel.