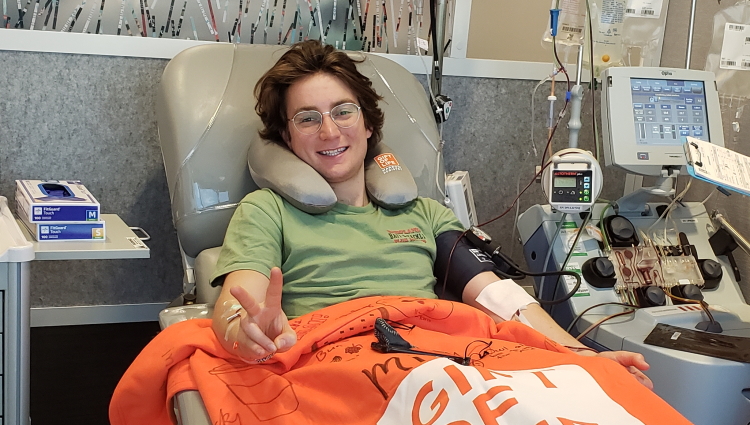 Hurricane did not stop stem cell donor from saving a woman battling lymphoma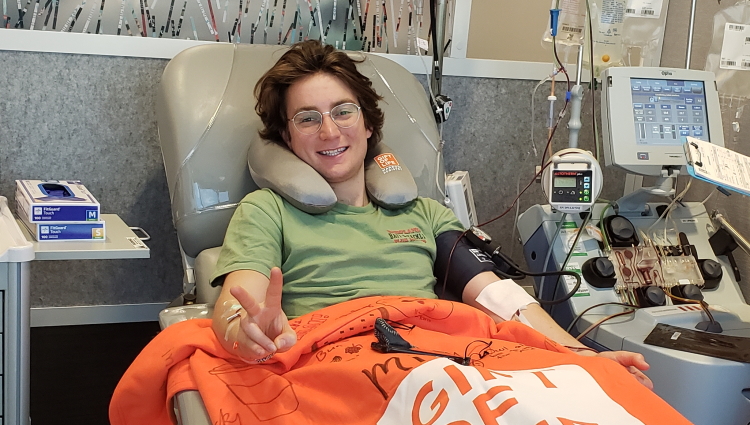 When Miles, 21, joined Gift of Life's registry in December 2018 on the University of Wisconsin Madison campus, he was well aware of the opportunity it presented.
"A couple of Campus Ambassadors were making a presentation and passing out kits," said Miles. "My brother Robert had donated bone marrow nearly ten years ago, so I had the general idea."
The family must have terrific stem cells, because Miles was notified he matched patients twice. The first time he did not have the chance to donate, but in September 2020 he got an email from Gift of Life that he would be able to donate to a different recipient, a 38-year-old woman battling lymphoma.
"I was at my desk when I found out," said Miles. "I talked to my family and my good friends about donating – it's a super exciting experience – and I just did what anyone would do as long as they have their morals right, anyone would make the decision I did."
Miles had a completely online class schedule due to the pandemic, which meant he was able to fly to Gift of Life's collection center in Boca Raton and bring his work with him.
---
I just did what anyone would do as long as they have their morals right, anyone would make the decision I did.
---
"I thought, 'This is great, I'm leaving Wisconsin in November and getting a vacation in Florida for a few days while I get the Neupogen shots,'" he said. "But when I got there it was borderline hurricane weather, really blowing a gale." Although Hurricane Eta brought stormy conditions for days as it looped back and forth around South Florida, Miles, who loves most outdoor activities, did visit the beach. He also enjoyed exploring the restaurants around the hotel.
"On collection day you wake up and you're ready to go," said Miles. "I spent the whole week preparing and I was ready. They did a great job of putting personal touches in the donor cube, all my favorite things." He still has his orange blanket signed by the staff members right in his living room. During collection Miles watched some Netflix, then took a nap.
"People have asked me which organization I donated with and I always speak highly of Gift of Life," he said. "Signing up as a donor is absolutely something you should do."
A senior majoring in economics and environmental science, Miles is a native of Ipswich, Mass., where he enjoys outdoor activities, from swimming in the ocean to skiing, fly fishing, and birding. He hopes to meet his recipient someday, as his family have become good friends with his brother's recipient over the years.