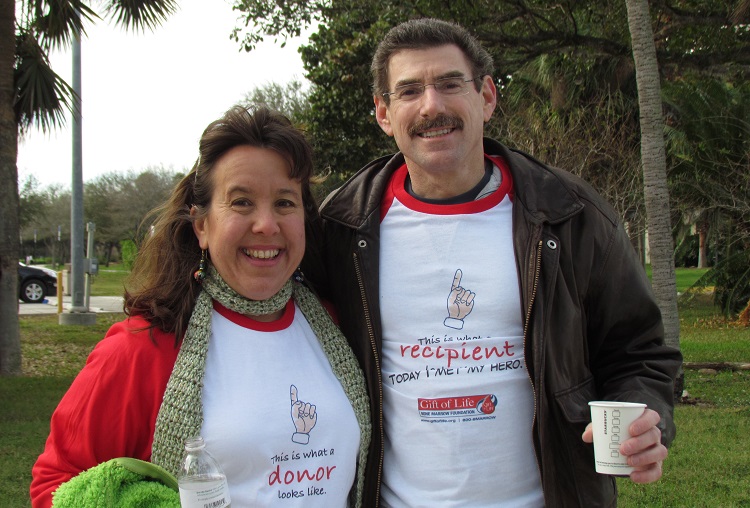 Jill donated marrow to save a husband and father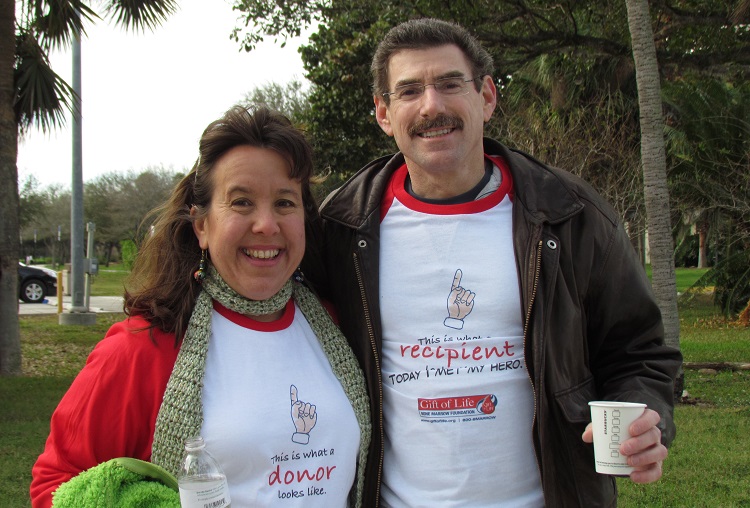 "Act as if everything depends on you; pray as if everything depends on G-d." This quote summarizes my belief in Judaism, a higher power, and self-efficacy. I grew up donating blood every two months with my dad, so it was a natural fit for me to agree to a cheek swab at a Gift of Life donor drive back in 2002 at Temple Kol Ami Emmanuel in Plantation, Florida. I never thought about the registry again until Gift of Life contacted me to be tested as a potential match for a sick man in 2009.
I felt honored, special, and chosen when I found out that I was the best match from the initial pool of potential donors. Gift of Life allowed me to speak with a prior donor who raved about the experience as she was able to be a donor for a little boy and went on to meet him and his family. After that, there was never a question in my mind about going through with the donation. I was told the recipient's age, gender, and diagnosis. After that, I thought that this is not a sick stranger now but instead a father, son, and/or husband. As a woman with a father, a son, and a husband, I took the donation process extremely seriously, having the responsibility for another person's life dependent on mine.
The Gift of Life staff helped me through every step of the multitudes of tests. They flew me from DeLand, where I live now, to Baltimore for the testing to make sure that I was a healthy donor. The meticulous care for my health and the success of the transplant was always evident and paramount. My donation plans were tumultuous: I was contacted to be told that my recipient was too sick for the donation, and it was on hold. What a relief when he was healthy enough to continue with the donation. I was soon going through the process of Neupogen injections, knowing that my recipient was going through chemotherapy somewhere in the world in simultaneous preparation for the transplant. I was compulsively careful about my driving and my health during that time.
When I again flew up to Baltimore to donate in May 2010, my Gift of Life liaison was waiting for me to coordinate every detail. I required a central line to donate, which complicated the preparations but expedited the actual donation. Hildy from Gift of Life brought me a warm blanket with signatures from the entire staff to keep me cozy, brought me coffee and cookies, and shared what turned out to be one of the most special days of my life. I found the travel home and next few days to be much more emotionally, and to a lesser extent physically, exhausting than I had imagined, but the afterglow lingered long after the slight soreness from the donation site and the Neupogen.
My anonymous recipient was often on my mind after that. By October of the same year, I was asked to donate again as the transplant wasn't taking. I struggled with the enormity of "doing it again so soon" but realized that there was no choice as I was all in. I was allowed this time to travel with my husband for support! However, the process called off completely as my first donation finally began "to take"—what a relief! Not a week went by from the donation until now that a friend, congregation member, or neighbor doesn't ask me if I have an update on my recipient.
My journey finally came full circle when I attended the second Annual Gift of Life Walk for Life in February and publicly met Scott, my recipient, and his son Alex. We hugged, cried, and laughed and shared our sides of the donation experience. He told me I was a perfect 10/10 match for HLA proteins, which is a 1 in 600 million chance. It was like meeting an old friend that I'd never met before.
And I was right! My recipient IS a father, a son, and a husband, and now my friend. I was able to give him back to them. We both agree the meeting was one of the most emotional events of our lives and have continued to talk. I think I had an "emotional hangover" for a week and was in a fog for a few days. GOL allowed me to give a gift of life and gave one to me as well, and for that I thank them, and I thank G-D.