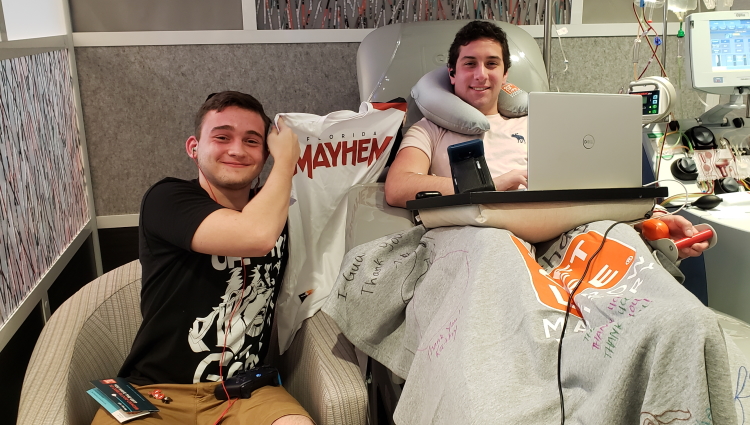 John Jay College grad student donates stem cells to save woman battling lymphoma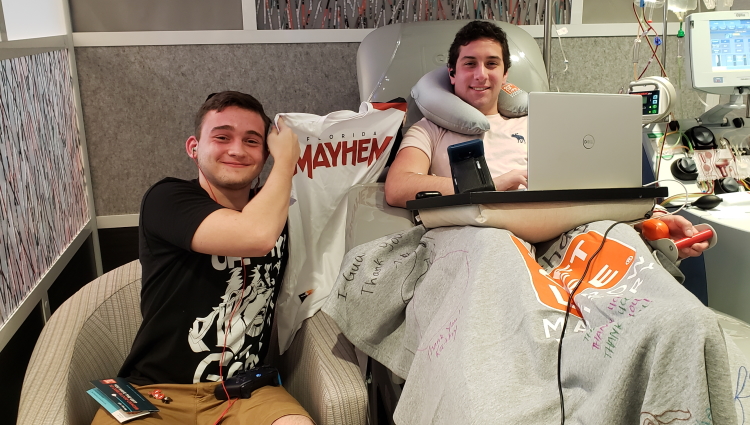 In May 2019, Pinchas was at a blood drive at MTA Yeshiva University High School for Boys when he noticed some of his classmates had set up a table for Gift of Life just outside the room.
"They explained to me the importance of swabbing and how much more difficult it is to find a marrow transplant match than it is to find a shared blood type," said Pinchas. "When they said that some people never find a matching donor, I not only wanted to swab, I needed to swab."
Just a year and a half later in December 2020, during the pandemic, he got a phone call from Gift of Life – he was a potential donor for a woman in her 60s battling non-Hodgkin's lymphoma.
"When my coordinator told me the news, I felt bad that there was a person in need of stem cells," said Pinchas. "But on the other hand, I was ecstatic that I was a match and able to give her the best shot at survival." After a quick re-swab test to ensure that Pinchas was indeed his recipient's best match, the collection was set up at the Dr. Miriam and Sheldon G. Adelson Gift of Life-Be The Match Collection Center in Boca Raton, Fla.
When he learned he was going to Florida, Pinchas invited his friend Joe to accompany him as his collection day companion.
"I informed my family and friends, many of them have swabbed in the past, but I'm the first one to be called," said Pinchas. "Everyone including professors were supportive of my donating and gave me time off from classes to make the trip."
He wasn't completely off the hook, though, and spent most of his hotel stay and donation day working on classes. "I had a few big papers and was determined to turn them in on time after donating," said Pinchas. "The donation process itself was easy and painless, and I felt back to myself within a few hours. We flew on a nice airline, stayed in a beautiful hotel and had a top-of-the-line car service. The staff even printed out a few photos of me donating to take to my grandfather, who only lives a few miles from Gift of Life."
And when Pinchas's coordinator noticed that they were following the action in an Overwatch League tournament on tv, she quickly rounded up some gifts from our e-sports partner, Misfits Gaming, for the two men to take home. Joe also swabbed his cheek and joined the registry while he was here.
"As a Masters candidate in Public Administration looking forward to a career in public service, I have often asked myself if I can step up to the plate," said Pinchas. "By donating, I have proved to myself that I can and I have." He also says that there is no way to describe the feeling that you are helping to save someone's life.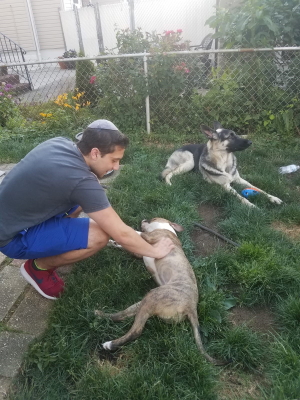 "The feeling I had after donating was euphoric," he said. "The knowledge that I had done everything within my ability to help makes me realize that pursuing a degree in public service is truly my calling."
Pinchas also encourages others to join the registry. "By swabbing, even though it is difficult to see at the time, you can be somebody's only lifeline; you can be the one person to save their life."
When he's not busy with grad school at John Jay College, Pinchas enjoys reading nonfiction books, cooking, volunteering with needy dogs, and playing basketball and tennis.