Thousands of Nashville Predators fans witnessed the emotional introduction of a blood cancer survivor to his lifesaving Gift of Life Marrow Registry stem cell donor on March 25 at Bridgestone Arena. The event was the highlight of "Hockey Fights Cancer Night," and is the sixth time the team has partnered with Gift of Life to showcase a donor-recipient pair meeting.
Transplant recipient Steve Chesley, 46, was diagnosed with Acute Myelogenous Leukemia in August 2020. The husband and father of two sought out doctors after experiencing mouth pain and an unexplained loss of energy.
"The first thing I asked my physicians was, 'How bad is this, and how do we win?'" said Steve. "They said I needed a stem cell transplant. I did not have a match in my family and while I thought it would be possible to find a match, I also feel blessed that it happened."
Steve's matching donor had already been in Gift of Life's registry for ten years before he became ill.
Donor Josh Wildes, a high school math teacher and wrestling coach from Pomfret, Conn., joined the registry in 2010 during a drive held at the school where he worked. Josh, who believes in doing good in the world whenever possible, was extremely excited when he learned he was a match.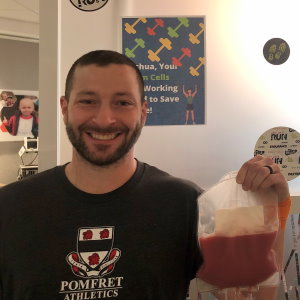 "I was lucky to be matched with someone and grateful I had this opportunity," said Josh. "It is an amazing feeling to be the person who can help someone."
After the October 2021 transplant, the two were not able to learn each other's identities for the first year due to federal regulations, and then when the opportunity arose, Gift of Life was delighted to offer them the opportunity to meet in person, thanks to the Nashville Predators.
Both Josh and Steve were excited and nervous as their special moment approached, but they were clearly thrilled to meet the person they are now so deeply connected with.
"Being a stem cell donor is not hard," said Josh. "You are helping someone for the rest of their life, and that impacts more than just one person – they have family and friends."
"If the medicine doesn't work then you need help from someone else," said Steve. "When a donor gets the chance, they can step up and help. It's not like throwing a dollar in a donation bucket, by donating stem cells you're actually affecting someone's life – it's very powerful."
Gift of Life also had recruitment tables set up in the arena where fans could complete a cheek swab kit and join the marrow registry for their chance to save a life.

---

Josh's swab kit was sponsored by the Yeshiva University Donor Circle.