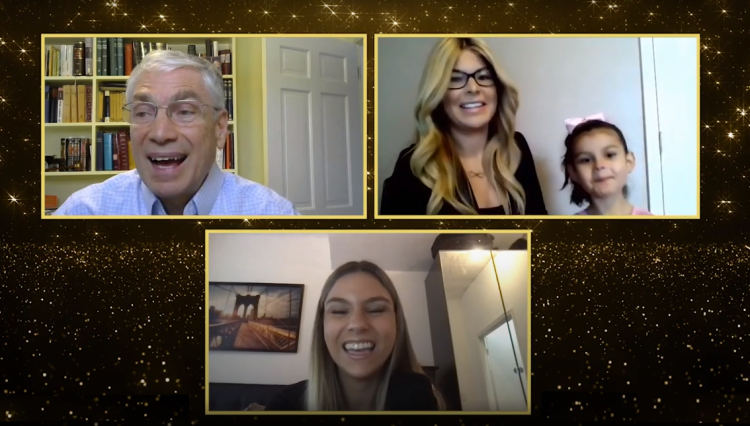 Lifesaving bone marrow donor meets her courageous recipient during Virtual Celebrating Life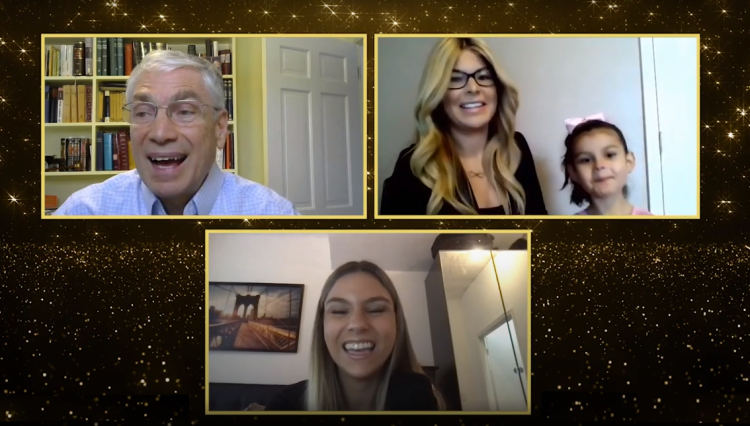 Two women who were formerly strangers will now always remember February 20, 2021 as a special day in their lives: bone marrow donor Jennifer Winick was introduced to her courageous transplant recipient Veronica Ruiz during Gift of Life's Virtual Celebrating Life event. Michael Bohnen, President of the Adelson Family Foundation – long time supporters of Gift of Life – made this special and heartwarming introduction.
Delaying treatment nearly cost Veronica her life
In 2018, Veronica, a 39-year-old wife, mother of two, and legal assistant from Tracy, California, was diagnosed with Aplastic Anemia. After struggling to simply walk from her car into the office one morning, she visited her doctor. He called her at dawn the next morning telling her to immediately go to the emergency room for a blood transfusion – she was so anemic he could not believe she was able to walk at all.
After tests revealed a life-threatening condition called Aplastic Anemia, where bone marrow fails to make enough red blood cells, her doctors recommended a bone marrow transplant. But Veronica was frightened and decided to delay transplant while she tried vitamins and other remedies. She returned to the emergency room multiple times for additional transfusions, and after more than 100 infusions of red blood cells, she fell ill with an infection and pneumonia. After 25 days in the hospital, she agreed to proceed with bone marrow transplant.
"I delayed transplant as long as I could, which almost cost me my life," said Veronica. "I thought I would have to wait a long time for a match, but the search didn't take long at all. I was so happy the nightmare of blood transfusions was about to end."
Bone marrow donor Jennifer swabbed in Israel on her Birthright trip
Jennifer Winick, a 27-year-old resident of Manhattan, N.Y., joined Gift of Life during her Birthright Israel trip in May 2016, so she was already in the registry and ready to donate when the call came that she was a match.
"I was worried about what state my recipient was in and excited I had the opportunity to change that for her," said Jennifer. "During the entire process I tried to put myself in her shoes and how I would feel if a stranger was a match for me. I'm sure she was overjoyed, as I was, too!"
In July 2019, Jennifer donated bone marrow at the Weill Cornell Medical Center at NY Presbyterian Hospital.
"The donation process was easier than I expected." said Jennifer. "My lower back felt like I had a bruise, but I remember telling my mom I could do this all again the following week!"
After Veronica received her infusion of bone marrow at the Stanford Hospital in Palo Alto, she recovered at a facility close to the hospital with her husband Miguel by her side, then after four months they were able to return home to their two children.
A meeting filled with joy
Under normal circumstances, Gift of Life would bring these two incredible women together in person at one of our Celebrating Life events or Galas, but under pandemic conditions we did the next best thing: a virtual introduction so they would not have to wait any longer.
The moment when the two women first saw each other's faces was magical!
"I am just so thrilled to hear that everything worked out and the bone marrow did its job," said Jennifer.
"I'm completely thankful for your bone marrow donation and your generosity," Veronica responded. "Without it I would not be alive today. I am really touched by your compassion and kindness. You gave me my life back."
"I was so happy to do it, and even happier to hear that you're doing better," said Jennifer.
During the online meeting, Veronica's husband Miguel told Jennifer, "I would like to thank you from the bottom of my heart. What you did is unbelievable. My wife means everything to me, to everyone in our family. Thank you for your kindhearted humanity."
"I would do it again tomorrow if she needed it," Jennifer told him. "I'm so thankful to Gift of Life for making this possible."
There is never only one person who is saved through a transplant, but a world of people – family, friends, and community, who are also given new hope.
Jennifer is a native of Plantation, Florida, now living in Manhattan working in technology sales. Veronica is a legal assistant in Tracy, California, and we expect they will meet face-to-face as soon as the pandemic recedes.