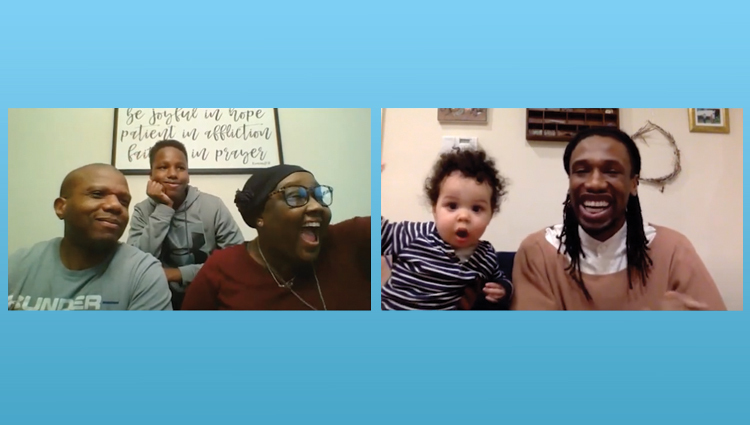 Lymphoma survivor experiences joyful meeting with the stem cell donor who saved her life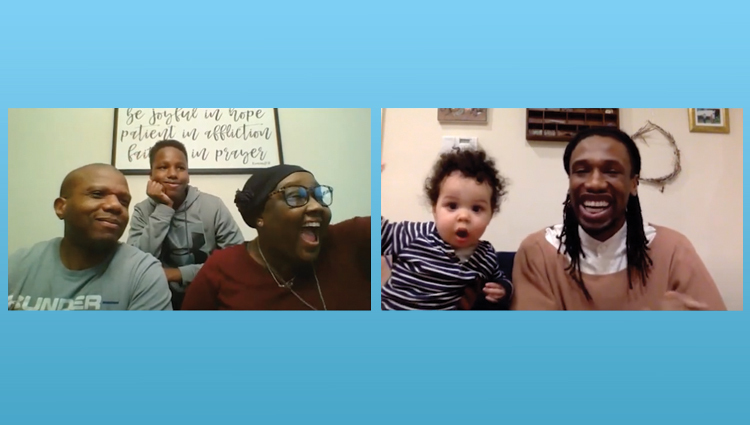 Rashawn Coleman-Walker, her husband Kevin and son Tyler meet her stem cell donor Frank Abbott and his baby daughter Asa for the first time during a virtual introduction.
When a Gift of Life stem cell donor is introduced to their recipient, it brings our mission full circle. Not only is someone saved from a potentially fatal disease, but the lives of the donor, recipient, and their families are expanded and enriched through knowing each other.
These meetings are truly special, and the immense joy expressed by stem cell donor Frank Abbott, 27, and his recipient Rashawn Coleman-Walker, 42, when they were introduced on February 17, 2021 is impossible to describe.
Frank is an artist who teaches children at the famous Mural Arts Program in Philadelphia, Pa. He also works through the public library to teach children in foster care how to cook for themselves. After joining Gift of Life, he was found as a match for two different cancer patients, but the first patient was not ready for the transplant, so he did not donate at that time. When he was called again six months later to help another patient, Frank was ready: seeking out opportunities to help others has a part of his philosophy from a young age.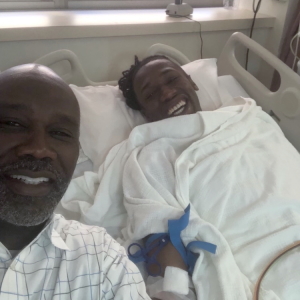 "I wouldn't be anywhere without cause and community," said Frank. "From a young age this was such a driving force, it has always been at the forefront of where I wanted to do my work and have my career go."
Rashawn is a wife and mother, and works as the assistant principal at a combined middle and high school in Charlotte, N.C. She was diagnosed with mycosis fungoides, a rare form of lymphoma, in December 2015 after suffering from skin irritation and constant itching that did not respond to other treatments.
"I was scared because it was very rare and the local doctors did not have much information about it," said Rashawn. "The doctors tried everything and nothing seemed to work, so I was looking forward to the transplant."
Rashawn was also concerned that the lack of diversity in the registry could mean she would be unable to find a donor. Because matches are based on factors inherited from our ancestors, similar to the way we inherit hair and eye color, the best chance of finding the perfect donor is with someone who shares your genetic heritage. With low registration numbers among individuals of African ancestry, only 25 percent of Black patients will find a matching stem cell or marrow donor. >>Learn more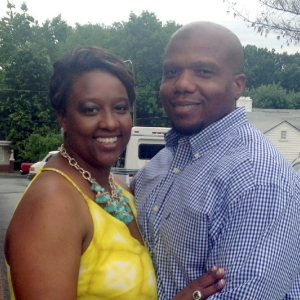 She was fortunate that Frank was in the registry and prepared to donate at exactly the time he was needed for the transplant to have the greatest chance of success. His father was so proud he accompanied Frank to the collection center when he donated.
"I'm grateful that's a role I could step into," said Frank to Rashawn during their meeting. "I'm grateful for your presence here."
"I cannot say how grateful I am for you, so I can still be here with my family today," replied Rashawn.
Not only did Frank and Rashawn meet, but their families were able to participate in the Zoom call as well, and it was heartwarming to hear both Rashawn and Frank's parents express how much it means to them to have in their families a lifesaver – and a life saved.
Gift of Life was founded to respond to the lack of registry diversity and is committed to making it possible for every patient to find their matching donor at the time they are needed. To learn more about the need for diversity and to join the registry and help us change the odds, click here.