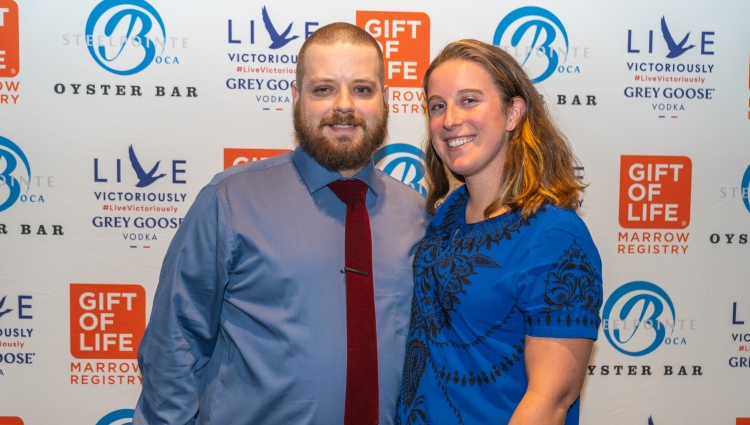 Marathoner meets man whose life she saved with a marrow transplant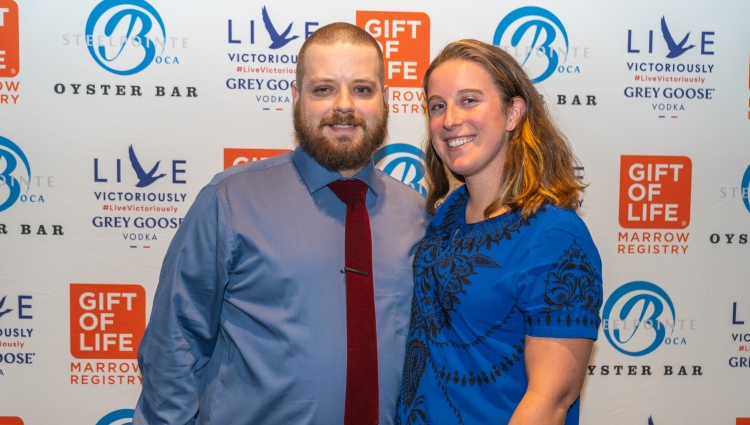 Mark Roser, 33, had no idea anything was wrong until January 2018, when he tripped and his hip simply broke. Bone scans at the hospital showed that more was going on than a simple break, and when the biopsy came back, Mark and his family learned the difficult news: the diagnosis was Acute Lymphocytic Leukemia. His only chance of survival was a bone marrow transplant.
Mark was fortunate: his donor was already part of Gift of Life's registry, and he was able to receive a marrow transplant in July 2018. For a year Mark, his wife Candy, their six children and two grandchildren wondered about the heroic person who stepped forward to save his life.
On October 17, 2019, they learned her name and were introduced to her when Gift of Life Marrow Registry supporters Aly and Bobby Christoph hosted a Cocktails and Conversation event at The Boca Oyster Bar in Bridgeport, Conn.
Aly introduced Mark and shared his story, then told him about his donor, Jennie Bunce. She joined Gift of Life's registry in 2016 during a swab drive at her sorority at High Point University in North Carolina. Now 25 years old, Jennie is a personal trainer living in Redding, Conn., and is currently in the process of running six marathons before her 26th birthday next spring. She ran two marathons in the two months after donating!
When she was asked to donate bone marrow, Jennie wondered, "What if he has kids? A family? Is he like me, trying to figure out his next move in life? He deserves the chance to see it all through, just as much as I do."
In the moment they met, Mark and Jennie hugged like old friends.
"I wouldn't be here today, my kids wouldn't be able to spend their birthdays with me, my wife would not be here with me tonight, without your gift," said Mark. "There is a cure for blood cancer, and all we have to do is help each other, as humans should do."
"I would do it again in a heartbeat," Jennie told him. "I'm so thankful you're healthy and well."
Click here to watch the video of Jennie and Mark's meeting.
Mark works at GoDaddy.com where he is a Customer Experience Supervisor. He is married to Candy and they have six children and two grandchildren, with another on the way.
Jennie is a personal trainer and enjoys any outdoor activity, whether that's reading a book on the beach or climbing a mountain.