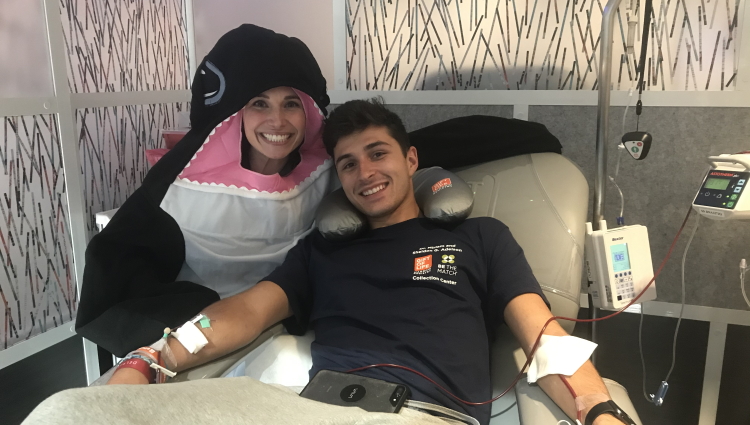 Marine biology student donates stem cells to save 12-year-old battling leukemia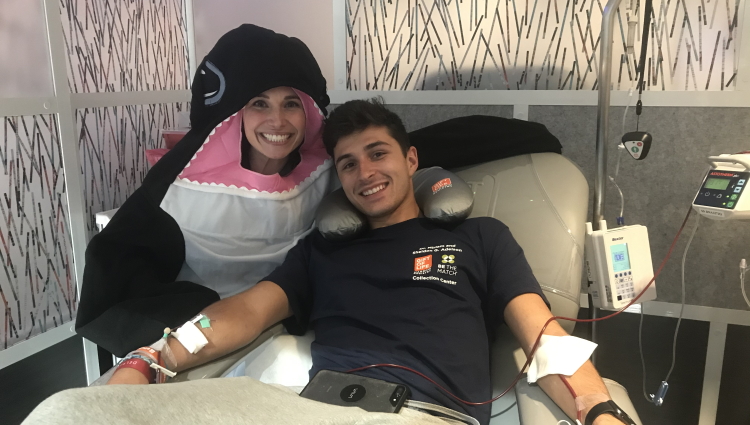 Lindsay, the collection center concierge (above, left), personalizes each donor's experience, for example, decorating the donor pod with a favorite sports team or movie franchise. For aspiring marine biologist Garrett, she managed to find a whale costume!
In 2018, Gift of Life Marrow Registry partnered with Project Life Movement to increase recruitment efforts on college campuses. The organization's concentration and proven success educating and recruiting students at universities aligned seamlessly with Gift of Life's Campus Ambassador Program.
In August 2019, the first donor from this partnership arrived at Gift of Life's headquarters in Boca Raton, Fla., to donate stem cells at the newly opened Dr. Miriam and Sheldon G. Adelson-Gift of Life-Be The Match Collection Center.
Garrett was swabbed by Project Life Movement at a recruitment drive on campus in March, 2019 and added to Gift of Life's registry.
"I couldn't think of any reason not to join, it seemed like a good thing to do," said Garrett. Only five months later, he received a call from Gift of Life that he was a match for a 12-year-old boy battling for his life to survive leukemia. Garrett was shocked to be called so soon, and excited to donate. "Also, a friend of mine was involved in setting up the drive through the athletic department," he said. "She's absolutely thrilled that I have the chance to help save a life."
When Garrett, a Marine Biology major, was asked to be one of the first donors to have their collection at the Adelson Collection Center, he was thrilled.
"I flew in on Friday right after class, and donated on Monday, so I got to spend the weekend at the beach," said Garrett. "I spent time walking on the beach, looking at what sort of shells and seaweed washes up."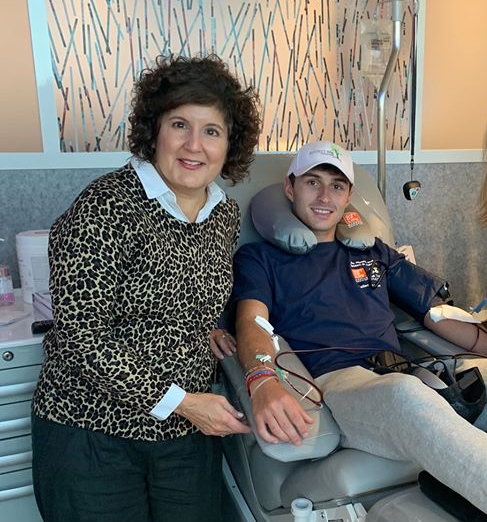 While Garrett told only a few people he was donating and did not bring a companion to collection with him, he had plenty of visitors: Project Life Movement's staff were incredibly excited to have their first donor through the partnership with Gift of Life and made the trip from Charlotte to offer words of encouragement and gratitude. During collection Garrett relaxed, watched Netflix, and ate the great food the center has catered in for donors.
"When I posted about donating, I got a good reaction, a lot of people asked about the process," said Garrett. "I would definitely donate again. There's a stereotype that donating marrow is painful, but the reality is that it's just like giving blood. Whatever the process, it's nothing compared to what the recipient is going through. Donating is harmless and can save someone's life."
Garrett is active outdoors with sports, hunting and fishing. He graduated from the University of North Alabama in December 2019 to enlist in the U.S. Air Force.
About Project Life Movement
Project Life Movement was founded in 1990 by a group of students at Davidson College to help add donors to the registry and save the lives of patients battling blood cancer. In 2018, Project Life Movement partnered with Gift of Life Marrow Registry to forward the two organizations' shared goal of diversifying the worldwide registry. Today, Project Life Movement is involved with more than 65 universities and partners expanding to college campuses across the United States.