On Sunday, January 14, Gift of Life held its ninth annual Steps for Life 5k Run & Walk of South Florida, drawing over 500 participants to the event held at South County Regional Park in Boca Raton, Fla. For a father from Manhattan and a recent college graduate from Land O'Lakes, this would be one of the most emotional days of their lives.
Father from New York meets young Floridian man who saved his life
In November 2015, Manhattan resident Julio Rivera suddenly found himself in a fight for his life. A routine dental procedure that would not stop bleeding sent him to the emergency room, but the result was a shock to Julio and his family: he was diagnosed with Acute Myeloid Leukemia. He needed a stem cell transplant to have any hope of survival, and fortunately he found one in the Gift of Life registry. Now, he was ready to meet the young man whose generous donation had saved his life.
Steps for Life Chairs Dana Aberman, Donna Krasner and Wendy Schulman – who organized the first race nine years ago – told Julio about his Gift of Life donor, Ryan Corning. The 23-year-old recently graduated in applied mathematics from Elon University. He joined the registry in 2014 while serving as a camp counselor at URJ Camp Coleman in Georgia. Ryan was called as Julio's match the very day he returned from a month of overseas study in Vietnam, and he was happy to donate.
When he came forward to greet Julio, the two hugged as if they had always known each other, and quickly learned that they are both huge baseball fans. "I am so happy I could help you," said Ryan. "I would donate a million times over if I could."
"I have no words to express how Ryan gave me not just a chance at life, but a chance to do more with my family and my children," said Rivera.
Florida Blue and WPTV's Michelle Quesada each recognized with Community Hero Award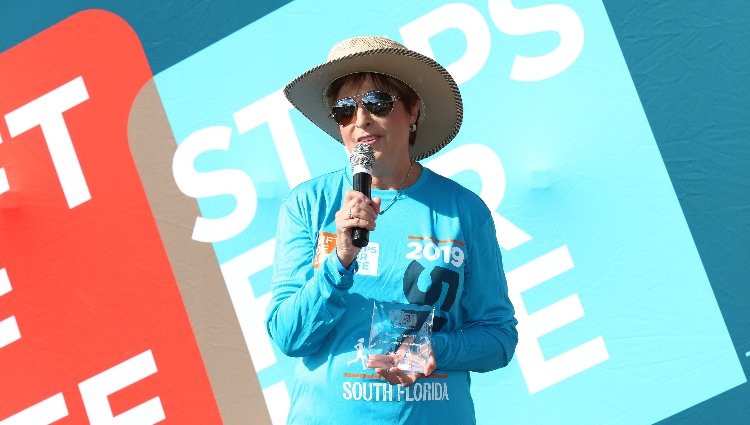 Regional Market Development Director Beth Johnston accepted the Community Hero Award for Florida Blue.
Gift of Life Chairman of the Board Bill Begal took the stage to present Florida Blue with the Community Hero Award, for the organization's support of Gift of Life. Regional Market Development Director Beth Johnston accepted on behalf of Florida Blue. In the past year, Florida Blue has supported the creation of educational materials for the recruitment of new donors, and has introduced Gift of Life to an array of community partners who will help further the mission.
"We are honored to receive this award, and believe that together, our organizations and community can make an incredible impact in saving the lives of blood cancer patients," said Beth.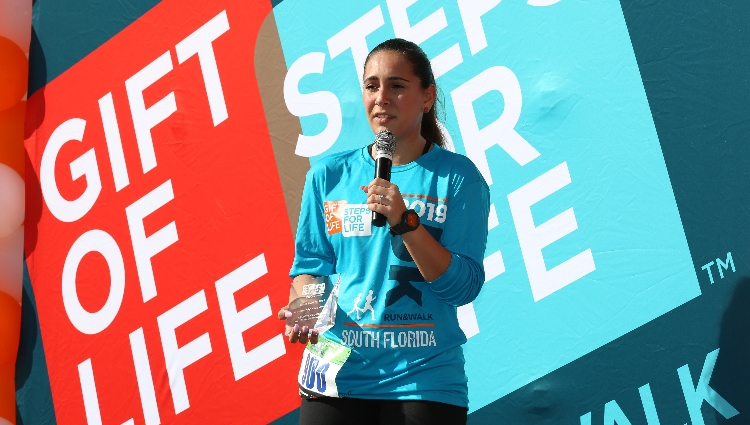 WPTV Senior Reporter Michelle Quesada was honored with the Community Hero Award in recognition of her ongoing support of Gift of Life's mission to diversify the registry.
Bill then invited Michelle Quesada to the stage to present her with the individual Community Hero Award. Michelle, a Senior Reporter at WPTV Newschannel 5 in West Palm Beach, has a personal passion for Gift of Life's mission due to the tragic loss of her sister, Elizabeth, to leukemia at just 29 years old. Michelle worked tirelessly with Gift of Life to tell the story of Cuban-American leukemia patient Manny Valdes, highlighting the need for diversity in the registry.
"I urge each of you, if you are not in the registry, please swab your cheek," said Michelle. "There is a huge need to diversify the registry; maybe you are a match for someone whose only chance for survival is a stem cell transplant."
Music, fun and support provided by local organizations
Chelsea Taylor of WIRK Country Radio served as the emcee, and the station's street team attended and provided music throughout the event.
The Florida Panthers held giveaways, and one of the team mascots, Viktor E. Ratt, delighted all with his antics.
The JROTC Color Guard from Blanche Ely High School in Pompano Beach presented the colors, and Sophia Burnston, 13, a student at Bak Middle School of the Arts, sang the National Anthem.
Superhero Sprint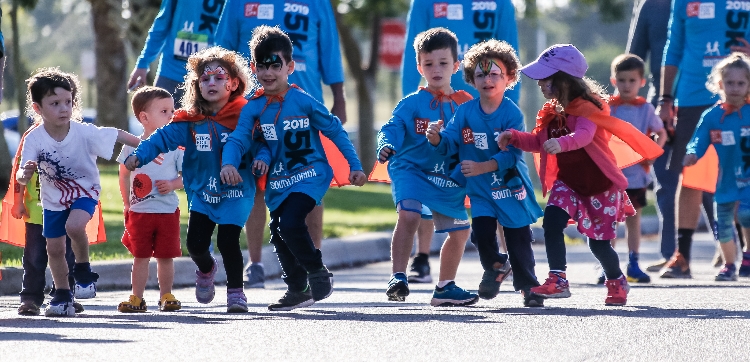 To kick off the race portion of the morning, a swarm of amazing superheroes, all aged 6 years and under, lined up to run the Superhero Sprint. Every one of Gift of Life's littlest heroes received a bright orange cape and were awarded medals for completing the 50-yard dash.
Kids found plenty to do in the Kids Zone, including face painting and creating their own stuffed bears with Teddy Bear Mobile.
5k Run & Walk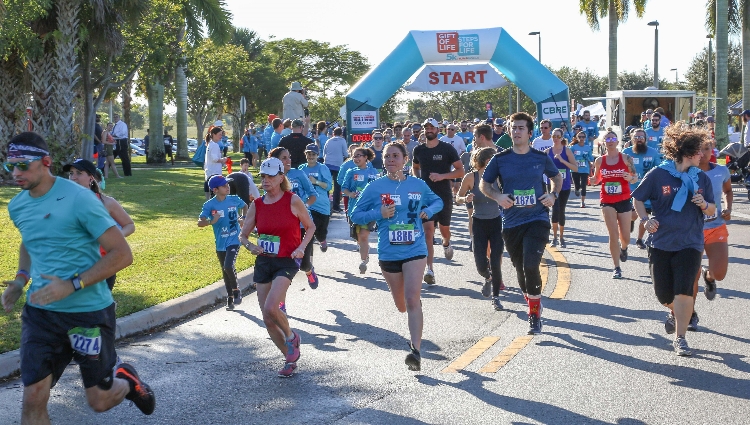 Gift of Life's founder and CEO Jay Feinberg along with Julio and Ryan, led off the 5k Run & Walk. Runners from all over South Florida participated. Walkers followed the runners out of the starting line and the beautiful, clear morning made the event enjoyable for everyone.
The top male finishers were Leonardo Canete, Nicholas Jacobsen, and Albert Dimont. Top female finishers were Kimberly Cloutier, Mari Osaka, and Amy Glick.
Click here for the full race results at the Accuchip Timing website.
Event Sponsors
Gift of Life thanks our generous sponsors for their support of Steps for Life. Your involvement with our mission helps to save lives. Every person has the power to save a life
As the event wrapped up, Bill reminded the crowd that, "It only takes one person to save a life, and you have the power within you to be someone's cure."
Patients in need who do not have a match in their family have the best chance of finding a donor through the international bone marrow registry. To become a volunteer donor, please visit www.giftoflife.org/register. While not every donor is called as a match, you may someday be given the miraculous chance to save another person's life.
Gallery
Click here to view the event photo gallery.
We look forward to seeing you at the Tenth Annual Steps for Life 5k of South Florida in January, 2020.