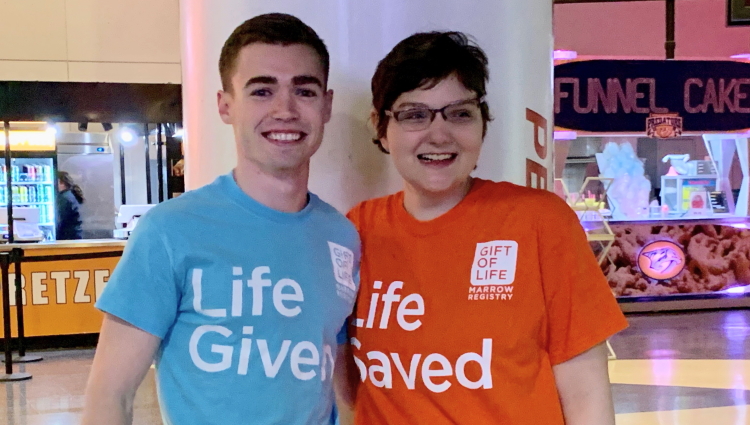 Marrow donor meets teen transplant recipient at Nashville Predators game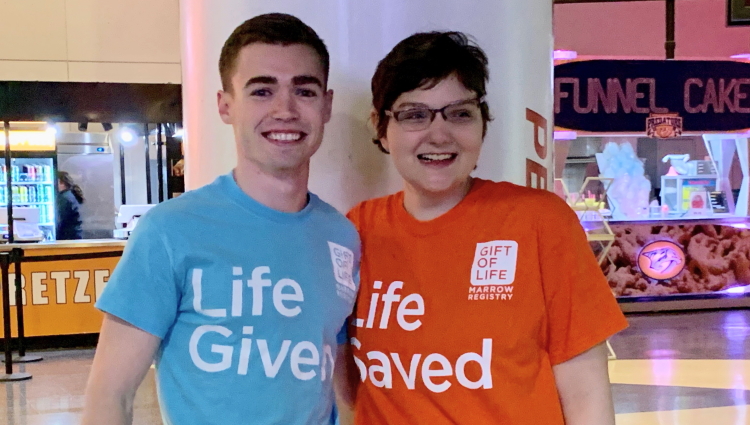 The Nashville Predators gave two people one of the most special moments in their lives on Saturday, February 22, 2020. Leukemia survivor and bone marrow transplant recipient, 19-year-old Brianne Dollar, met the heroic donor who saved her life, Tony Joe Connell, during the Predators match against the Columbus Blue Jackets.
The last thing a high school senior ever expects is to be diagnosed with blood cancer. But when Brianne had an extended illness in November, 2017 that left her weak and fatigued, she learned through blood tests that acute myeloid leukemia was the cause. She and her parents were frightened and the situation felt surreal to them.
"Originally, we were doing chemotherapy for about six months," said Brianne. "Then, I was in remission for seven months before I relapsed." Her best hope for a cure was a bone marrow transplant. But like 70% of all patients who need a lifesaving transplant, Brianne had no match in her family and had to search for an unrelated donor in the worldwide marrow registry. She was fortunate: there was a matching donor for her in Gift of Life's registry, and he was excited to be able to help someone.
Tony Joe, a 24-year-old research associate at a pharmaceutical company in Nashville, served as President and Recruitment Chair for Zeta Beta Tau (ZBT) Fraternity at the University of Memphis when he was a student. In February, 2016, he represented his ZBT chapter at a leadership conference at the University of Georgia in Athens.
"They were hosting a swabbing table at the fraternity leadership conference, so I signed up," said Tony Joe. "My late mother received an organ transplant while I was in high school, and another one while I was in college. I really got to see first-hand the impact of the gift of donation."
Three years later, Tony Joe got a call from Gift of Life: you're a match for a 17-year-old girl who is battling leukemia. He was excited and kept thinking about his recipient and what she might be feeling – all he knew at that point was that she was in a fight for her life.
Tony Joe went to the Georgetown University Medical Center for the bone marrow collection, which typically takes about two hours.
"I am so honored to have been matched with someone, the gift of transplant means a lot to me," said Tony Joe. "I would do it again without hesitation. Yay for modern medicine!"
The moment when Brianne met Tony Joe was incredibly emotional. The Nashville Predators ran a short video interview with each of them on the Jumbotron, then, with their mascot "Gnash" by Brianne's side for support, Tony Joe ran out and hugged her.
"I feel like I've been given a second chance, and I'm so thankful for the small things in life," said Brianne. "What Gift of Life does is so important, and there's a huge need for anyone [who can] to donate."
Brianne is now a college student at Georgia Southern University, and in her free time enjoys writing, walking, and playing Dungeons and Dragons®.
When Tony Joe is not conducting clinical research at work, he goes running or hiking, and also enjoys reading, cooking and movies.
After meeting, donor and recipient had dinner and went to an escape room for fun. They plan to meet up again later this year and, like many donors and recipients, look forward to having a new "family member."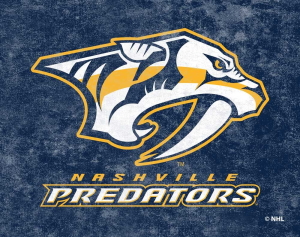 Thank you to the Nashville Predators for making this remarkable introduction possible.