University of Massachusetts Elaine Marieb College of Nursing seniors J.J. Wilson and Brendan Barrie have reason to be proud: they organized the biggest Gift of Life mega-drive to ever be held on a college campus. With the help of more than 100 volunteers and multiple campus organizations, they are responsible for swabbing 3,148 people.
The drive was held the week of October 23-28, 2022, and the first match between one of these newly registered volunteer blood stem cell or marrow donors and a potential recipient has already been found!
How did this incredible drive come about, and how did they make it so successful? Two things: an online video and a children's camp.
"It started for me with YouTube," said J.J. "I saw an advertisement for Gift of Life called, 'Level Up for Life' – it was a bit cheesy, but the message was interesting – if you want to save a life, this is how you can do it. I then went online and ordered a swab kit, turned it in, and waited for a while." The Level Up for Life campaign was in partnership with Misfits Gaming, to help recruit males 18 to 25 who are the donors most requested by transplant physicians.
Eighteen months after swabbing, J.J. learned that he was a match for a man battling leukemia, and would be able to donate stem cells to help him. But it did not work out; the patient did not survive long enough to receive the transplant.
"That was one of the motivating factors that made me want to help expand the marrow registry," said J.J. "Also, my friend and roommate during my freshman and sophomore years, Brendan, is a survivor of childhood cancer." J.J. and Brendan are both seniors in the College of Nursing, and both plan to specialize in pediatrics in the future.
"I was diagnosed with Acute Lymphoblastic Leukemia at age 9, and underwent chemotherapy for two-and-a-half years," said Brendan. "Although I did not need a marrow transplant, I knew many other patients who received them and it was truly life-changing for them."
Brendan is a counselor at a camp he attended as a child, The Hole in the Wall Gang Camp, founded by actor Paul Newman so children who are battling illness have the chance to "raise a little hell." During his orientation last summer, Gift of Life Marrow Registry came in to speak about the organization.
"Once I thought about it, it seemed like UMass Amherst would be the perfect location for a drive, with thousands of students on campus," said Brendan. "I shared my and J.J.'s contact info with the Gift of Life representative, and we heard from her early in the semester asking if we'd like to organize a drive." The two decided to organize a mega drive, running an entire week.
---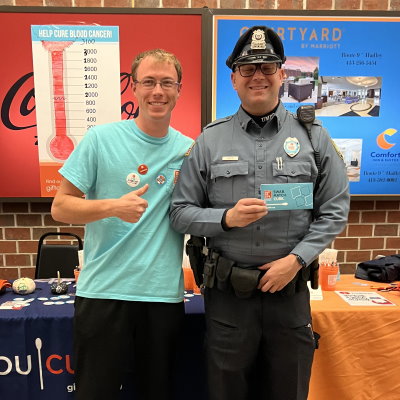 ---
"We heard from Gift of Life that the most successful previous on-campus drive had been a mega-drive at Syracuse University, and we wanted to beat their numbers," said J.J. "I'm a competitive person so that helped move us along."
All the pieces were coming together, but that's when the real work started. Organizing a week-long drive meant J.J. and Brendan needed the university's approval to hold the event, they had to find volunteers, and they needed to do a huge amount of marketing.
Although the two of them had different schedules in the fall semester making it more difficult to coordinate, they found ways to make it work.
"Getting ready for the drive took a lot of legwork," said J.J. "We planned it over a month in advance and had to go through many different people at the university so they would understand the scale of what we were doing, and to get the best location and extended hours."
J.J. started recruiting volunteers from dozens of campus organizations and clubs, all of which was helped by him being a captain in the UMass Student Force, a part of the Amherst Fire Department. J.J. actually lives in the Amherst North fire house and responds to 911 emergencies both on campus and in the community.
"We got help from the Club Swim team, from the Emergency Medical Services Club, Team Positive Presence, Student Force, and others," said J.J. "I had a lot of friends in those organizations and was able to get emails sent out to people who are already devoted to volunteering. Also, Gift of Life gave us some high-quality t-shirts to give them, which we loved, it definitely helped a lot."
---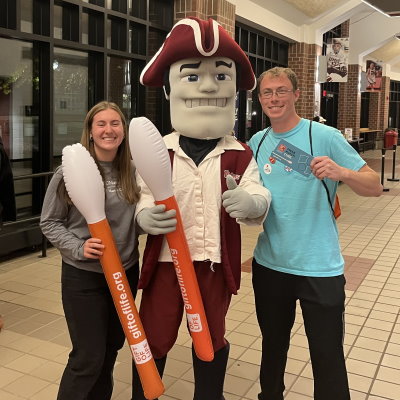 ---
Marketing the event was also a major effort. While Brendan worked on supporting J.J. by making sure it was staffed enough for the entire week, J.J. went from office to office on campus to promote the drive.
"I went to as many administrative offices as I could, and just walked in and told them about the drive," said J.J. "I was not getting much response from them via emails, but when I showed up in person and explained the drive, people were interested. We ended up with the drive featured on TVs all across the campus, being listed on the UMass calendar page, and Gift of Life sent us signs that we set up all over campus to bring people to the student union."
"We also went through the student government to try and get ALL the various organizations and clubs to email their members, with more than 100 emails going out," said J.J.
Then the drive was on, and people started showing up at the recruitment table wanting to register. The drive had taken on a life of its own!
"To expedite signing up, we set up a QR code that took people directly to the drive registration page," said J.J. "They could fill out all their info easily and then were ready to swab. We also had roving volunteers talking to people as they walked around on campus and swabbing them on the fly."
As the days passed, the tracking bar on the drive "thermometer" began to fill up, ultimately requiring them to renumber the scale, and add extra space at the top! In total, 3,148 people completed a swab kit to join Gift of Life.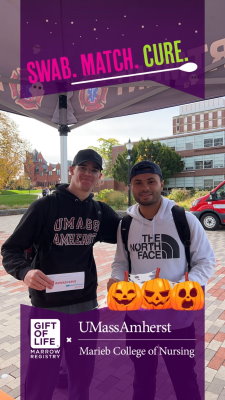 And that's really just the beginning. Already, J.J. and Brendan have received an email from Gift of Life's MatchQuest database system, notifying them that someone from the drive has been found as a match for a patient.
"The crazy part about it is that the patient is a 12-year-old boy, and Brendan was 12 when he competed his treatment," said J.J. "We were super-duper excited to get that email!"
"I think the reason it was so successful is the hard work so many people put into making this drive possible," said Brendan. "We were fortunate to have a community that wants to help out causes like this one, and that so many people were willing to share awareness of the event by word-of-mouth. This became bigger than either of us imagined, and we're thrilled it was a huge success."
"We have about 300 swab kits left, and we're going to hold a small drive in the spring to get those used," said J.J. "I'm talking to a freshman nursing student about carrying the mega-drive forward from year to year, and making it a legacy program that continues to grow."
J.J. Wilson, a resident of Monson, Mass., will graduate from the UMass College of Nursing in 2023, and plans to continue working as an Emergency Medical Services firefighter while pursuing a specialization in pediatric nursing. He has an internship at the Baystate Pediatric Emergency Department, and spends much of his free time training new firefighters in driving the trucks and operating the pumps at the Amherst Fire Department.
Brendan Barrie, a resident of Milford, Mass., also graduates from the UMass College of Nursing in 2023, and not only plans to pursue a specialization in pediatric nursing, he will continue his summer work as a camp counselor at The Hole in the Wall Gang Camp.
Thank you, J.J. and Brendan, from everyone at Gift of Life. Your hard work has helped give hope to blood cancer patients who are searching for a matching donor.
---
If you'd like to help sponsor the laboratory testing of the thousands of new donors who joined the registry, during the mega-drive, please visit the UMass College of Nursing Donor Circle to make your gift.