The Nashville Predators once more hosted the introduction of a cancer survivor to their lifesaving Gift of Life Marrow Registry transplant donor. November is the National Hockey League's "Hockey Fights Cancer" month, and there's no better way to learn about the miracle of blood stem cell and bone marrow transplant than to witness one of these introductions.
Donald Hirsch, 68, is a retired mechanical engineer from Cottage Grove, Minn. In October 2020, he was diagnosed with a form of blood cancer called myelodysplastic disorder that prevents young blood cells from maturing, but he had been expecting this news for a long time.
"My younger brother was diagnosed with the same thing and had a bone marrow transplant 25 years ago," said Donald. "It was determined there was a family genetic problem, so it was not possible to find a donor within our family. I was initially worried that finding a match would be a real problem."
Donald was fortunate – his matching donor had already been in Gift of Life's registry for several years before he became ill.
Donor Danielle Conti, 23, is a third-grade special education teacher from Basking Ridge, N.J. While a student at the University of Delaware, her sorority, Alpha Sigma Alpha, teamed up with the brothers of Alpha Epsilon Pi to organize a Gift of Life registration drive. Danielle decided during that presentation to swab her cheek, since it seemed so easy and could potentially change someone's life.
---
---
"Once I found out I was a match, it was 100% something I wanted to do," said Danielle. "I donated on my 22nd birthday and Gift of Life made me feel special, they were so kind."
Her matching recipient turned out to be Donald, although the two were not able to learn each other's identities for the first year after the August 2021 transplant took place. Danielle's peripheral blood stem cells were collected at the New York Blood Center, and flown to the University of Minnesota Hospital, where Donald received them via a transfusion.
"I was very relieved when I learned the cells had arrived," said Donald. "The actual transplant was very emotional for me, I was filled with hope, but also fearful of possible side effects."
In the United States, once a year has passed since the transplant date, the donor and recipient may exchange contact information or meet in person, if both agree. Gift of Life was delighted to offer them the opportunity to meet in person, thanks to the Nashville Predators.
They were introduced at Bridgestone Arena during the November 19th Predators game with the Tampa Bay Lightning.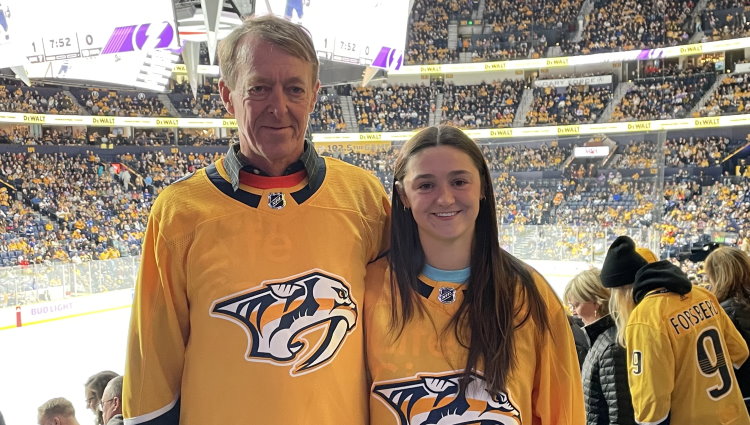 Both Danielle and Donald were excited and nervous as their special moment approached, but they were clearly thrilled to meet the person they are now so deeply connected with.
"I've been looking forward to this day for a long time," said Donald. "She's a special person to be able to donate and save my life."
"It was so worth it," said Danielle. "This is such a unique experience and feeling, knowing that one day of your life has added many years to someone else's life."
---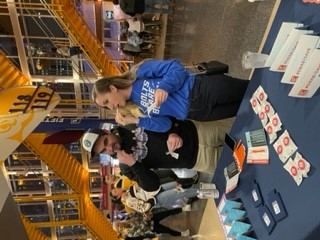 Gift of Life also had recruitment tables set up in the stadium where fans could complete a cheek swab kit and join the marrow registry for their chance to save a life.