On December 17, 2018, Spencer joined the Gift of Life Marrow Registry with a specific purpose: he hoped he would be a match for one of his mother's young students, a girl named Ellie White. Ellie was diagnosed with severe aplastic anemia and needed a bone marrow donor. Spencer's mother is the principal at JPPS Elementary School in Montreal, Quebec, and was very close to Ellie, often speaking to her by phone and visiting the hospital during her battle with cancer.
"Members of the community organized a Swab for Ellie drive at the YM-YWHA Community Centre, and I went, hoping to help Ellie or anyone else in need," said Spencer. Although Ellie did not survive, Spencer always hoped he would still have the opportunity to donate.
"I was at work when I first got the call that I was a match for a patient, a man in his 60s battling a blood cancer called myelodysplastic disorder," said Spencer. "Coincidentally, I had just been speaking to my mother two days earlier, saying that I was disappointed I had never been called as a match. Then, what do you know, the phone rang! I immediately told my mom, and she was ecstatic."
Spencer, 23, traveled from Montreal to Boca Raton, Fla. in October 2021 to donate at the Dr. Miriam and Sheldon G. Adelson Gift of Life-Be The Match Collection Center.
"I am extremely COVID-conscious and had been limiting my outings throughout the pandemic," said Spencer. "The thought of traveling was scary, but the team at Gift of Life did their utmost to make me comfortable and ensure I was safe." There was always someone nearby in case he needed anything and the staff checked on him frequently to ensure his comfort.
Not only did Spencer enjoy his visit to tropical Florida during the fall, he felt the experience at Gift of Life was exceptional.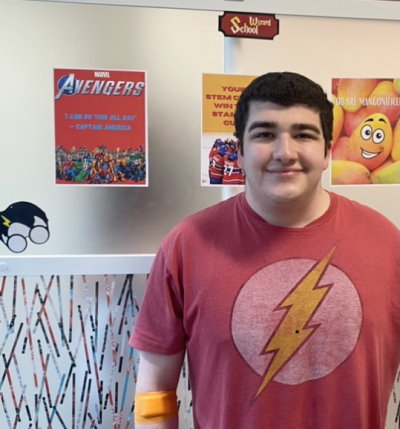 "During my donation I watched TV and ate four-cheese pasta from The Cheesecake Factory," he said. "I also had freshly baked cookies and cheesecake. The staff at Gift of Life decorated my donor collection suite with my favorite things: The Montreal Canadiens, Marvel Comics and Harry Potter."
He also got plenty of support from home, especially from his mom's school.
"The JPPS community was incredibly moved and sent me kind messages of support," said Spencer. "My family was very proud of what I was doing." However, Spencer himself feels modest about his donation.
"I felt that if I could give the recipient any extra time with their family, or any hope, it was worth it," he said. "I never felt what I did was special, I would think anybody else would do the same if given the opportunity."
"Getting swabbed is easy, it is just a moment of your time," added Spencer. "But, it can ultimately be life-changing for someone else."
Spencer is a resident of Montreal, Quebec, where he works in the crafts industry. In his free time he enjoys playing video games, reading, and watching television.