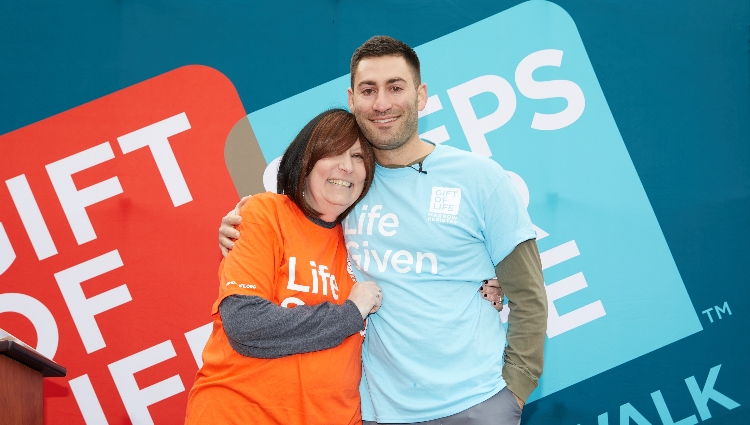 Musician mom meets heroic doctor who saved her life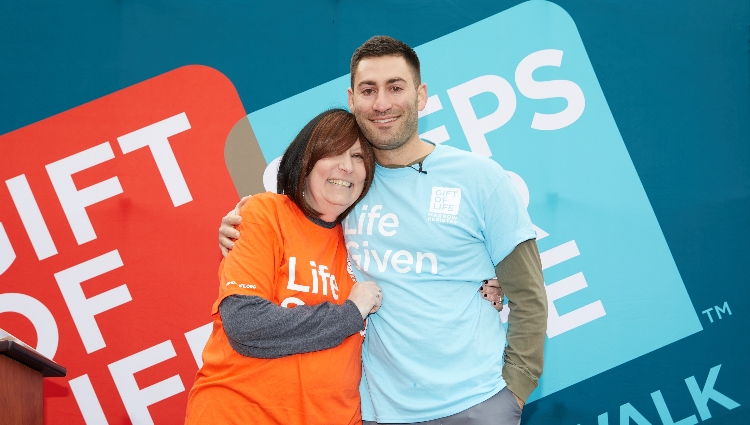 Gift of Life Marrow Registry held its annual New York City Steps for Life 5k on Sunday, October 14, 2018, at Battery Park. More than 500 participants shared the day with us.
Woman meets her stem cell donor, and learns he's a two-time hero
Wendy Fullem, a 54-year-old resident of Wantage, N.J., was diagnosed with leukemia in 2016 after suffering from persistent sinus infections and fatigue. She is a wife, a mother to a 14-year-old son, assistant to the President and Board of Trustees at Sussex Community College, writes and is a musician. Her diagnosis was a shock to everyone in her life.
She checked into Hackensack University Medical Center, where she was told a stem cell transplant was her best hope of survival. Wendy's doctors searched the registry for a match – and found her donor, Dr. Peter Gold, in Gift of Life's registry.
Peter had experienced his own brush with death in 2015. While a medical student at Tulane University, he saw a woman being kidnapped at gunpoint and intervened. Although he saved the woman, he was shot in the stomach and lost his spleen. Soon after he recovered, he received a call from Gift of Life: he was a perfect match for a woman battling leukemia, and would he like the chance to save a life?
"I had just recovered from what had happened in New Orleans, and thought, OK, I guess we're doing this again!" said Peter. "If you have a call to action, step up and do it."
Wendy made an emotional speech that brought tears to her donor's eyes, explaining how full her life was before her diagnosis, and how quickly her medical team moved to find her that lifesaving transplant.
"Today I remain leukemia-free, and I have 100% of Peter's stem cells," said Wendy. "I'm alive because of him and his selflessness. And I thank Gift of Life for the hard work you do, and for making today one of the most important days of my life."
Recognition of donors and recipients at the event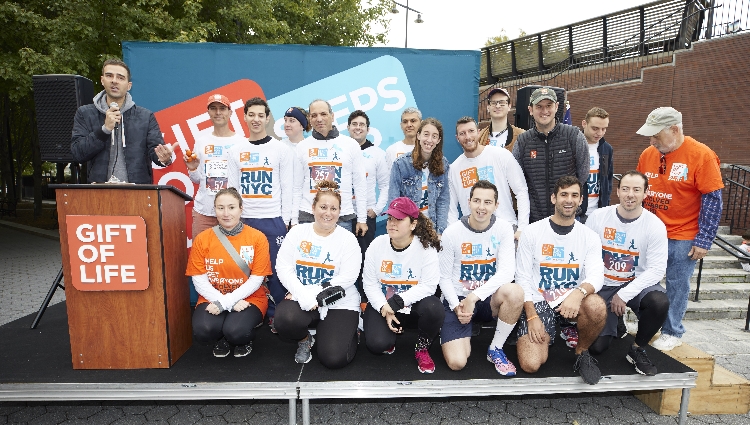 Every year our number of donors and recipients grows by the thousands, and we ask those who are in attendance to step forward and be recognized. Thank you heroic donors and courageous recipients for supporting Steps for Life and helping others fighting life-threatening diseases to find their matching donors.
NBC New York's Adam Kuperstein served as emcee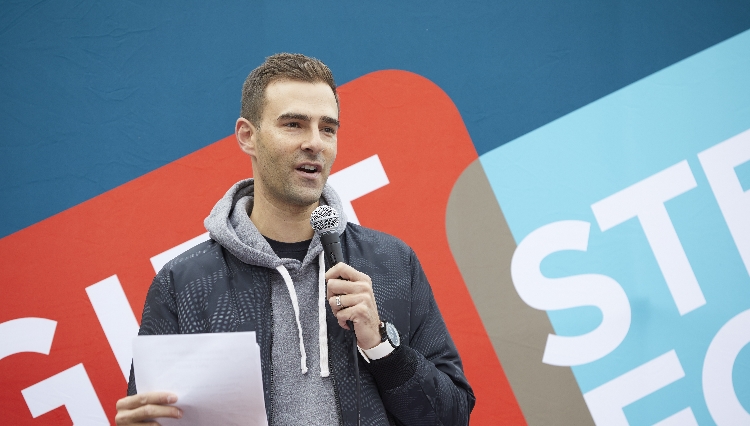 NBC4-New York anchor and reporter Adam Kuperstein, also well-known to our South Florida supporters for his years at NBC-6 Miami, served as emcee for the event. Thank you, Adam!
Superhero Sprint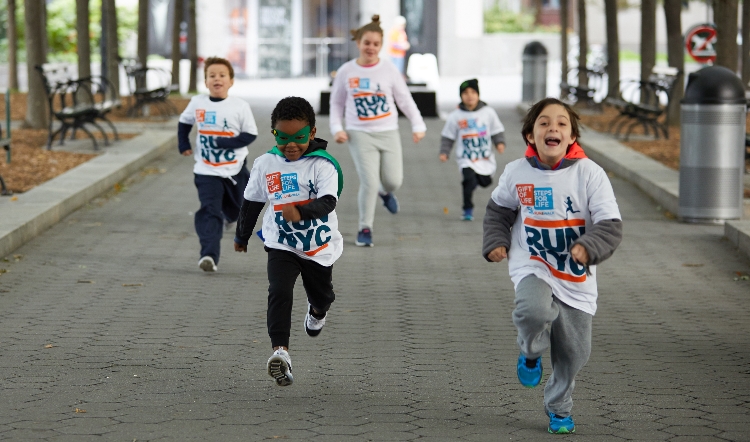 Our smallest supporters can be our most enthusiastic runners - check out these amazing superheroes!
Steps for Life Run & Walk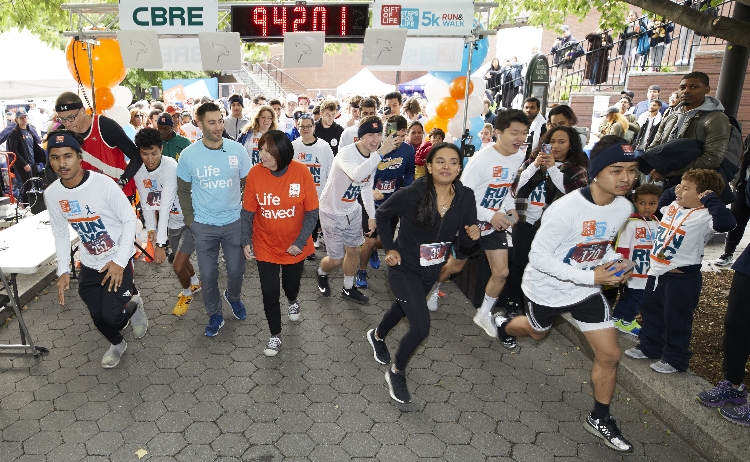 Stem cell donor Dr. Peter Gold, transplant recipient Wendy Fullum, and Grand Marshal Kinnari Deedwaniya lead off the Steps for Life 5k. Click here to view the official times race results for all runners at LIRunning.com.
Grand Marshal Kinnari Deedwaniya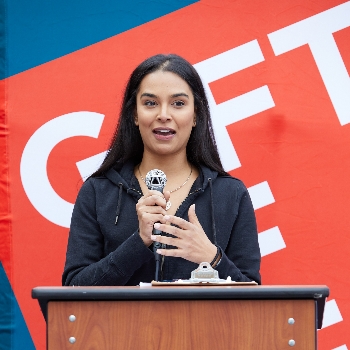 Kinnari Deedwaniya served as Grand Marshal, and is captain of Team Good Deeds, which runs in memory of her husband, Pawan. For the second year in a row, Team Good Deeds was the top fundraiser.
Our sponsors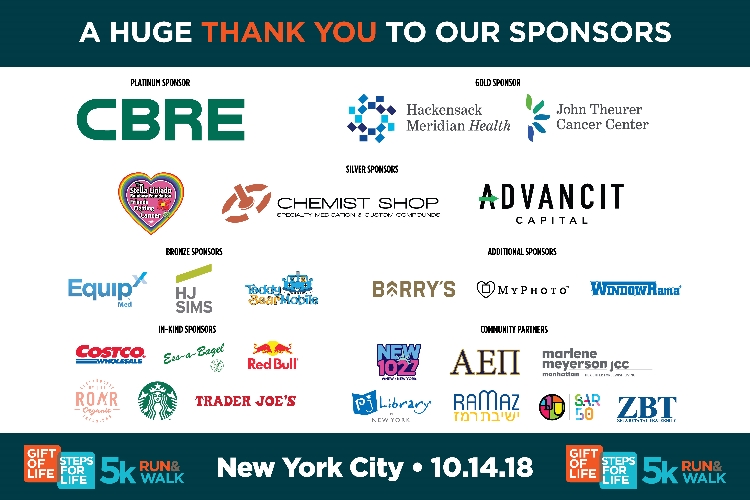 We recognize the contribution of our generous event sponsors who make it possible for us to hold our annual Steps for Life 5k. Your commitment to our mission gives hope to patients in need of matching donors. Thank you.
You have the power to save a life
"Every one of us has the power to cure cancer," Adam told the crowd of supporters. "It takes one simple little gift, a small amount of stem cells. If you match someone that has cancer, you can save their life, and perhaps even meet them someday."
If you are between 18 and 45 and in general good health, click here to order a swab kit – and who knows? You could be our next hero!
Photo Gallery
Our online photo gallery from the event is available for you to view, click here.
To view the entire opening ceremony, watch our Facebook Live video of the event – click here!
We look forward to seeing you next fall at the 2019 Steps for Life 5k of New York City.