Celebrating Life New York honors outstanding supporters and recognizes our donors and recipients, volunteers and contributors, and our incredible extended family. More than 500 people shared the evening of fun – and emotions – at the Edison Ballroom in New York City on February 21, 2019.
UT Austin graduate meets New Jersey mom he saved with a stem cell donation
JCC aquatics instructor Michelle Sion (above, left), 55, was not feeling well in July 2017. She and her husband were packing for a 10-day trip to Israel to celebrate a bar mitzvah with her family. But instead, she found herself at Hackensack University Medical Center being treated for leukemia. She needed a stem cell transplant to survive, and since Michelle's brother was not a match, her doctors began a search of the registry. Her daughter Talia organized a bone marrow donor drive on her college campus, and swabbed more than 300 students. The morning after Talia's drive, Michelle learned her match had been found in Gift of Life's registry.
Her stem cell donor, Noah Starr (above, right), a 23-year-old graduate of University of Texas at Austin and ZBT brother, joined Gift of Life while on his Birthright trip to Israel in 2017. Now working at a commercial finance company in Dallas, Noah also runs an Instagram channel about important moments in history, @truthserumhistory.
"When you get involved with Gift of Life you may think your contribution is small," said Noah. "However, your small act of kindness has the potential of turning into something truly significant."
The two were introduced for the first time at Celebrating Life, in an emotional and heartwarming ceremony. After the two hugged to cheers from everyone present, Noah's mom presented Michelle with a bouquet, and each of them expressed their gratitude.
"I remember going to a drive at the local temple and swabbing," said Michelle. "I never imagined I would be the one in need of a bone marrow transplant. I am so grateful to this stranger, Noah, who is no longer a stranger – he has truly given me the gift of life and it is something I cherish."
Izzy Sakhaie honored with Celebrating Life 2019 Award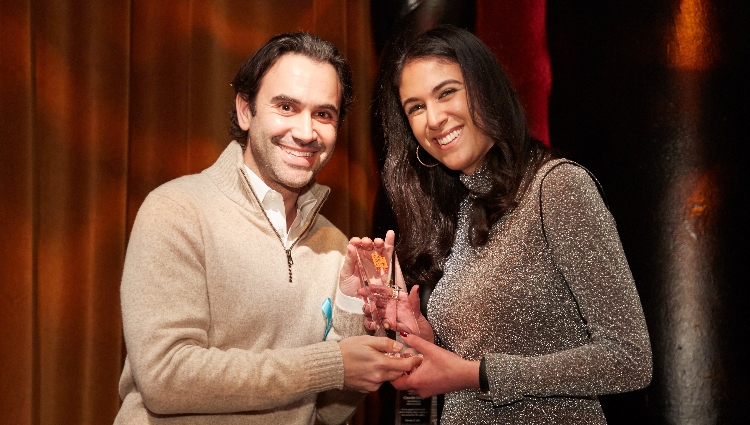 (L-R) 2018 honoree and board member Jonathan Struhl presents the 2019 Celebrating Life Award to Izzy Sakhaie.
Gift of Life is proud to honor Isabelle Sakhaie, who, in addition to a demanding career as a Resource Development Associate for the American Jewish Joint Distribution Committee, is constantly active as a volunteer and advocate. The award was presented by 2018 Celebrating Life honoree and board member, Jonathan Struhl.
Izzy learned about Gift of Life from her college roommate, Weslee Yacker, while they were students at George Washington University. As a Campus Ambassador, Izzy helped recruit 920 donors, and so far two of them have completed lifesaving transplants for patients. She and her team also raised more than $42,000. After graduation, Izzy continued her involvement, becoming a leader in our New York Young Professionals Committee, which organizes Celebrating Life and other events each year.
"The unique power of Gift of Life is that it's a two-way exchange," said Izzy. "You receive the gift of saving someone's life, while simultaneously giving them the actual gift of life, and I can't think of a better scenario."
Influencer Award presented to Claudia Oshry, @GirlWithNoJob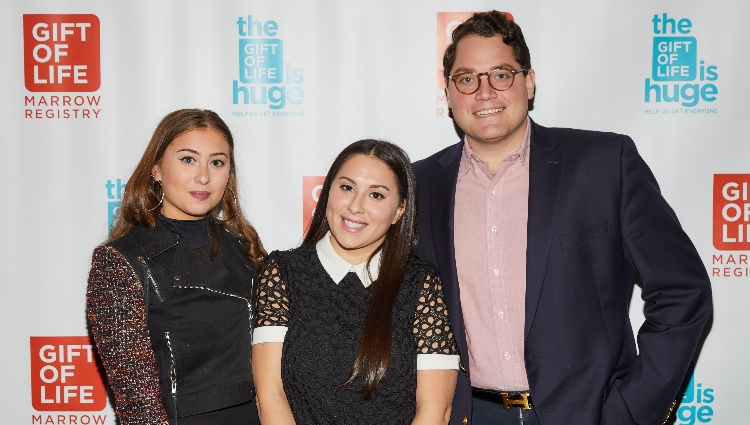 (L-R) Jackie Oshry, Gift of Life 2019 Influencer Award honoree Claudia Oshry, Ben Soffer
Claudia Oshry has three million followers on Instagram as @GirlWithNoJob. Last year, Claudia shared her support of Gift of Life's mission through her social media influence, inviting followers to swab their cheeks and join the registry. She also held a fundraising event at Soul Cycle that sold out in three minutes. In 2018, Claudia asked her followers to support Gift of Life on #GivingTuesday.
On presenting her with the award, CEO Jay Feinberg said, "One of the biggest challenges facing Gift of Life is in educating people about the need for donors and overcoming misconceptions about the process. When someone with social media influence steps up to share our mission, it makes our work that much easier."
Gift of Life recognizes long-time staffer Nick Hudson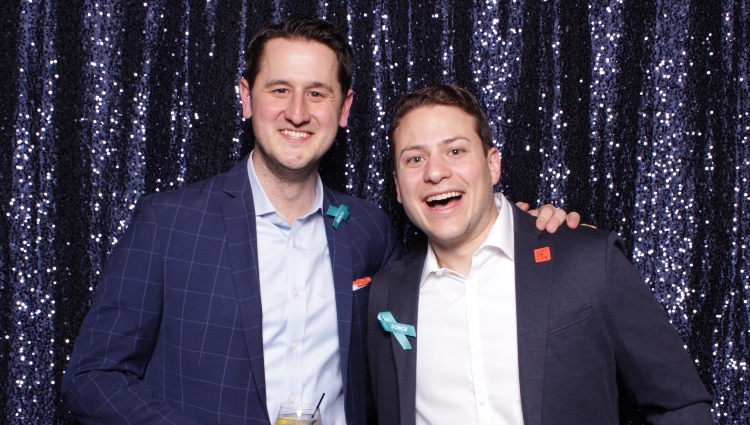 (L-R) Departing Gift of Life staffer Nick Hudson with Young Professionals Committee NY Co-Chair, Jason Schifrien. Hudson was recognized for his many contributions to the organization.
Nick Hudson's relationship with Gift of Life began when he joined the registry at a drive at Emory University. He was called as a match and donated bone marrow to save young Cameron DiMarco's life – and found himself engaged with Gift of Life's mission and ultimately working to save even more lives.
Nick designed and co-founded our Campus Ambassador Program, and has been key to the growth and success of our Young Professionals Committees across the country.
While recognizing Nick's contributions, Jay said, "Nick has personally embodied Gift of Life's mission every single day. Although he is moving on to the next chapter in his career, he will always be family."
Gallery
Facebook Live broadcast of event: Click here
Photo Gallery: Click here