Leah knew exactly what she was doing when she swabbed her cheek at the Oceanside Jewish Community Center in Long Island in July 2010. The Gift of Life recruitment drive that day was organized by her friend, Jake Weintraub, also a stem cell donor.
"Many of my friend over the years have been called to donate through Gift of Life," said Leah. "Some close family friends, as young as five and as old as 70, have received transplants and continue to do well."
She was thrilled when she was found as a match for a woman in her early 40s battling plasma cell disorder, a form of blood cancer.
"I couldn't believe it," she said. "I told my family, and they were excited for me, as well as Jake who had recruited me in the first place. He was surprised!"
What Leah did not realize was that she would be asked to donate an extremely rare three times to help save her recipient's life, all during the pandemic. Her first collection, in June 2020, was for peripheral blood stem cells which she donated in New York.
Second donations are occasionally requested by a transplant center, to help boost the patient's immune system as they recover. These are not full stem cell collections but rather a "donor leukocyte infusion" or DLI, in which white blood cells are collected. A DLI collection does not require the donor to take shots of Neupogen as they do in preparing for stem cell donation, and the collection process does not require as much time.
Leah gladly donated her white blood cells for the DLI, again going to a collection facility in New York.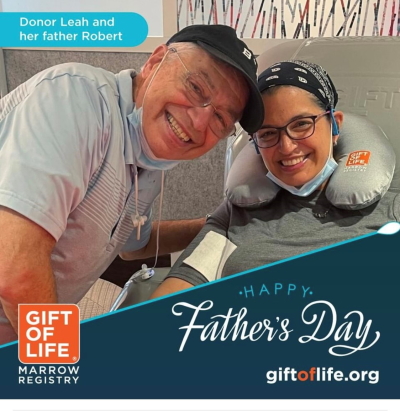 But, when she was asked for the very rare third donation, also a DLI booster, she decided to use the opportunity to come to the Dr. Miriam and Sheldon G. Adelson Gift of Life-Be The Match Collection Center at our headquarters in Boca Raton, Fla. At Gift of Life we try to give every donor a special experience, and Leah's certainly was.
"The first two times in Manhattan I didn't do much, watched some Price is Right on TV," said Leah. "The third time I had the privilege of having my father Robert at my side. The experiences were all good but donating at Gift of Life with my father there was exceptional! I also watched Netflix and had a delicious Kosher lunch."
Although Leah didn't tell many people about her first two experiences donating, she decided to share her third donation.
"After the third donation I was more public about my experience and got an incredible response reaction on social media," she said. "My close friend sent me a picture with his now-healthy son [who received a transplant at age five to cure leukemia] and said, 'Here is the proof that transplants work.' This was the best reaction I ever heard!"
Leah feels her unique experience as a three-time donor has been deeply meaningful to her and she looks forward to the possibility of meeting her recipient someday.
"Just the opportunity to save a life has been incredible, and to know I've had that chance three times!" said Leah. "If you have the chance to swab, run to do it! You never know when you'll get that call. It's a great opportunity for anyone in the community to start a trend, and if they match someone it will encourage others to swab."
Leah, 42, is a graduate of Yeshiva University and currently is a Medical Social Worker at Mt. Sinai South Nassau. She is married to Shimon, and they have two daughters. Leah is very involved in her synagogue and community. In her free time, she enjoys going to water parks and concerts on the beach with her family.