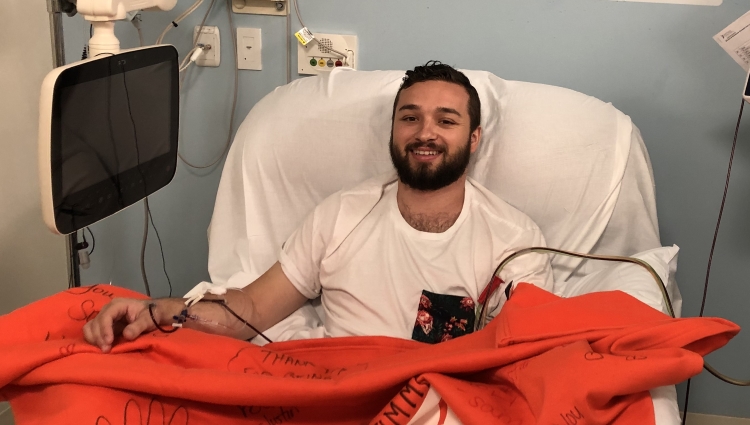 Ohio University grad saves woman battling leukemia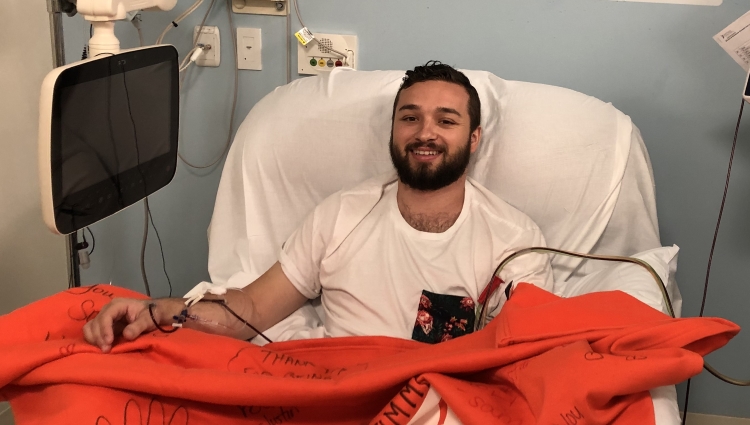 In October 2013, Jimmy saw an Hillel table in the Ohio University Student Center asking people to swab their cheeks and join the Gift of Life Marrow Registry. He immediately asked for a swab kit.
Fellow student Haden DeRoberts had been diagnosed with leukemia the previous year, and received a transplant that December. A video of Haden's friends and rock band Edward Sharpe and the Magnetic Zeroes visiting his hospital room was being shown around campus, and James knew that if he swabbed, he might be able to help someone with blood cancer. Haden gained five more years with his family and friends thanks to his marrow donor.
Jimmy graduated, moved to New York and began working for a startup company that creates interactive digital content, where he is now Head of Business Development. In May 2019 he received a call from a number in Boca Raton, Fla., but let it go to voicemail until he left work. That evening when he picked up his messages, he heard that incredible phrase, "You're a match for a patient battling acute leukemia. Please call Gift of Life as soon as possible."
"Since it was a Friday I had the weekend to do my research," said Jimmy. "I had a vague memory of swabbing and looked up Gift of Life's website. I ended up reading through all the information, and I knew right away there was no question about it: I would donate."
Jimmy needed a quick test to make certain he was the best match for the patient, a 70-year-old woman, and then to prepare him for donation. His workplace told him to take all the time he needed, because it isn't every day you get to save someone's life.
To mobilize more stem cells from the bone marrow into the bloodstream, Jimmy had five injections of Neupogen in the days before donating, one each day for four days, then the fifth one about a half hour before collection started. "While Neupogen makes some people feel like they have the flu, it didn't bother me until the last day when I started to get aches," said James. "After donating I quickly felt better and went to work the next day."
---
"For minimal effort on our end, there is a huge impact on the recipient's life. You just have to show up."
---
The collection process draws blood from one arm, passes it through the apheresis machine which separates and collects the stem cells, then the remaining blood is returned to the donor through the other arm. As he donated, Jimmy, who is a huge music fan, listened to a playlist of new music he had curated for himself before he arrived at the collection center. He also appreciated the attention to detail from Gift of Life. "My donor services coordinator made everything so easy, I didn't have to lift a finger," said Jimmy.
While transplants must remain anonymous for the first year, Jimmy would love to meet his recipient, hear her perspective and learn what has happened to her and how the transplant changed her life.
Afterward he told his friends about donating so they would be interested in joining the registry. "Go get swabbed! It's something you can do for others that has tangible results," said Jimmy. "I want everyone to understand that the reality of donating is that you sit and listen to music or watch a movie. I want people to know how easy it is, and for minimal effort on our end, there is a huge impact on the recipient's life. You just have to show up."
In addition to being a big music fan and attending many concerts and shows, Jimmy is on a soccer team and plays guitar.