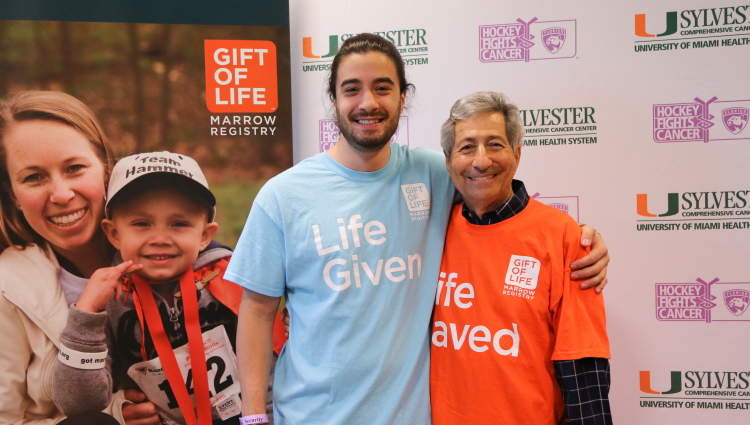 Miami resident meets his heroic stem cell donor at Florida Panthers game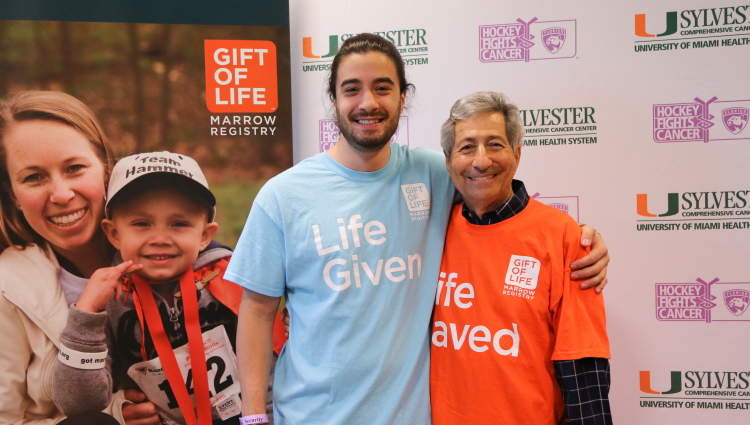 November is officially Hockey Fights Cancer month for the National Hockey League, and for the second time the Florida Panthers partnered with Gift of Life to introduce a heroic donor to the person whose life they saved.
This time, the Sylvester Comprehensive Cancer Center in Miami also participated in the introduction, as the stem cell recipient received his transplant there. Dr. Krishna Komanduri, Chief of the Division of Transplantation and Cellular Therapy at Sylvester, was given the honor of introducing the donor and recipient in a private suite before the game.
Joel Wolpe, a retired attorney from Miami, who survived Acute Myelogenous Leukemia thanks to a peripheral blood stem cell transplant, was excited for the opportunity to meet his donor. Joel was first diagnosed in April 2018. Although he had no symptoms, after falling while on vacation, he completed a routine x-ray that showed unusual results. After lab tests and a biopsy confirmed his diagnosis, doctors recommended a stem cell transplant as his best chance for survival.
Joel's wife Nikki visited him at Sylvester's facility every day. His three adult children and their family friends helped out during Joel's treatment and recovery.
"My family members were surprised they were not matches for me, and disappointed they could not donate," said Joel. Only about 30 percent of patients are able to find a donor within their family, with the other 70 percent relying on searches of the public registries to find a matching, unrelated donor. Fortunately for Joel, his match was already in Gift of Life's registry.
Zak Blumer, a graduate student, joined Gift of Life at a drive in October, 2013, at his twin brother's Alpha Epsilon Pi fraternity chapter at Ohio University. Nearly five years later, he was excited to learn he was a match. "I had a lot of questions, but I felt determined to donate," said Zak. "If you have the ability to help someone in need, I feel it is your obligation to do so."
At the moment they were introduced, they not only shared a long hug, they immediately established a connection and plan to spend time together in the future.
"I cannot begin to thank Zak," said Joel. "When they can find someone, somewhere, who is a match for you, you realize there are really good people like Zak in the world. We need more of them."
"I am so thankful to meet you," Zak told Joel. "I don't think what I did is very difficult, and I'm thankful that Gift of Life was able to make this happen."
Joel enjoys his retirement by playing golf, skiing, and going to the gym.
In addition to his graduate studies in Materials Science & Engineering at The Ohio State University, Zak is a drummer in the band Clubhouse. His undergraduate degree is from Ohio University.