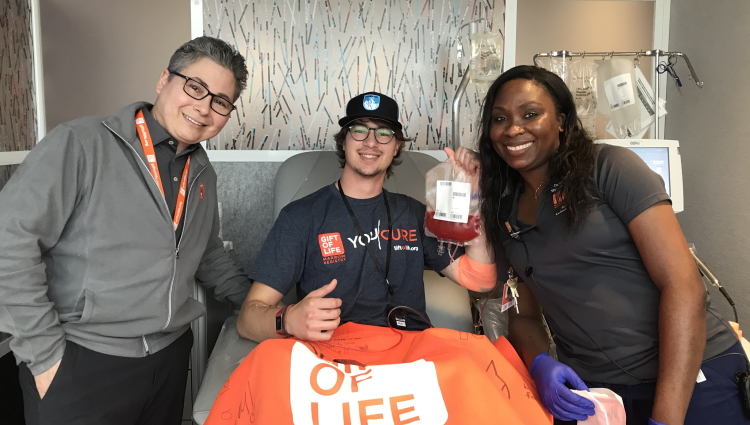 Ohio University journalism major donates blood stem cells to save lymphoma patient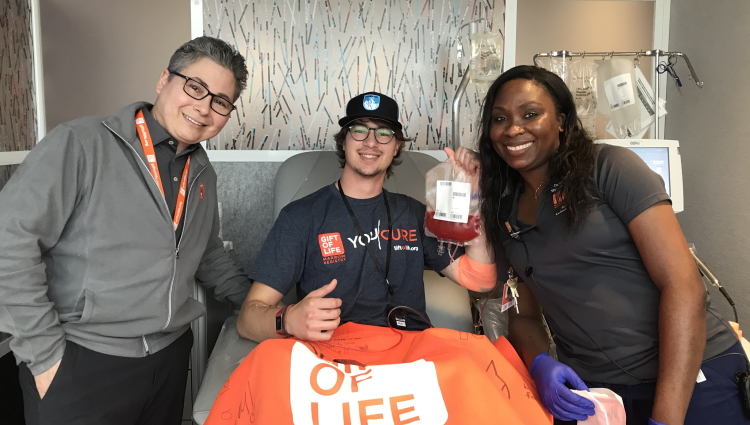 Gift of Life Marrow Registry Founder and CEO Jay Feinberg (l) and Collection Center Director Omardeen Woodley, BSN, RN, (r) congratulate Andre on completing his stem cell donation.
Andre arrived at the Dr. Miriam and Sheldon G. Adelson Gift of Life–Be The Match Collection Center full of enthusiasm and anticipation. He was more than ready to donate stem cells and hoped to save the life of his match, a patient in his mid-30s battling non-Hodgkin's lymphoma.
When a Gift of Life Campus Ambassador came to his Sigma Chi fraternity chapter in 2017 asking the brothers to join the registry, Andre already knew the importance of being a part of the bone marrow registry. His high school basketball coach and family friend, Steve Hall, lost his battle with colon cancer, and Andre was there when the entire community went to the coach's house on Christmas Eve and sang carols to him and his family.
Andre also knew someone who had attended his high school before contracting leukemia during college. Haden DeRoberts received a marrow transplant that gave him five more years with his family and friends. His story was widely shared on Ohio college campuses through YouTube and social media, raising awareness of the need for marrow donors.
As a 21-year-old Journalism major at Ohio University, Andre continued to spread the word by sharing his perspective on donating blood stem cells with his community. "This was a meaningful experience and it was important to me that I had the chance to talk with my friends about what I was doing and why," said Andre.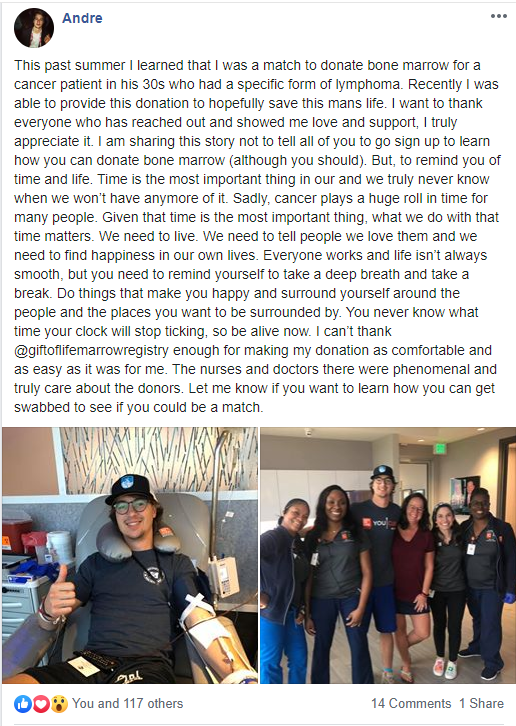 "The trip to Florida was nice, and the hotel on the beach was awesome!" said Andre. "My mom knew how important this was to me so she came with me. I have three siblings so this trip gave us some rare one-on-one time together; it was great."
He also spent time thinking about his recipient. "I had time to reflect on what I was doing and to write a letter to my recipient during the collection; it was very emotional for me."
"I want people to know that donating is incredibly comfortable and you have the opportunity to do something completely unselfish," he said. "Everyone has been impacted by cancer, but you can do something about it. It's amazing when you help someone beat cancer, it doesn't matter who you are, you can make the biggest different possible in someone's life."
In his free time Andre enjoys producing music, has two jobs on campus, and loves fly fishing. He looks forward to beginning a career in Strategic Communications after graduation.