In 2012 while attending an Ohio University event sponsored by Alpha Phi Omega, a national service fraternity, Janelle heard about Gift of Life Marrow Registry and, after learning more about the organization, took the opportunity to swab.
"Joining the registry was a natural extension of my passion for making a positive impact in the lives of others," said Janelle. "Throughout my life, I've been actively engaged in various cancer-related initiatives. Joining the registry aligned perfectly with this core principle. The prospect of potentially providing a life-saving gift to someone in need resonated profoundly with me."
Signing up as a potential donor held significant meaning for Janelle. She understood the impact that being on the registry could have on someone's life.
"It was, and still is, a powerful reminder of the connection we share as human beings and how we can support each other in times of need," said Janelle.
Ten years after joining the registry, Janelle received that special invitation to donate from Gift of Life.
"I remember the exact moment I received the call that I was a match," said Janelle. "They told me that I had matched a 71-year-old man battling myelodysplastic disorder. As the realization sunk in, a mix of emotions flooded over me. The timing was quite remarkable, as I had recently learned about a friend's battle with cancer. It felt almost serendipitous, like the universe was nudging me to step up and make a difference. The excitement and sense of purpose that engulfed me were truly indescribable and I had to do it!"
Gift of Life coordinated with Janelle's schedule to fly her down to Boca Raton, Fla. so she could donate peripheral blood stem cells (PBSC) at the beautiful, state-of-the-art Adelson Collection Center. Her husband Andrew came along and kept her company during the collection, which can take four to six hours.
"The people at Gift of Life took good care of me," said Janelle. "The collection center staff did a great job at keeping me calm and comfortable throughout the process. They checked in on me throughout the day and ensured everything was going smoothly."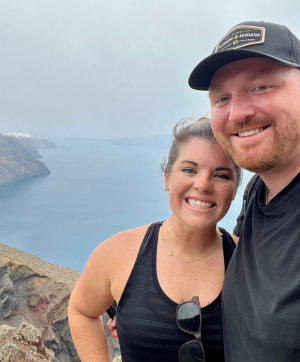 After donating, Janelle returned home and shared her experience with friends and family, many of whom have now reached out to learn more about how they can become donors themselves.
"The donation process will always be unique and special to me," said Janelle. "This experience allowed me to reflect on how short life truly is and the impact that one person can have. I pray that if one of my family members ever needed a donation, the person on the other end of the phone would be willing to do what they could to help."
Janelle recommends that everyone who can become a donor do so.
"I felt deeply honored to be a part of the Gift of Life donation process," said Janelle. "This world is hard enough as it is, if you can do this small act of kindness to help save a life, why wouldn't you?"
Janelle, 30, is a graduate of Ohio University where she received her bachelor's degree in healthcare administration and her master's in business administration, and was a member of the Alpha Phi Omega national service fraternity. She now lives in Cleveland, Ohio with her husband, Andrew, and works as a Senior Continuous Improvement Specialist. In her free time, she enjoys hiking, camping, and taking long walks with her husband and their dog.