When Austin, Texas resident Brandon Wolfe donated peripheral blood stem cells (PBSC) in 2021 to save the life of a woman who was battling to survive leukemia, he couldn't believe his luck.
"I really wanted to be picked as someone's matching donor someday," said Brandon. "Right from the moment I donated PBSC, I felt connected to my recipient. This person has my stem cells, she's family now. We share something I'm not going to have with anyone else – we have a unique bond." Little did Brandon know he was predicting the future.
When leukemia survivor Dr. Amy Lang, a San Antonio, Texas oncologist received the contact information for her stem cell donor, she reached out to him by email. Donors and recipients in the United States must remain anonymous for the first year after transplant, but after that, they are able to exchange contact information or meet in person if both of them agree to do so.
"I shared my deepest appreciation and asked if we could speak, Zoom, or meet in person," said Amy. "It turned out he lives only 80 miles from me!"
The meeting was on. That weekend, Brandon made the hour drive to San Antonio to Amy and her family's home. He could barely believe it.
"The chances of being a match are really low, but the chance of matching with someone who lives close to you must be astronomically small," he said.
---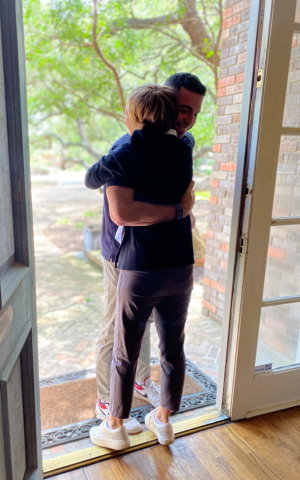 ---
As the front door opened, he and Amy got their first glimpse of each other, then hugged in a long embrace. Brandon met her husband and daughters, then they spent time getting to know each other.
Amy discovered she had leukemia in her own lab. After a poisonous spider bite, another doctor recommended she check her blood work to be sure there were no problems caused by the venom.
"I ran my own Complete Blood Count and immediately knew something was wrong," said Amy. "I cared for patients with leukemia so I was pretty sure what was happening. It was very surreal. I called my husband and packed some belongings from my office and went to the hospital for admission."
---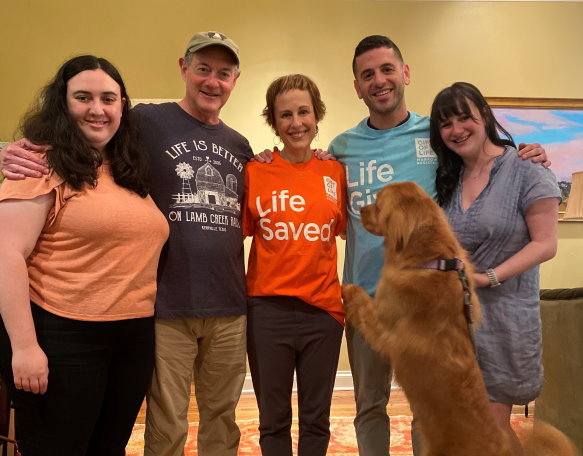 L-R: Daughter Alexandra Lang, husband Sylvan Lang, stem cell recipient Dr. Amy Lang, donor Brandon Wolfe, daughter Emily Lang, and dog "Winnie"
---
Her treatment was difficult, as it is for every leukemia patient, as well as isolating. During the pandemic, only one visitor at a time was allowed for limited hours. But there was hope, as well: a month into treatment, Amy and her family learned her perfect matching donor had been found in the registry. A stem cell transplant would be possible, and was her best chance of a cure.
The day of her infusion with Brandon's stem cells was celebratory, and Amy felt a wave of relief that maybe things were going to be better after all. Things did get better, and after months of recovery, she and her donor were sitting in the living room with Amy's family (including the dogs) getting to know each other.
"It was a wonderful day," said Amy. "We immediately clicked with Brandon and it seemed he was instantly part of our family. We have gotten together a second time to get to know each other, and now have a family text group called 'Brandon's Fandom' because that's what we all are! We are linked together forever."
Brandon's feeling of connection with Amy from the moment he donated turned out to be reality.
"We both love chocolate – she sent me home with boxes of dark chocolate - and we both love our steaks rarer than medium rare," said Brandon. "I have a connection with Amy that is very strong. We experienced similar things growing up. They also donated trees in my name in Israel, and are just great people – they're my favorite people ever."
Amy also learned about Gift of Life's role in her recovery.
"I did not know about Gift of Life until I received a package in the mail from them," said Amy. "Now that I understand how instrumental they were in acquiring Brandon's initial test swab and then bringing him to Florida to donate – making his stem cells available to me – I am overwhelmed with gratitude."
"Donating was the best experience of my life, and then meeting my recipient was even better than that," said Brandon. "I hope more people get this opportunity because I really feel like I am the blessed one, blessed with this family and with this experience. I'm the lucky one and all I did was show up. I'm really humbled."
Dr. Amy Lang is an oncologist in San Antonio with the START Center, treating adult patients with cancer. She is a founding board member of ThriveWell Cancer Foundation, a not-for-profit that provides funding for cancer research and financial assistance for cancer patients undergoing treatment. She received her B.A. from Duke University, and completed medical school at the University of Texas at San Antonio.
Brandon Wolfe works in technology sales in Austin. He graduated from Florida Atlantic University, where he was a member of Alpha Epsilon Pi fraternity. He enjoys playing sports in his free time and hanging out with his dog, Zeke. Brandon joined the registry in 2011 while serving as a camp counselor at Ramah Day Camp in New York.