The annual One Huge Night Miami Gala was held on October 30, 2023 at the spectacular and elegant Queen Miami Beach restaurant, located inside the restored historic Paris Theatre.
The evening event featured glittering Art Deco themes and Cirque du Soleil-style entertainment including aerial silk acrobats and musicians. The highlight was when Miami Beach Mayor Dan Gelber introduced a boy who received a stem cell transplant to the heroic donor who saved his life.
10-year-old meets his hero!
Miami Beach Mayor Dan Gelber, a Gift of Life advocate for many years, welcomed to the stage 10-year-old Timothy Sviridenko, his father Oleg and his mother Lyubov, who came from Battle Ground, Washington for the event.
"It is our privilege to have this event in the City of Miami Beach and my privilege to bring together these two incredible people, our donor and recipient," said Mayor Gelber. "First, I'd like to note a special connection – Timothy's father and mother, Oleg and Lyubov, are originally from Odessa, Ukraine, the sister city of Miami Beach. Welcome!"
Timothy was born with a rare immune system disorder called X-linked lymphoproliferative disease, found in only one of every million male children. The disease results in the inability to respond effectively to common viruses that are mild for most people and can eventually result in them developing blood cancer.
The only known cure is a stem cell transplant, to replace the malfunctioning bone marrow with a healthy marrow and immune system.
"I am excited and nervous to meet my donor", said Timothy, who is a fan of Legos and playing soccer with his cousins. He did not have long to wait!
Mayor Gelber shared that Timothy's donor is a 24-year-old teacher who joined the registry in 2019 while an undergraduate at the University of Miami. When she first learned she was a match, her emotions were so strong she burst into tears and said, "Yes, of course I'll donate." She knew she was going to do whatever she could to save her recipient's life.
Finally, the moment arrived, and heroic donor Dylan Levkoff was invited to the stage, where she and Timothy threw their arms around each other for a huge hug, and his parents joined in, too, with tears of joy.
"We have a special relationship that not many people share," said Dylan. "To know that he is now alive and healthy because of a simple donation on my end is the greatest gift I could ever ask for. Timothy is a playful, funny, adventurous young boy, and I am honored to play a part in his journey."
"She is great!" added Timothy. "I'm just grateful that she's my donor."
Four Gift of Life supporters recognized for their contributions
Gift of Life Director of Development Robyn Malek recognized four notable supporters from Miami Beach, each of whom has made a positive impact on the organization: Miami Beach Police Chief Wayne Jones (above left), Michael W. Larkin (above center), and Alex and Bill Roedy (above right).
Chief Jones, a staunch advocate of the organization's mission, most recently introduced a transplant donor to her recipient during the annual donor recruitment drive at police headquarters.
Each of the honorees has made a significant contribution to Gift of Life, either through raising public awareness of the organization's lifesaving work, holding fundraising events, or helping to bring new donors into the registry.
Thank you all for making Gift of Life's mission your own.

Community Impact Award presented to Romero Britto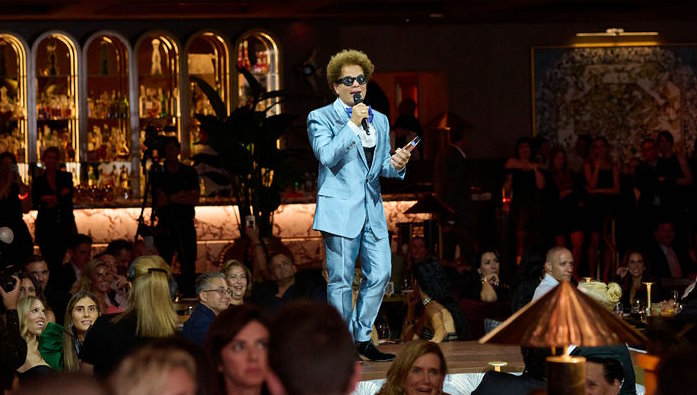 Gala Co-chairs Robin Schwartz Jacobs, Carla Probus, and Liza Samuel presented internationally renowned artist Romero Britto with Gift of Life's Community Impact Award. Britto is the founder of the Happy Art Movement and is committed to spreading fun, love, and hope through his artwork.
"I'm excited and honored to receive this award from Gift of Life," said Britto.
For the gala, Britto donated a mixed-media painting, "Midnight Garden" for charitable auction. After an exciting bidding session, local businessman and community leader Ignacio Edenburg – who is currently seeking a matching stem cell donor – won the auction.
WPLG anchor Louis Aguirre served as emcee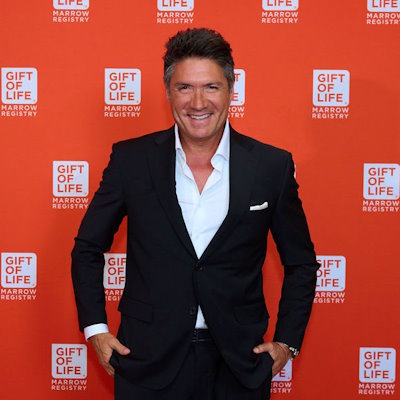 Louis Aguirre was master of ceremonies for the Miami Gala for the second year in a row. He is a multiple Emmy Award-winning journalist for WPLG Channel 10 in South Florida. He is co-anchor of the afternoon and early evening newscasts and anchors the 10:00 p.m. news.
He is known nationwide for leading the "Don't Trash Our Treasure" campaign to raise awareness of – and help solve – South Florida's environmental challenges.

---
Event Gallery
View and download photos in the event gallery.