On July 8, 2021, Ryan decided it was time he joined the blood stem cell/bone marrow registry.
"I had been aware of bone marrow donation for a while, and just decided to register," said Ryan. "I searched for 'bone marrow registry' and Gift of Life's website came up. I just figured I could really help someone with little inconvenience to me."
Though he doesn't know anyone who was diagnosed with blood cancer, Ryan felt it was important to become a donor. He just didn't expect to be called so quickly. After completing the online health questionnaire and returning his swab kit to Gift of Life for testing, within three months he received a call from a donor services coordinator that he was a match for a man in his mid-70s battling leukemia.
"I was at home when I got the call and was quite surprised, since I'd heard it can take years to find a match and it had only been a short time since I joined the registry," said Ryan. His stem cells were needed quickly so the patient would have the best chance of recovery.
---
I thought about the recipient and how scared he must be of his illness, and knew I could handle whatever I needed to do.
---
"The scheduling for the collection was urgent," said Ryan. "I took three days off work with pretty much no advance notice, but they didn't mind at all."
Ryan flew from Philadelphia, Pa. to South Florida to stay at the beautiful beach resort where Gift of Life arranges stays for donors. On his donation day, Ryan was picked up by a driver and brought to the Dr. Miriam and Sheldon G. Adelson Gift of Life-Be The Match Collection Center, where he met the staff members and was settled in his donor suite for the process, which normally takes four to six hours.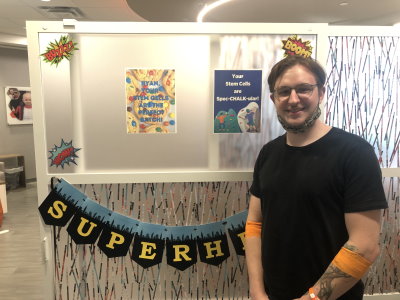 "Once I was hooked up to the apheresis machine everything was pretty easy," said Ryan. "I watched a couple of movies, the whole thing felt like a lazy Sunday just relaxing and watching movies. The staff were awesome, very accommodating and reassuring. Lunch was great, and they even baked fresh cookies – my favorite dessert."
While Ryan's friend and family were supportive of him, his thoughts were on the man his cells would be going to.
"I tried not to make a big deal about donating since I wanted to focus on the fact that the recipient was the one working hard," he said. "All I had to do was listen to the nurses and give some blood."
Ryan also feels that more volunteer work may be in his future.
"I'd like to continue giving back however I can. I've been volunteering at an organization and now I want to do that even more," said Ryan.
The importance of joining the registry, so that every patient will have a donor when they are needed, was also on Ryan's mind.
"A lot of people might be uncomfortable with medical procedures, and of course I was willing to donate, but was also a little nervous," said Ryan. "I trusted the nurses and the doctors, and just reminded myself that if I needed a stem cell transplant, I hope there would be people out there willing to put those concerns aside to donate. I thought about the recipient and how scared he must be of his illness and knew I could handle whatever I needed to do to complete the process. I'm just happy to have been given the opportunity to help however I could."
Ryan, 24, is a resident of Philadelphia, Pa., where he is a software engineer. He graduated from the University of Pittsburgh in 2019, and enjoys rock climbing, hiking, playing games and skateboarding.