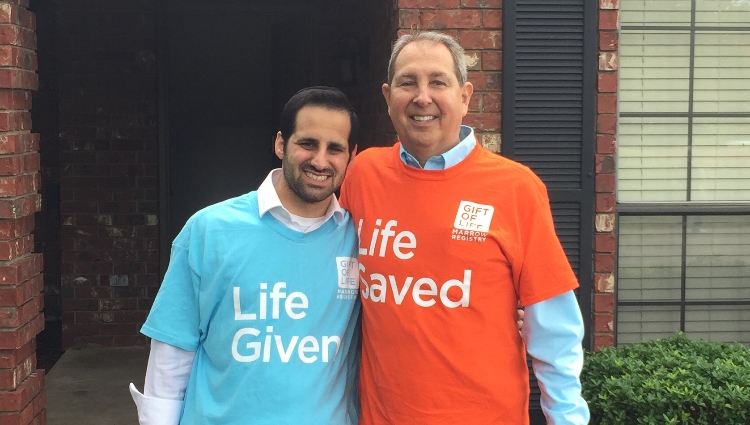 Pharmacist meets the stranger who saved his life through stem cell transplant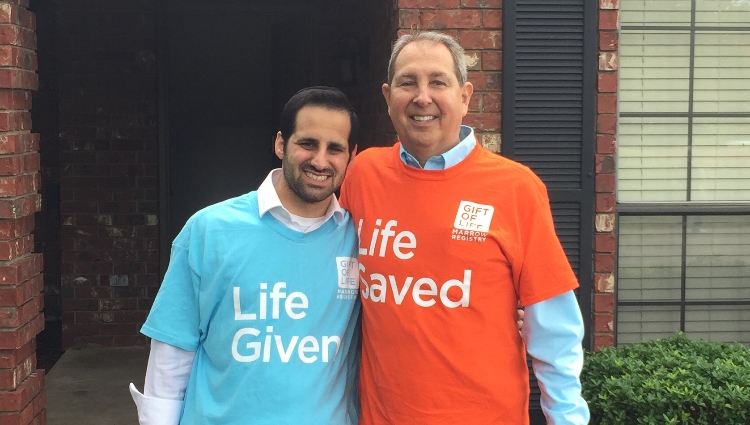 Howard Shlensky, a pharmacist from Rockwall, Texas, told his physician in 2010 that he was experiencing extreme exhaustion, which was unusual for this 52-year-old. Howard and his family are active outdoors riding their horses, fishing and boating, so fatigue was out of the ordinary.
He was initially diagnosed with Epstein-Barr virus and treated with steroids, which seemed to work. But three years later, the fatigue returned and Howard was diagnosed with cancer. The rarity of his condition meant it took four oncologists and several years to pinpoint T-cell LGL Lymphocytic Leukemia
In early 2017, doctors recommended a stem cell transplant as the best possibility for curing the condition. "When I got the phone call, they told me I had two perfect matches," said Howard. "You talk about a grown man crying – what a moment!"
Howard could not know that his donor was originally from Texas, only a half hour drive away. Dallas native Akiva Rodin swabbed his cheek and joined Gift of Life Marrow Registry in 2014 at a recruitment drive organized by his brother in New York, where he now lives as he studies to become a rabbi. The goal for the drive was to find a donor for his brother's friend, Ivan Sacks. Although Akiva was not a match for Ivan, two and a half years later, he got an unexpected call.
---
"I want people to know that if they are scared, it's no big deal. You sit in a chair for a few hours." –Akiva, stem cell donor
---
"Gift of Life told me I was a potential match for a man battling leukemia," said Akiva. "I wondered what 'potential match' meant." Once he learned that a blood test could confirm the match and give him the chance to save someone's life, 25-year-old Akiva got excited. "My brother, who is a nurse, said 'You have to do this! This is an amazing opportunity!'"
Akiva's father, a rabbi, accompanied him to the collection. "It didn't hurt at all, it's just like giving blood," said Akiva. "I want people to know that if they are scared, it's no big deal. You sit in a chair for a few hours."
Howard received the transplant of Akiva's stem cells at Medical City Dallas Hospital. His wife Darla was with him. "They hung the bag of stem cells like an IV," said Howard. "That beautiful bag lacked a ribbon and bow, but it was the best gift I have ever received."
Akiva and Howard exchanged several letters – which must be anonymous during the first year after transplant – and then came a surprise call from Gift of Life: Would they like to be introduced to each other? Both men jumped at the chance, Akiva's father offered the family home as a meeting location and on September 26, Howard knocked on the front door followed by a CBS 11 Dallas news team.
Akiva answered the door and the two men embraced as Howard thanked him for saving his life. Both families spent the afternoon learning more about each other. Howard is now back at work, grateful for his second chance at life.
Just a small amount of stem cells collected from your blood has the power to cure cancer. If you'd like your chance to become someone's hero, click here to join the registry!