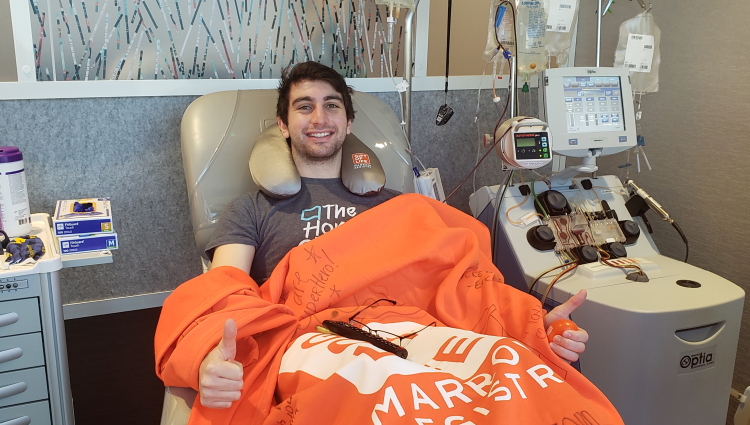 Phi Beta Lambda Fraternity brother saves life of man battling leukemia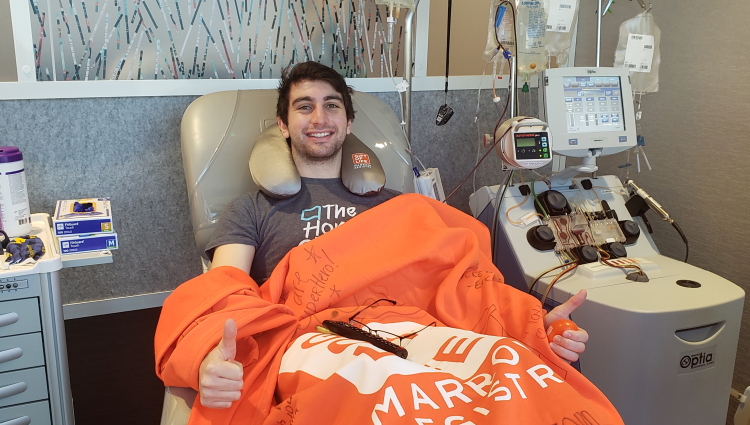 On February 23, 2020, just two weeks before the United States went on a national stay-at-home order, Zachary swabbed his cheek to join Gift of Life's registry. A Campus Ambassador from Gift of Life made a compelling presentation at his Phi Beta Lambda Fraternity chapter at the University of Michigan, but Zachary already knew the importance of fighting blood cancer.
"My grandpa had multiple myeloma, a form of blood cancer, for many years and was such a warrior in fighting it," said Zachary. "Unfortunately, he lost his battle in 2011, but not before kicking its butt for decades. He showed me what it means to be strong and to persevere through adversity. I know there are people fighting that same fight today, so having the ability to help out in any way possible is truly special to me."
Zachary was in the college library when Gift of Life called to say he matched a 61-year-old man fighting leukemia, and could possibly save his life.
"It hadn't occurred to me how rare it is to be a match, and once I understood this I almost couldn't believe it," said Zachary. "It had only been nine months since I swabbed, which is even crazier. I was ready to donate from the start."
After talking to his mom and making sure she was onboard (she was completely excited!) Zachary was fortunate to have his donation date scheduled during winter break. Since he lives in Palm Beach Gardens, just north of Boca Raton where Gift of Life's Adelson Collection Center is located, it worked out perfectly.
---
The entire experience is amazing and super rewarding. I implore you to get swabbed because you never know if you could be the one to save someone's life.
---
Coincidentally, Zachary's aunt is preparing for an autologous stem cell transplant (one that uses the patient's own stem cells) and her collection was going on at the same time as Zachary's, making for a special moment the two were able to share by phone.
"Everything was so convenient, it's almost like this was meant to be," said Zachary. "During donation I watched a movie, talked on the phone, it was super relaxing. The staff took excellent care of me, bringing me food and making sure I was comfortable and happy – I felt like a king when I was there."
He also feels that donating is an incredible experience that has meaning for him.
"I would donate again and again, it means a lot for me just to be able to donate and help someone who needs it," he said. "The entire experience is amazing and super rewarding. I implore you to get swabbed because you never know if you could be the one to save someone's life."
Zachary is majoring in business administration at the University of Michigan, where he will graduate in May 2022. He is interested in marketing within the sports industry after graduation – combining his professional interests with his passion for sports. However, he's also considering pursuing his MBA or even law school. He is the editor-in-chief of the Sport Business Association Journal for the Michigan Sport Business Association. In his free time he enjoys watching sports, playing sports, and spending time with his friends.