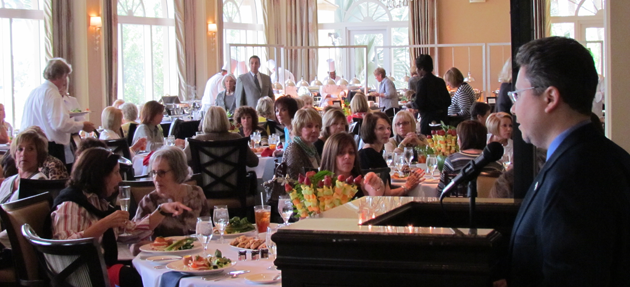 Playing for Life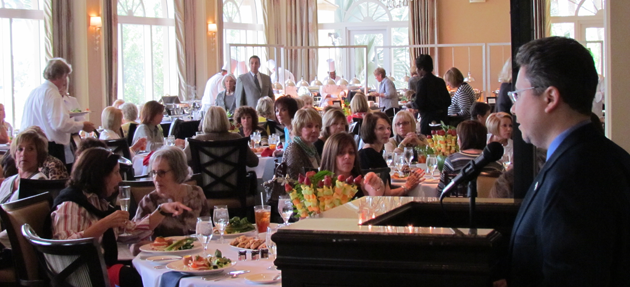 The Mizner Country Club recently held their annual Ladies Charity Card Party, where their charity partner and beneficiary was Gift of Life. Each year, a charity is chosen to benefit from their fundraiser, and the women of Mizner invite guests to join in a special luncheon where they learn about the charity they've chosen and play cards. This year's event, "Playing for Life," was planned by Wendy, Donna, and Dana, and their amazing efforts and hard work managed to raise $2,300 for Gift of Life.
Over 150 women participated in the event, and they were able to share and swap stories of how Gift of Life had personally touched their lives. Executive Director and Founder Jay Feinberg spoke at the event, sharing with the ladies his own struggles of searching four years for a bone marrow donor and his triumph of leukemia, thanks to a bone marrow transplant. He informed the ladies of how his own search for a donor resulted in the creation of Gift of Life, and he also discussed the importance of becoming a bone marrow donor and expanding the international registry. Jay says, "I [was] honored to be partnering with Mizner Country Club and raising awareness for Gift of Life. I am grateful that Mizner Country Club has chosen to do their part to help save lives."
During the luncheon, Larry Savvides, Mizner's General Manager, presented a check for $2,300 to Gift of Life. The funds were raised from the Mizner Country Club's "Playing for Life" Card Party. Additional donations were also collected at the event, and all of then funds raised will be used to clear donor kits on Gift of Life's waitlist. Unprocessed kits get waitlisted when there are no funds to process them, so the gift given by the Mizner Country Club is truly a blessing.
The ladies ended their afternoon with card games. They took part in playing mahjong, canasta, and bridge, and it was truly a wonderful event. Wendy says, "GOL was a perfect fit for this year's event. Every woman in the room could identify with Arlene's love and devotion for Jay, who is the seed of this organization. I was so happy and proud to share this lovely day with everyone!"
We are so thankful to Wendy and the wonderful women of Mizner Country Club. They have set a beautiful example of what it means to help save a life, and they are encouragement to us and to everyone who is inspired by our vision to find A Match. Anytime. Anywhere. For Anyone.