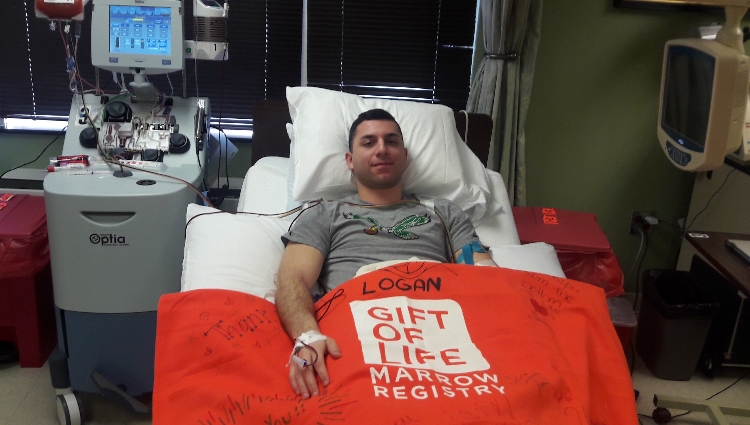 ROTC cadet saves life of man battling leukemia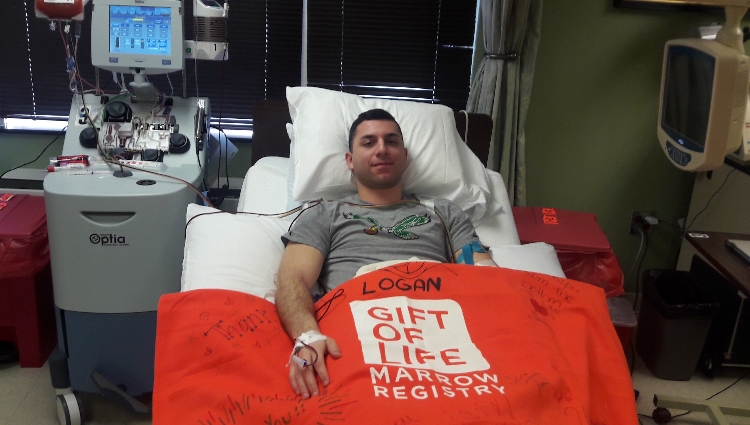 Logan is arguably one of the busiest people in Akron: he's a senior at the University of Akron, an ROTC cadet, former director of the school's dance marathon, secretary of the Model United Nations, serves as one of the dozen-member team portraying school mascot "Zippy the Kangaroo" – and now he is a heroic stem cell donor!
In 2015, Logan was invited to join a group of other highly active students from universities across Ohio for an event at the Akron Children's Hospital. During the event, he was offered the chance to become a volunteer donor with Gift of Life, and thought, "Why not? I'm healthy, so let's share it, reach out and help somebody." He joined the registry even though he was told that it's difficult to find matches for people, and it was unlikely he'd ever get to donate.
Yet less than a year later, he did come up as a match for a man battling leukemia, and got that miraculous phone call from Gift of Life inviting him to help save this stranger's life. "I was thankful for the opportunity," said Logan, "As long as I was being asked, I was committed to donating."
Since Logan donates blood and plasma regularly, the routine for donating stem cells was very familiar to him – except for receiving several daily shots of Neupogen to help increase the number of stem cells circulating in the blood, and make collection easier. After four days of preparation, Logan met his mother at the donation center.
"During collection I talked to my mom, worked on a paper for school, and we watched a movie together," said Logan. "The university and teachers were very supportive, and all my work except the one major paper got pushed back a week. Everyone asked about the donation both before and afterward." His family were not only interested in the process, they were incredibly proud of him and as devout Catholics, helping others is very important to them.
"I would donate again and I would love to meet my recipient," said Logan. "I am thinking of him and want to know everything about him." He also says that every step of the way, Gift of Life was there for him, he got every bit of information he asked for, and always knew where his own information was going and who would see it. "Gift of Life worked around my schedule as much as possible while still meeting the patient's transplant timeframe," he said.
When his day of donation coordinator gave him his orange Gift of Life blanket signed by the staff members he said he started laughing because it was such a nice gesture he could hardly believe it. "When you work with Gift of Life, you're not just a bag of stem cells, you're a person," said Logan.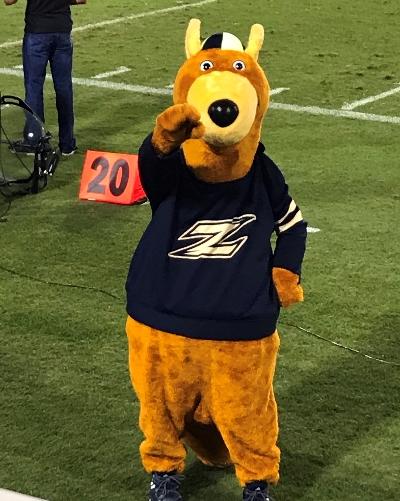 After graduation, he enters the Army as a logistic officer – making great use of his degree in Strategic and Organizational Communications – and after training in Virginia he will be assigned to Fort Hood, Texas.
As he prepares for graduation, Logan is also getting ready to pass on his kangaroo suit to the next squad leader. When his school played against Florida Atlantic University in the Cheribundi Tart Cherry Boca Raton Bowl in December 2017, little did he know that Gift of Life's headquarters was only blocks away. Staffer and social media guru Amy Glanzman was attending the game and snapped his photo from the stands, with neither of them knowing that only three months later, Logan would be saving a life.
Thank you, Logan, for being a donor, and for serving our country.