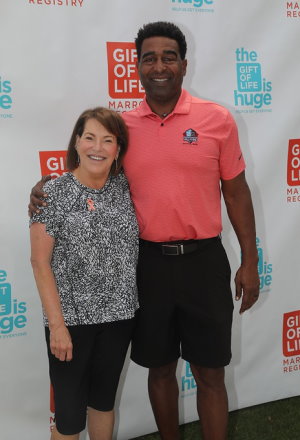 Gift of Life held its second Celebrity Golf Tournament on Wednesday, April 13, 2022, at the Boca West Country Club in Boca Raton, Fla. More than 100 players and former NFL and NHL sports celebrities teamed up to support our mission to save the lives of those batting blood cancer, sickle cell, inherited immune disorders, and 70 other devastating diseases.
---
Tournament chair and sponsor Evie Goldfine with Pro Football Hall of Famer and tournament host Cris Carter.
---
The event kicked off with a luncheon and program that featured Rose Bradwell, a West Palm Beach resident who is battling leukemia, and does not yet have a donor in the registry. Gift of Life is working with her to hold drives across South Florida to find her matching donor.
With an afternoon shotgun start time of 1:00 p.m., golfers caught the best of Florida's April weather on a beautiful sunny day. Participating athletic celebrities included Pro Football Hall of Famers Cris Carter and Dwight Stephenson, retired NFL players Mark Duper, Sean Hill, Troy Drayton, Terry Kirby and Jed Weaver, and retired NHL player Bob Nystrom.
After the golfers turned in their scores, the time came for the post-tournament reception and arguably the most important moment of the day, when a Gift of Life stem cell donor met the man whose life she saved.
Stem cell donor from New York City meets retired Marine whose life she saved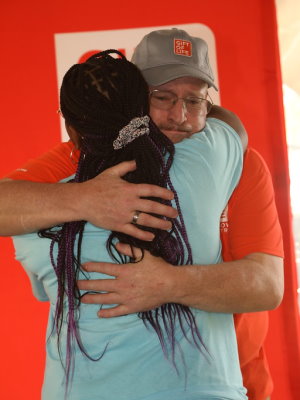 Evie Goldfine, tournament chair and leukemia survivor, was given the honor of introducing transplant recipient Dana Shaw to his incredible donor, Destinee Saloman. She first welcomed Dana to the stage and shared his story.
Dana, 61, a resident of Franklin, Maine, is a former Marine Corps sergeant and longtime New England Telephone employee who was diagnosed with Acute Myeloid Leukemia in March 2008 after suffering from a swollen gland in his jaw. He was stunned at the news and his first thought was for his 85-year-old mother. Fortunately, his sons found an assisted living situation for mom, so that Dana could focus on his treatment. Doctors advised him that his best chance for a cure would be a blood stem cell transplant from a matching donor.
Initially Dana did not have a match in the registry and chose to have a stem cell transplant from his oldest son, Anthony. But transplants between children and parents are a half-match due to the way matching factors are inherited, and after only a short period in remission, Dana's cancer returned.
"We were all disappointed it didn't work," said Dana. "I was just fighting every day to keep going and hoping a second transplant would be possible." It was. This time the search of the registry found an excellent match for Dana, and he received his blood stem cell transplant in October 2019 and his recovery began.
Finally, the moment had arrived for Dana to meet his Gift of Life donor, Destinee, who joined him on stage to the cheers of the golf tournament participants. After a heartfelt hug, both Destinee and Dana had the opportunity to speak.
Destinee explained that she joined the registry while a student at Stony Brook University after learning how difficult it was for patients of minority ancestry to find a lifesaving stem cell/marrow match. She found Gift of Life's website and ordered a swab kit immediately. Dana is incredibly fortunate that she did, as only 25% of people with African American ancestry can find a matching donor.
"My grandparents meant everything to me, and I was so lucky to have them for 28 years," said Destinee. "When you talked about now having a future with your family and grandchildren, that is the best gift I could get."
"My doctor told me there is only an infinitesimal chance of finding a matching donor," said Dana. "Many of you may be wondering, isn't he a little light? Isn't she a little dark? My great grandmother Clara was African American, and the only time it ever came up was when my grandfather and his cousin went to fight in World War II and were separated because of the difference in their skin tone."
Matches between patients are based on Human Leukocyte Antigens (HLA) which are inherited from our parents and ancestors. Many people have a more complex ancestry than they expect and may be surprised when they match with someone who has a different skin tone or is from another part of the world entirely. The more continents a person's ancestors are from, the more complicated their HLA profile can be, and the more difficult it is to find a match. But for Dana, his search had a great result!
"Isn't it amazing, her name, 'Destinee'?" said Dana. "I now have a future, and it's through you, so I thank you for that."
Destinee is an attorney in New York City who makes crafts, gardens sunflowers, and listens to audiobooks in her free time. Dana, a resident of Franklin, Maine, serves as Field Staff for Efficiency Maine, and his interests include church, motorcycling, fishing, and cooking.
To help Rose Bradwell find her lifesaving donor, click here to visit her donor circle and order a swab kit to join the registry, or donate to her circle to help sponsor the lab processing of another donor's kit.
Gift of Life holds its annual Golf Tournament each April in South Florida. Thank you to Evie Goldfine for serving as both tournament chair and sponsor, and to Pro Football Hall of Famer Cris Carter for serving as tournament host and for your ongoing support of our mission to save lives. If you'd like to be involved in next year's event, please contact rmalek@giftoflife.org.