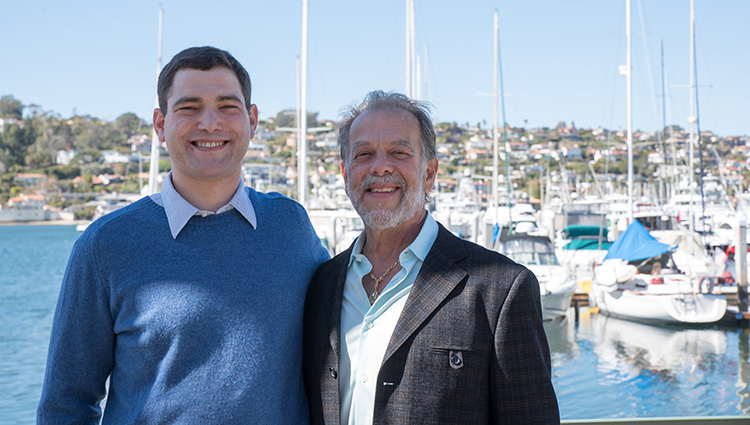 Seeking second opinion saves man with blood cancer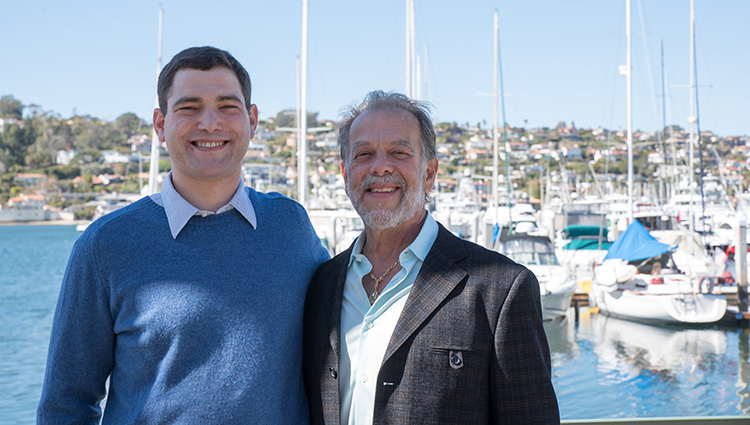 Daniel Wayne (L) donated lifesaving peripheral blood stem cells to Robert Skirboll (R). They met for the first time in beautiful San Diego.
When Robert Skirboll went to his doctor in 2009, he complained about problems with ongoing fatigue. After a few blood tests, a specialist told him he had a chronic blood condition that would have to be treated with regular blood transfusions. Feeling that he should get a second opinion, he sought out the Wake Forest University Hospital, where he learned that myelodysplastic disorder is actually a form of cancer, and he needed immediate chemotherapy.
After a short remission his condition continued to deteriorate, and doctors recommended a blood stem cell transplant in the hopes of replacing his bone marrow and saving his life. Although neither of Robert's siblings was a match, one of his doctors had tears in her eyes when she told him that two perfect matches were found in the international registry.
The one who became Robert's donor is Daniel Wayne, 28, who first joined Gift of Life's registry during his Birthright trip to Israel in 2008. He donated stem cells to save Robert's life in 2011, then moved to China where he lived for the next five years. During that time he met and married his wife, June, and sometimes wondered how his recipient was doing. In 2016, Daniel and June returned from China, and in early 2017 he was contacted by Gift of Life with the opportunity to finally meet the man whose life he had saved six years earlier.
At the March 6, 2017 meeting of Birthright Fellows in San Diego, California, Gift of Life Chairman Bill Begal and Project Manager Alec Burkin welcomed Robert and his wife Robin, who came from North Carolina to meet Daniel.
Daniel received a standing ovation when he entered the room and walked to the stage to embrace Robert, and their delight in meeting each other was infectious.
Robert said, "I did not know until last summer that Gift of Life was responsible for finding my donor, Daniel. This experience has lifted me to a level beyond words of gratitude."
Daniel shared both his Birthright and donor experience with the audience, explaining that "When you raise money to plant a tree or sell candy for a local school, it feels good, but it's not quite the same as this. This is otherworldly, it is hard to believe something I have inside can actually save someone else."
Project Manager Alec Burkin describes the impact of Birthright on the registry
Alec Burkin, who is not only a Gift of Life Project Manager but also a donor, spoke to the group about the tremendous impact his Taglit-Birthright trip in 2011 had on his life. As a result of swabbing his cheek and joining the registry, at 19 years old Alec saved the life of his recipient Susan, who suffered from leukemia. Through that one act, Alec realized that a new path for his life was before him: he joined Gift of Life's staff and now empowers others to have the same opportunity he had to save a life.
"I have just returned from Israel where I have been working for the past eight months," Alec told the conference participants. "We are working hand-in-hand with the Birthright Tour Operators to make sure each and every participant on a Birthright trip has the opportunity to do a cheek swab and join the registry during their time in Israel."
To date nearly 40,000 donors have joined the registry through the partnership, resulting in 1,400 donor-patient matches and 191 completed transplants. The more donors who join the registry, the more lives of cancer patients can be saved.
---
You too, could have the opportunity to become a lifesaving donor like Daniel Wayne and Alec Burkin. To order a swab kit and registration package sent to your home, just click here.
For information about Taglit-Birthright Israel, watch our YouTube video or visit their website.